Sep 26th 2013DiyanaLife & Rafa
I have always thought that pinata is such a fun thing to have in parties. I read about it when I was a child in story books and I guess it is true what they say, what you couldn't get for yourself when you were small, you would shower them all out to your own children…
At the same time, Miki is also big enough to know that fighting for candy can be thrilling and he specifically requested for a pinata for Rafa's party. Sibuk je! Bukan birthday dia pun, but it is ok my babies… Mummy would be more than happy to fulfill your request! hehe
So then it took Azman and I two days to make this pinata:-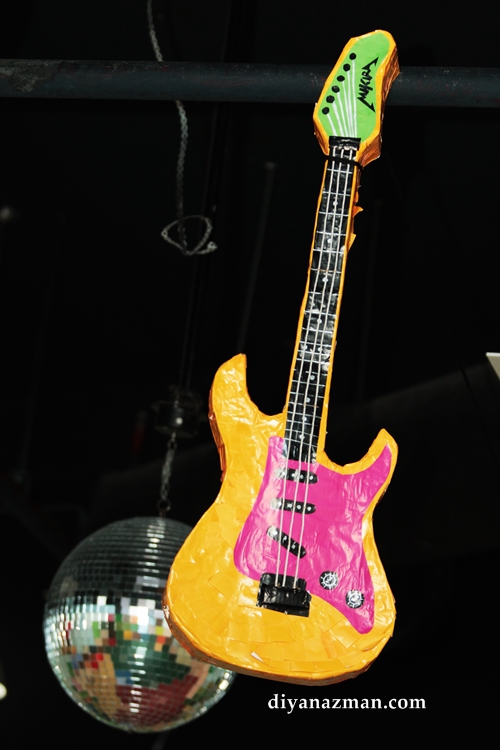 Anyway, in case some of us didn't know, pinata originated in Mexico as a game for children's parties. It used to be made out of pottery and later on out of paper mache. People made it in various shapes and decorated colorful using paper. The pinata is stuffed with candy and fruits and children take turn to hit it with a colorful stick until it breaks, spilling out all its content for the children to collect. Pinatas are commonly found in party shops around Klang Valley but I couldn't find one that is pretty and besides we are creative people like dat! He! he!
Our pinata is crafted using Azman's own electric guitar as a model. Here are the pictures of step by step methods on how we made our electric guitar pinata..
Step 1: Cut out two pieces of guitar shaped cardboard from a used box.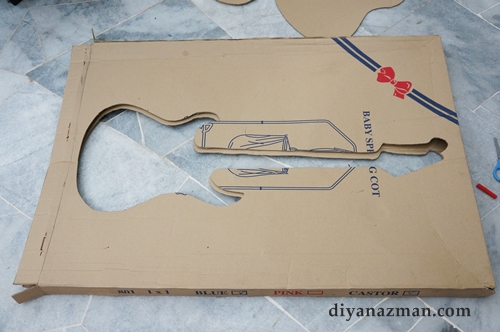 Step 2: Make sure the shape is accurate and sexy.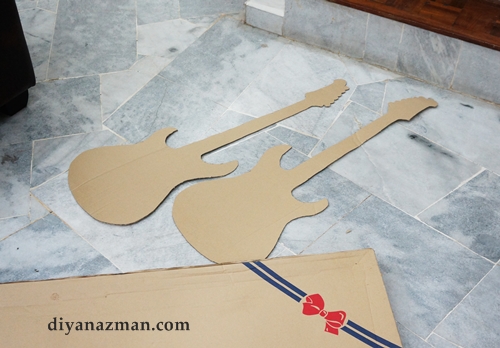 Step 3: Ignore any baby who's calling out for you despite being super cute. Also ignore your messy house and concentrate on your cardboard.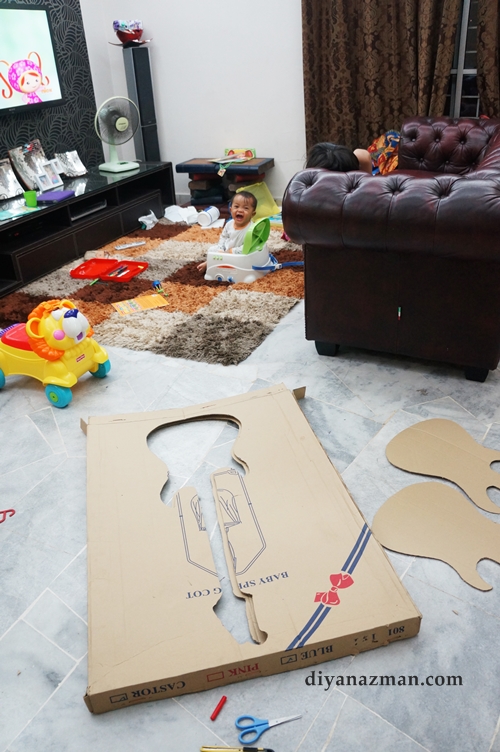 Step 4 : Put the cardboard together and measure its thickness. Keep on ignoring the babbling baby.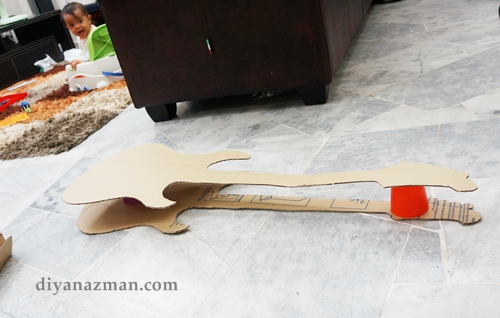 Step 4: Tape the sides of the guitar together.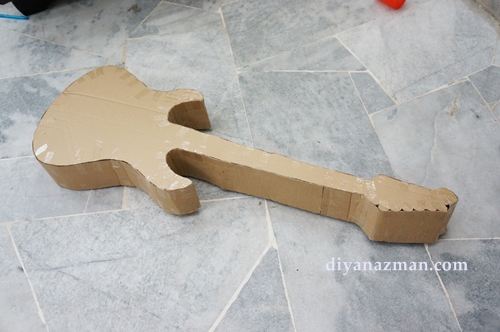 Step 5: Cover the box guitar with paper mache to make it thicker and harder to break.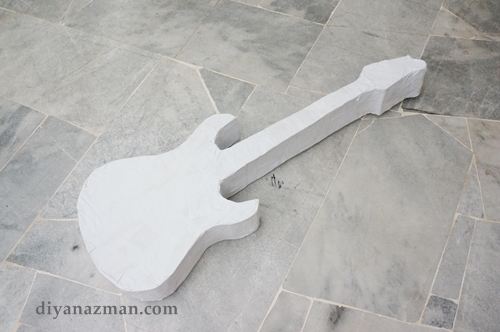 Step 6 : Here comes decoration part. Cover the guitar with small pieces of color paper.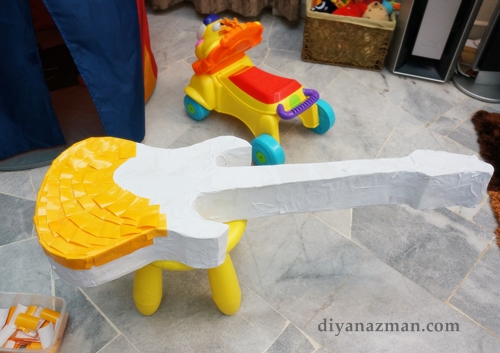 Step 7: Take a picture of yourself at work. This is to prove to your friends who doesn't believe you could produce such a sexy pinata.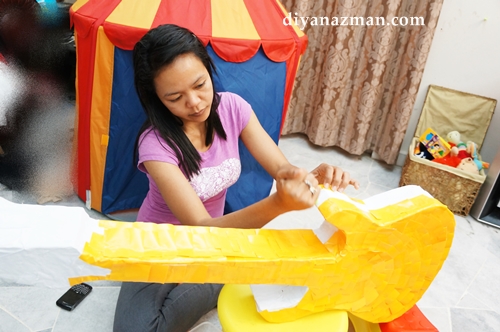 Step 8 : Take another picture of yourself because you are gedik like dat…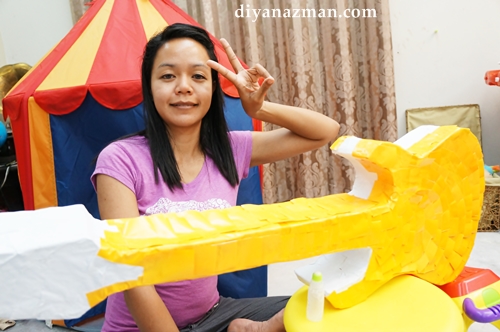 If you don't mind revealing who is actually doing the work instead of posing, you can also snap a pic of your husband.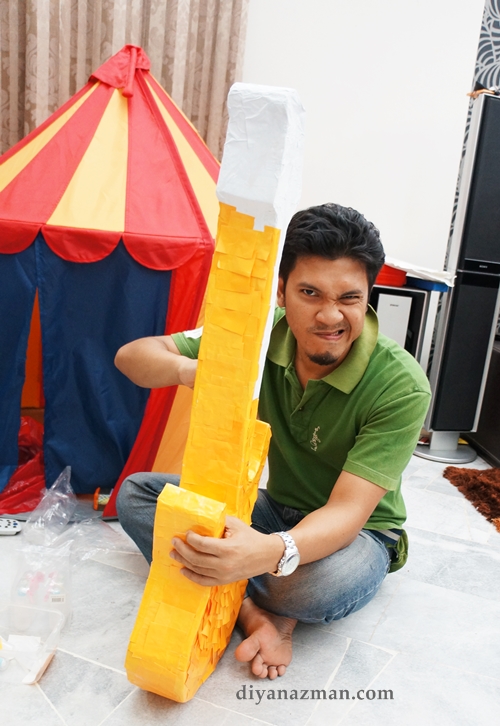 Step 9  : Using colored paper, decorate your guitar like the real thang.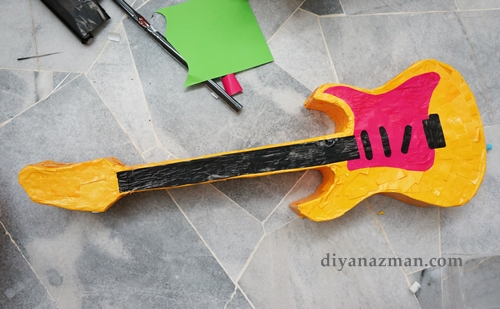 Step 10: Tape thick threads as guitar strings and use a silver Sharpie to draw out the finishing details. If you feel part is a bit complicated and you would rather go have a cup of coffee, go ahead and ask your husband to do it. For better result, ask him also to babysit the kids and you go have a bubble bath.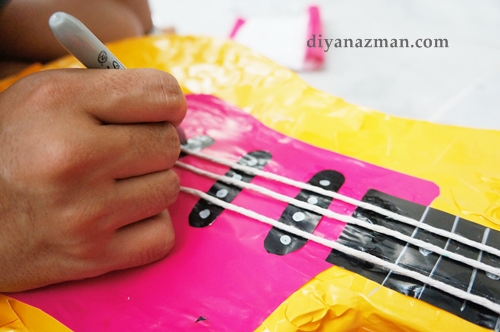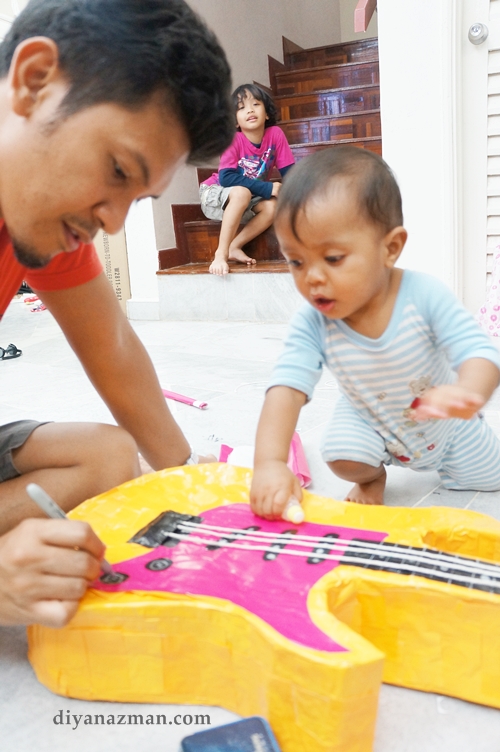 Step 11 : Fill your pinata with sweets and candy and seal up the opening.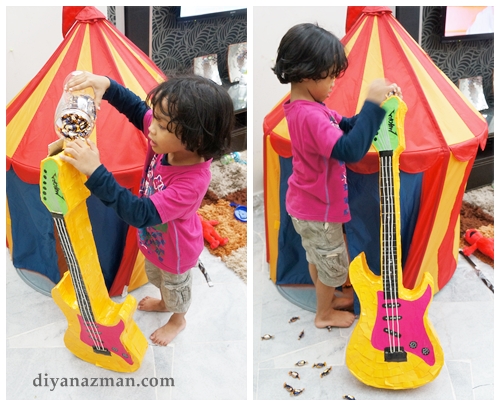 So there you go, a sexy pinata is now ready for your party. Hang it up and get the kids ( or adults) to take turn hitting it till it breaks. It gave us great satisfaction to be able to make this pinata out of scratch for Rafa's birthday party. Although he didn't hit it even once but he did get a fair share of snatching the goodies on the floor after Miki broke the pinata.
I hope this entry would help in case anybody out there would like to make a pinata of your own too! Cheers!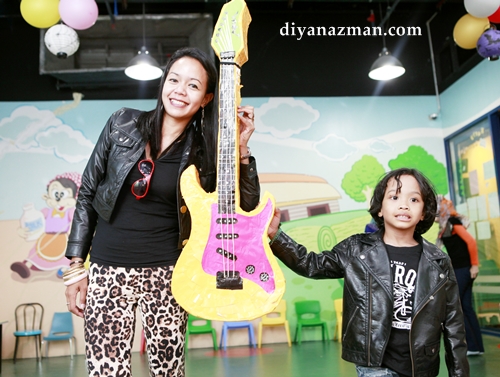 Email This Post
Similar Posts
3 Comments »