Oct 28th 2013DiyanaChild Education & Food glorious food! & Luth Mikael
I realized that I hardly write on Miki's schooling update in this blog. Alhamdulillah he has done very well at school, I just went to meet his teacher last week. Miki is going to Little Caliph ( Tadika Restu Ibu) in Bandar Kinrara. I must say that I am pleased with my son's performance at this school and I am also satisfied with the way the school educate all their young students despite a few hiccups.
One of the issues I raised to the teacher sometime in April or March was on diet. The young little geniuses break for recess at around 10am for morning snacks. I dont think it can be called breakfast cause Miki had his at home earlier before he goes to school.
I like to ask Miki what he had at school when I fetch him up from Mama Rose's later in the evening'. His answers are usually – nuggets, mi, roti..
"Teacher ada bagi fruits tak?"
"No, no fruits.."
"What about vegetables?"
"Syafiqah don't like vegetables." menjawap soalan ke tu?
After I sekolahkan told the teacher about my concern, fruits have been added in the menu. I told the teacher that kids listen and believe almost all the things that their teachers advice. I remember my Ustazah said "Siapa berjalan pakai kasut tumit tinggi nanti akan ditelan bumi.." It took me years and years and years to realize that.. That.Is.Dumb.
*krikk krikk*
So… if the teachers say, we all must eat fruits and vegetables in order to grow big, strong and smart, I bet the kids will eat or at least try to consume it. Agree with me?
Although more fibre has been included in the kids' meal, still I pack food for Miki's recess time.
Preparing food for Miki is easy and hard at the same time. He eats a healthy balanced diet and is a fan of vegetables probably since he was a baby but the list of Miki's favourite food is not very long. He hates chicken nuggets, he has just started to eat sausages probably last year. He started to eat roti canai a few weeks ago.
So everyday in his snack box it is nothing but sandwiches, hash brown and other finger food.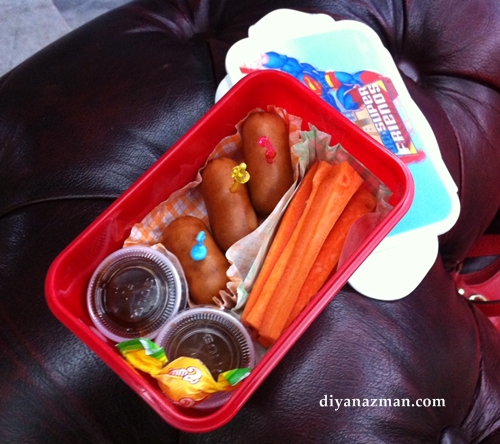 This was what I prepared for Miki last week. After I send him off, I realized that was too little for him. Kesian pulak that day Miki tak kenyang. That's cheezy sausages with cute musical notes food pick with bbq sauce, carrot sticks to be dipped in Nutella. And because in Malaysia we are so backwards have no regulations, I gave him one candy for his van ride home after school.
Below pic was also his so-called bento last week, tuna sandwich with pickles, carrots and celery stick with Nutella. Miki complaint – celery sticks not enough! Baiklah, lain kali Mummy bagi sepokok celery terus ko makan la macam arnab. hehehe
Above pic I uploaded in Instagram last  week. Sausages (senang nak masak doww…) pickles, bbq sauce for dipping, raisins for the vitamins and fible and one small kitkat for the van ride home.
Have I mentioned that Miki is crazy about pickles? One day after I bought a new jar of pickles, Miki was hungry and wanted sandwiches with chicken slices and pickles. Masalahnya jar pickle tu punyalah ketat I cannot open! Maka membebel lah Miki potpetpotpet annoying giler rasa nak je aku pickle kan dia dalam tempayan…
Alhamdulillah Miki has good appetite and loves his vege and fruits. It is now my part as a mom to ensure that his meal has variety of of food rich in all good nutrients.
Cheers to all moms who feeds their family with love! Have a great week ahead guys!

Email This Post
Similar Posts
31 Comments »