My Comfort Food – Every Single Thing on the Menu at Chili's
Hello blogosphere!
We meet again! So many things have happened since my last entry, which was about Rafa getting sick. And guess what, I got the bug from him and had gotten sick too… It was very horrible for me, that I had trouble sleeping for days and I couldn't eat for weeks! Me? Diyana no eat? My closest friends thought I was dying.
But God is great and I got my health back. So guess where I immediately headed to? My favourite mat salleh food restaurant of course – Chilis'!
The restaurant need not much introduction. I think probably 50% of all Malaysians know this place already for the fact that they serve great classic American and Mexican/ Southwestern food that I simply love.. many of the food on the menu are my comfort food right after nasi lemak rendang ayam ok!
On my regular days I'd order their mouth watering ribs but this time around, since I still have trouble chewing, I ordered softer food but delicious non the less.
My appetizer was called Triple Dipper. If you have never had these, well they comprised of Wings Over Buffalo, Southwestern Eggroll and Spiced Breaded Onion Rings. Served with fresh celery sticks and dipping sauces.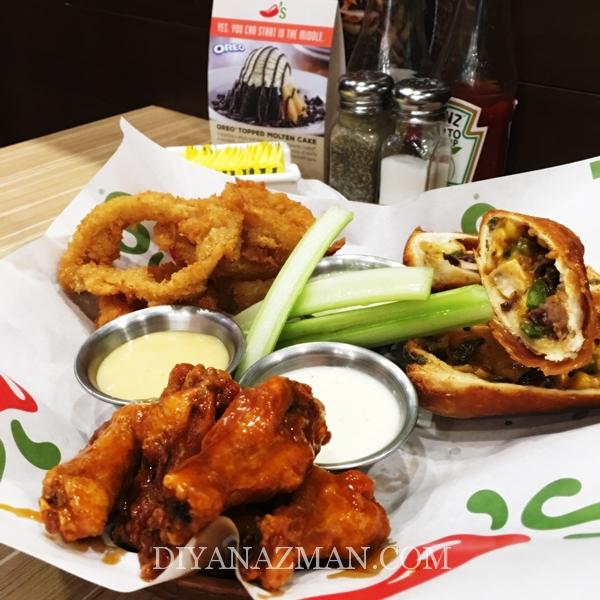 After eating soup and porridge for so long… the moment I sunk my teeth on that buffalo wings, I immediately sprouted wings and flyyyyyyy to heaven.. LOL
Oh btw, I was at Chili's with my two favourite girls, Hani and Syadza. Sorry Miki and Rafa, Mummy cannot bring you guys, eating with kids is not as enjoyable as eating with gossip buddies. hehe! Cut me some slacks okay, I have make it up to you right the day after..
Anyway, Hani being the most health freak among us ordered Boneless Buffalo Chicken Salad. It was hers but the three of shared all our food actually, because the portion is huge. Crispy chicken was tossed in Chili's spicy wing sauce with beef bacon, bleu cheese crumbles, house-made pico de gallo & crispy tortilla strips served with their house-made Ranch dressing. So good! Even Syadza who hated veges dug in… yum!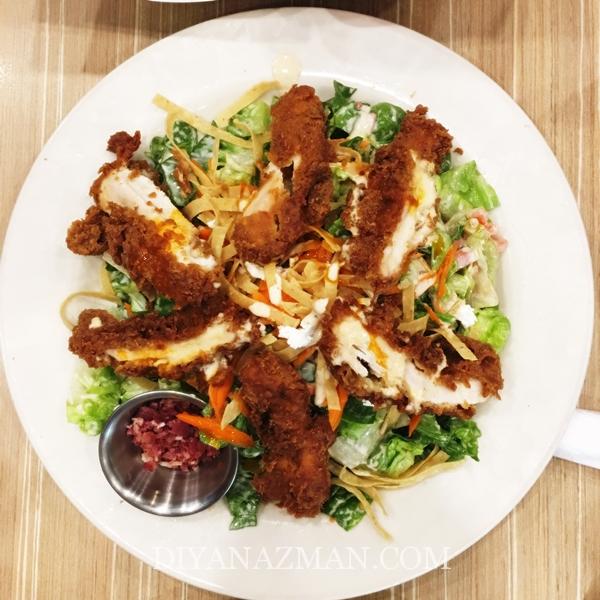 The salad was fresh and crunchy, the chicken tasty and perfectly cooked, the dressing was perfect and bleu cheese, who invented that? Give him a Nobel prize please!
The girl who was sakit mulut ordered Firecracker Fish Fillet. Yeah from my usual beef ribs to grilled white dory fish fillet brushed with sweet & spicy glaze and garnished with red chile tapenade & sesame seeds. Served with rice & seasonal veggies. It was amazing. It was my first time trying this dish, and the fish was melt in your mouth, rich with flavours. I was reminded of a fish dish I had in Korea which was really bad, how I wanna tell that chef to go intern at Chili's and learn how to cook like a boss!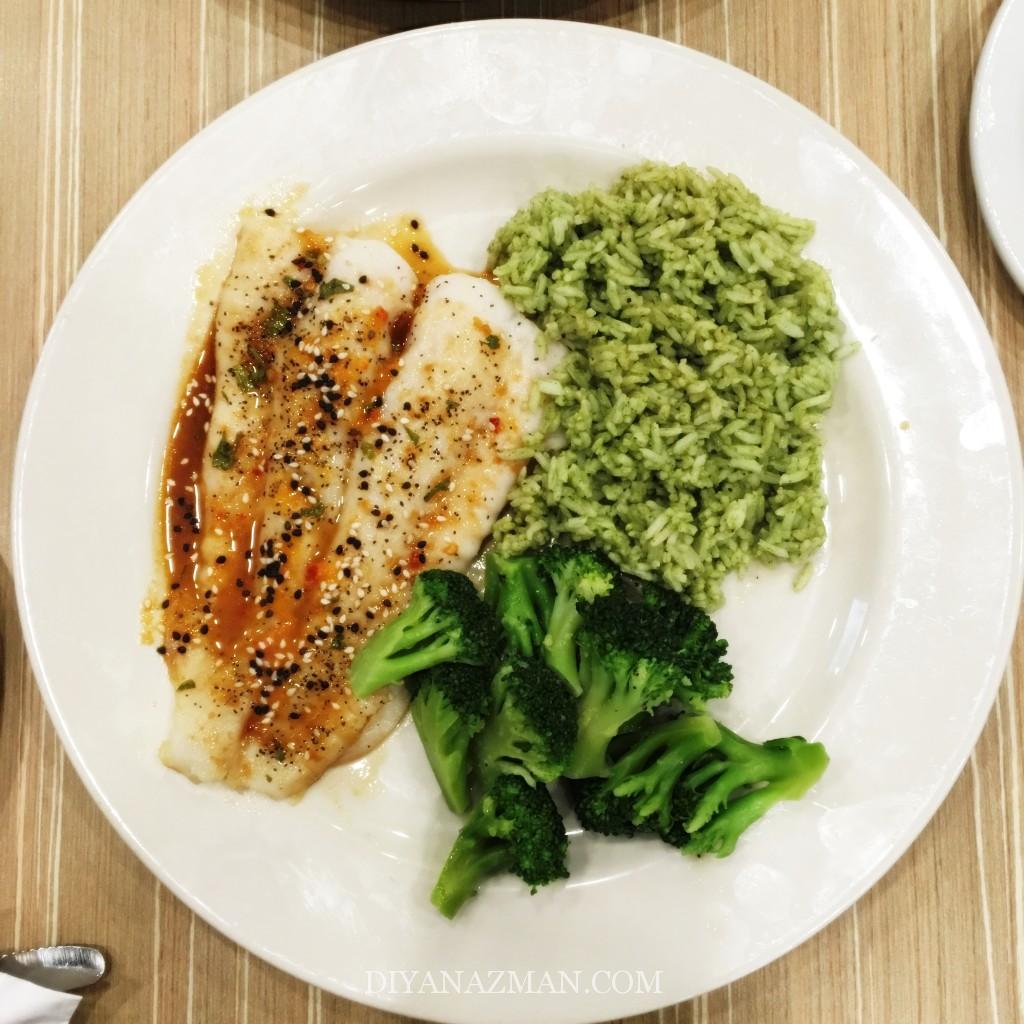 You see, there were three of us. But we ordered 4 dishes haha! Next, we had this delicious and healthy Sweet & Sour Chicken Fresh Mex Bowl. This Fresh Mex Bowl was also my first. They are fairly new in the menu I think. It had marinated grilled chicken, house-made corn & black bean salsa, rice & black beans. Topped with house-made pico de gallo, fresh filled greens, chopped cilantro, crispy tortilla strips, fresh sliced avocado & a drizzle of sweet & sour sauce.
It kinda reminded me of bibimbap minus the weird fermented Korean stuff LOL. This Mex Bowl is fusion of flavours. Fresh, delicious and very healthy. The portion was huge and we ate and ate to our heart's content.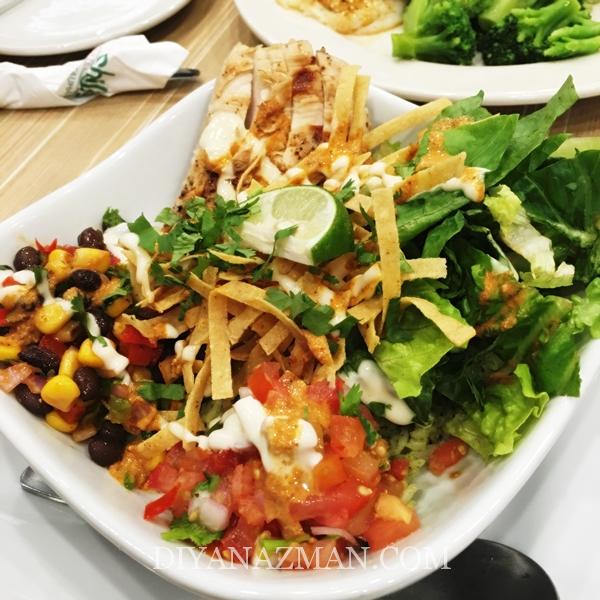 But of course we girls have hearts that are not easily contented. Girls must have desserts! Desserts make the world go round and Oreo Topped Molten Cake at Chili's make the world go round with rainbows!
Imagine a delicious scoop of vanilla ice-cream resting on top of a decadent, cream-filled cake, decorated with Oreo cookie pieces and a drizzle of chocolate sauce…. We had that. We will be coming back for more.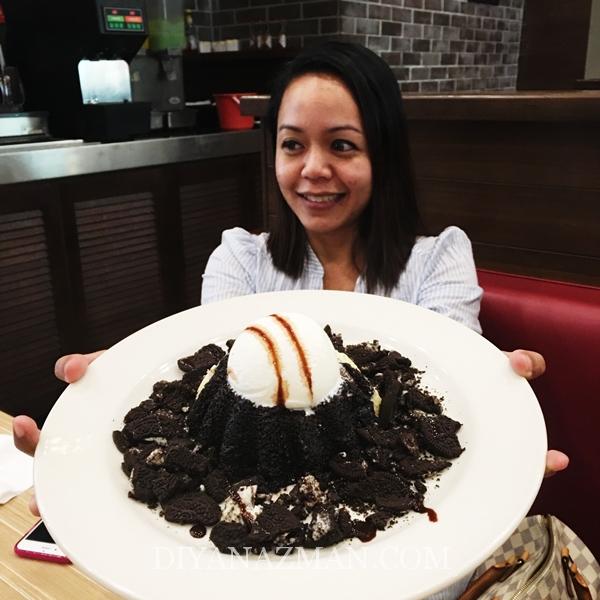 Gambar orang sakit, muka pucat giler.. tapi gembira mendapat ice cream idaman kalbu! haha!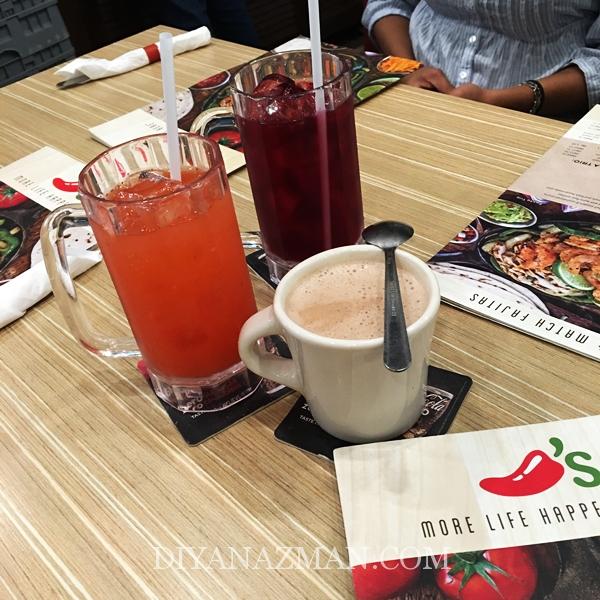 These were our drinks. Their hot cocoa was refillable. How awesome is that?! All the food and drinks on the menu was reasonably priced and affordable unlike many other restaurants in this country.
Thanks Chili's for making a sick person feel alive again. Haha! We have a congratulatory occasion to celebrate soon. Syadza has got a better offer in a better company. It is sad letting her go but we must. And we must celebrate at Chili's!
Okay ladies! It is makan time again! weee!