Gila Pokemon like MikiRafa
Someday when I am old and gray if panjang umur I would wanna remember this.
Pokemon Go was launched in Malaysia in August 2016. Azman downloaded it to his phone immediately and just as instantly his relationship with his two sons improved ten thousand million times. Azman has always been a pretty cool (but garang) dad in the sense that they are very close, can share a lot of things together and 8 year old Miki even shares more thoughts, stories and stuff with him than with me. But now that he has Pokemon Go, Miki is officially Team Daddy, they talked more for hours, they played together, they go out and hunt like a perfect team… I am telling you this Father-Sons bonding is amazing.
Then I got jealous and I downloaded the game too.
So the four of us had tonnes and tonnes of fun! When we went Pokemon hunting we worked as a team. Miki and Rafa as always absorb useless info like a sponge. Miki can memorize hundreds of Pokemons by heart, complete with their combat methods and what they could evolve into. He could tell the Pokemon  by just looking at its silhouette in the Sightings box. Terror giler Miki, cuba tanya dia sifir 4… hmm  ke laut….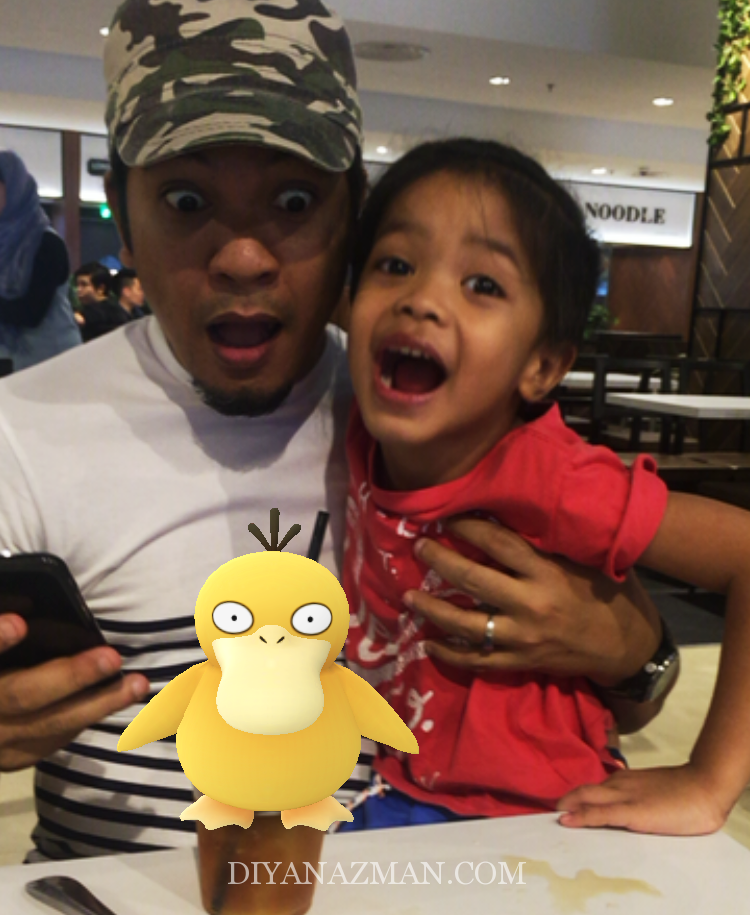 But yeah, this the latest craze among my two boys now in late 2016. Mad about Pokemon. In this video we were playing "Teka Pokemon" ( sangat tak berfaedah, I know.. but so fun haha!)
They will take turn describing a Pokemon, and the rest will have to guest what it is…
Rafa, this is how you talk at 4 years old. Cute! Rasa nak sepak…
The kids have been asking for Pokemon plushies too.. But I haven't found any nice ones. This photo was taken after our trip to Sunway Lagoon, which explains the serabainess, comot and uncomb hair. We took a bite at Wendy's in Subway Pyramid and apparently a lot of Pikachus can be found there. See how the boys abandoned their chair to sit on Daddy's tummy to catch Pokemon together? LOL
Yeah, someday when they both are older and bigger, and have their own gadgets to play what ever games trending at that time… Azman will sure miss having 40 plus kilos of 2 boys lounging on his body, playing a silly games together. Mummy and Daddy love you kids! Be good!