Aug 19th 2007azmanGoodStuff & Life & manchester united
Lately, people have been talking about Malaysian young lads performances in Champions Youth Cup. Unlucky lose to Bayern Munich, lucky draw against Chelsea and unluckily defeated by PSV Eindhoven. In Malaysia standard, they got a really good result although failed to advance to quarter final.
Should we really be happy with the result? Yes we should!!.. However, does it mean that Malaysian football has a bright future?? I don't think so!! This is not the first time our young squads perform very well in Asia and international level. They have good talent but they will never have a chance to wear our national colors in another 10 years because in Malaysia, there're simply no places for good young players, not until they have gone old and sluggish enough!
So, what might happen to these young players in the future??? A smart and intelligent player will continue their study in the university.. Others will be sent for trial at European top clubs. But imagine this…they'd be going there with what reputation??? At the age of 20, they were still not selected to became an important Malaysian player. If you are Brazilian or Argentinean, maybe those European clubs will considered the trial as a serious matters..however….we are talking about a young Malaysian players that were not even selected for rank 154th team in the world!!
If we send this young player with no reputation to Manchester United for trial, do you think Sir Alex will ever bother to attend the trial or even watch his game?? Looks like he might fail even before the trial!! The best solution is if we can pay them a sum of money then they will put that young player into their academy. All the newspapers in Malaysia will put the headline "Young Malaysian player selected for Manchester United". After 2 years…he will also vanish!
So what we have left behind are the uneducated players that will become the future of Malaysian football. That is why we can hardly find any player that is intelligent with pride!!
In order to improve the Malaysian squad, FAM introduced Malaysia Super League! It ranks higher that English Premier League because in Malaysia… Premier League is 2nd division league!! That sounds great!! They believe that MSL is good enough to improve our national team and finding national best player to represent Malaysia. When, the team from Perak, Perlis, Kedah, Terenganu & Sabah started to perform better than Selangor. It sure seems that the league has successfully discover new talents from all over the country. To make it even better,the Malaysia Super League champion was usually built with a majority of good young players.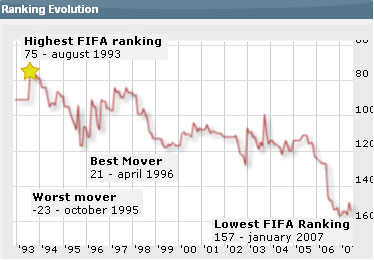 When it is time to select national players for any competition, FAM will call for more than 30 players for centralized training and almost half were new faces and young players. However, when it is time to named the final squad…..it is all the same!!!.. the majority is still the same old players..the same old LOSERs.
How about all the young players that proved they are a good asset in the MSL and current best players in the market???? The excuses were…they are too young….too inexperienced…too small…bla…bllaaa…boleh blah!
What experience does these LOSER have??
And… what is actually the meaning of improving our football league if FAM itself didn't recognize the talents that has been emerging from it??…
What's wrong here?
If you ask me,I would say…one of the problems is the management of the squad. All over the world, normally, the head coach is actually the manager. He is the one that hold the responsibility in selection and training because he controls both important positions. However, in Malaysia, the head coach is the one with tactical and training and the manager is normally a politician.
So, who is actually having the power to select the player??
I would love to write more…however, I don't want you to waste your time reading this because it will never change our national team.
Sad but trueeeee….jeng jeng..
Share