Sep 29th 2011DiyanaHow to make me vomit blood & Life
A couple of days ago, the company I work with hosted a Hari Raya Open House event in KL. It was held at Ibunda Malay Fine Dining and looking at it from an event point of view, we all thought it was a great success.
The food was delicious, the music by ASWARA Traditional Ensemble was great and the ambience was just right – cosy and joyful. The guest of honour is our Chairman which also the Minister of Science, Technology and Innovation, Malaysia.
In conjunction with the Open House, we also had the presentation of homegrown notebook computers to needy schools and non-profit organizations such as orphanages, OKU associations etc. On that day 9 schools and organizations providentially enough would be receiving the subsidy of Government, presented by the Minister himself.
On that day the Minister being a Minister had probably 20 other invitations to attend, 15 other meetings and 10 other site visits. Haven't we all heard the saying like "Sibuk mengalahkan Menteri"? So during our Open House, the Minister was an hour late. Although he was yet to arrived, everyone was already enjoying themselves to the huge spread of delicacies, while networking with the high-profile guests.
As usual, it was my role to emcee the event. Since the guest of honour was still not around, I walked about mingling with crowd. I stopped at one table to chat with my media friends but little that I know, a Pakcik, nicely dressed in blue Baju Melayu with songkok, looking so respectable and demure, was fuming mad!
His brows creased when he looked at me and he asked impatiently, " TUNGGU APA LAGI NI??" . I smiled and said sorry but we need to wait for the Minister to arrive.
"PUKUL BERAPA DIA NAK SAMPAI? PUKUL 7?? SEKARANG NI DAH 5.30! SAYA NAK BALIK JAUH, SAYA NAK BALIK PERAK, DIA NI NAK BALIK KELANTAN!" he continued while pointing at another man beside him. The man didn't dare even meet my eyes.
"Sekejap lagi, dia on the way, jalan ke Bukit Bintang memang jam sikit.." I replied honestly not making facts up.
"PERGILAH TELEFON DIA! NI DAH LAMBAT NI… ORANG NAK BALIK JAUH.. PERGILAH TELEFON… BLA BLA BLA…."
I didn't wait for him to finish, I got up from my seat and I said "Nak buat macam mana…. Dia (the Minister) lagi besar (higher ranking) dari KITA…Kalau saya lagi besar dari dia boleh le saya marah-marah dia…"
I stopped my sentence there before I add some colorful words like "YOU", "UNGRATEFUL", "OLD", BASTARD". the Pakcik must have continued to bitch about how late he was from starting his journey home but I left and I didn't even wanna look at his face.
For your info, the invitation said that the Open House is from 4.30pm-7.30pm. So technically the event was still going on and the Minister couldn't be call late until it's 7.31pm, am I right?
Also for your info, the Pakcik is a representative from one of the associations that was going to receive NOTEBOOK COMPUTERS FREE OF CHARGE! I REPEAT FREE OF CHARGE!
FROM THE MINISTRY THAT MINISTER HE BITCHED ABOUT FOR BEING LATE WHEN HE WAS NOT EVEN LATE IN THE FIRST PLACE!!!
AND HE BITCHED AND HE SCOLDED US WHILE HE ATE OUR FOOD AND HE SAT ON OUR CHAIR IN THE COMFORT ON A FINE DINING RESTAURANT WITH AIR-CONDITION FULL BLAST.
Never once he said thank you. Not for inviting him to the Open House. Neither for selecting his association as the recipient of the brand new computers. Tell me dear readers, what shall I call this man?
I have settled for Orang Melayu Tak Sedar Diri.
Sekian Terima Kasih.
On a lighter note, here are some pics of me and my friends at the event.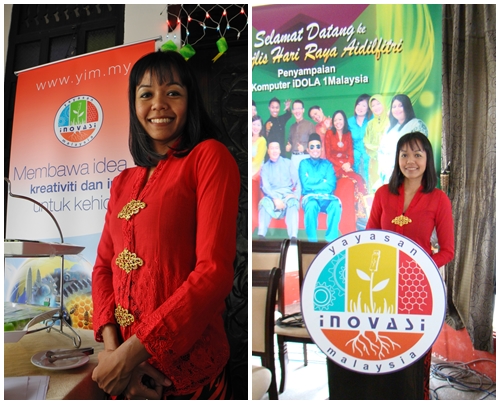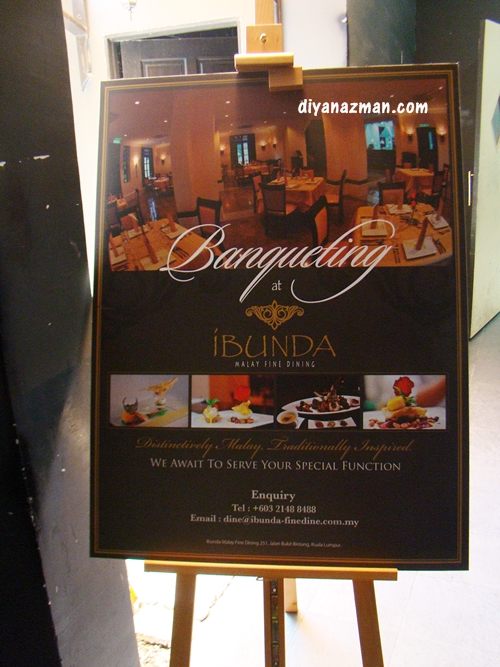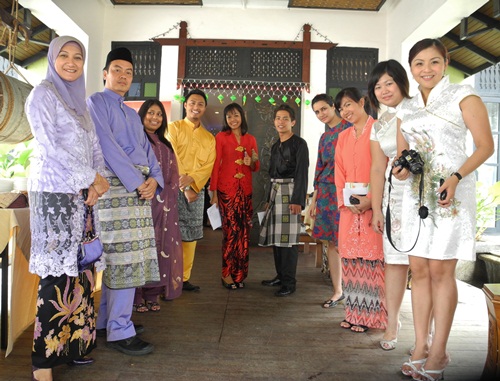 Share