Mar 15th 2012DiyanaLuth Mikael & Pregnancy
Hey ya!
Check out our most recent pic taken last weekend. I love this one a lot despite looking so sembab bloated but I am preggie what the heck la kan? It was taken at Bukit Jalil Park where Azman and I went for a walk to get some exercise ( he could have run or jog but he was afraid he couldn't catch up with me :p LOL) while Miki cycled all the way.
Miki was the art director cum photographer for this photo session LOL. You see that kemuncup??? That grass flower thingy! He insisted that Daddy held  it that way and pose for the picture! Hahaha… takde bunga lain ke?
Anyway here is my yummy tummy in 23 weeks pregnancy. I have put on more than 10 kilos already while I still have 5-4 months to go until my due date in July 13. Sabar je lah!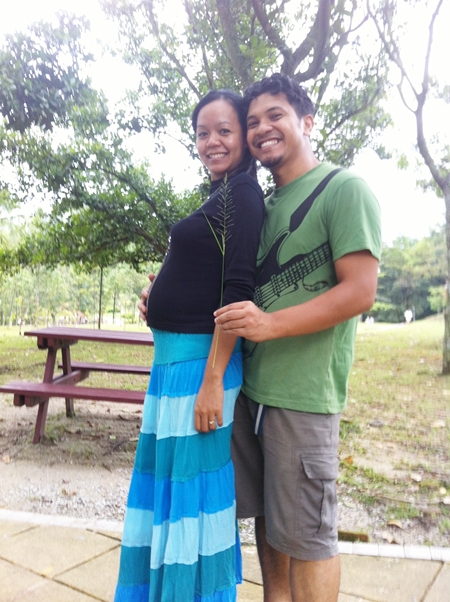 23 weeks preggie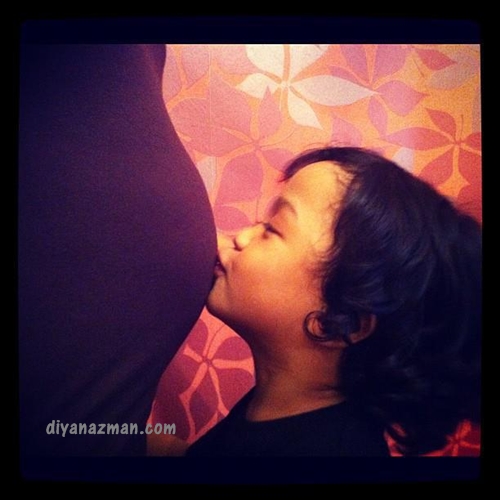 Above is another favourite pic of mine. Taken at 22 weeks pregnant.  Miki is extremely excited about becoming a big brother. He can hardly wait for the baby to "keluar", he is forever kissing my tummy and planning on the activities he shall do with Adik including riding bicycle and playing football.
Me – Miki, kalau Adik nangis camana?
Miki – Kalau nangis, Miki dukung la.. Miki ujuk (pujuk) la dia..
Me – Kalau Adik lapar?
Miki – Kalau lapar Miki suapla makanan…
Me – Kalau Adik nak sleep?
Miki – Kita letak kat katil pastu Miki tepuk-tepuk dia ngan Miki nyanyi la..
Me – Kalau Adik nak susu?
Miki – Susu? Hmmm Miki panggil Daddy, suruh Daddy buat susu..
Me – Kalau Adik kencing?
Miki- Miki bagi dia pampers, dia kencing dalam pampers!
Me – Kalau berak?
Miki – Ehhh… kalau berak Daddy la cuci, nanti tangan Miki kotor!!
LOL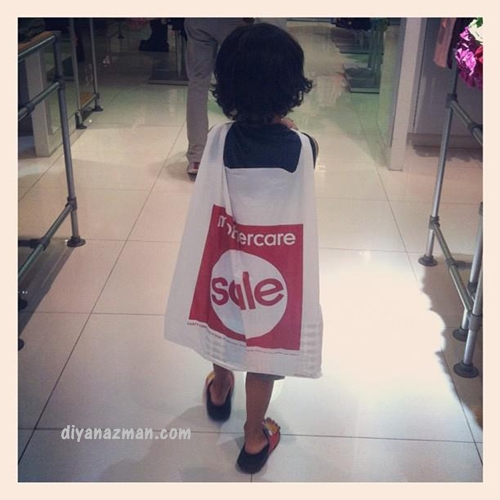 I took this pic when we went shopping at MidValley. Miki sangat bersemangat! He didn't ask for a single toy or food for himself, but the entire goods at Mothercare especially for his beloved unborn Adik! He insisted on carrying the big plastic bag that's pretty heavy. Because the bag was too big and long, he ended up dragging it across the floor. Finally Daddy innovatively crossed the handle part so it became a backpack! LOL.
Mummy hopes you will become a good loving brother to Adik even after he is born, Miki. Mummy and Daddy expects some green eyed jealousy from you, knowing how much TLC you have been showered with for the past 4 years when you were the only child. But it doesn't matter, we will manage it well. It is going to be yet another exciting journey for the both of us, now we are becoming parents of two. We are very excited.
We want you two brothers to be good friends, Miki and Adik, always watching out for each other. The world out there is a crazy place to be… Bad and mad people are everywhere, hurting innocents for no reason. Mummy and Daddy loves you both with all our hearts and praying for the best for our family… Insya Allah
Share