Jan 19th 2007diyanazmanFood glorious food! & Recipe Kuih Raya
Hahaha!!! The one who writes this joke is comedy genius. I laugh so hard when I read it. Do check it out :
Belum habis lagi berpuasa Datin CT telah pun mendapat kuih raya hadiah dari Datuk K. CT tersangat happy. Nak tahu kuih apa???Batang Buruk!!!!
Talk about raya, I really can't recall when was the last time I felt so zealous and excited about celebrating raya the way I am feeling this year. Perhaps because now we have a house of our own, that I can decorate suiting to my psycho psychedelic flava. Hahaha!
My mama will pengsan if I switch her pale beige carpet to a blood red one. Only Azman je can live in a house with crimson couch with yellow lantern kot!!..hahaha!
I also make kuih raya this year, being a pathetic beginner that does not know the difference between shortening and lemak sayuran, I start off with the easiest recipe :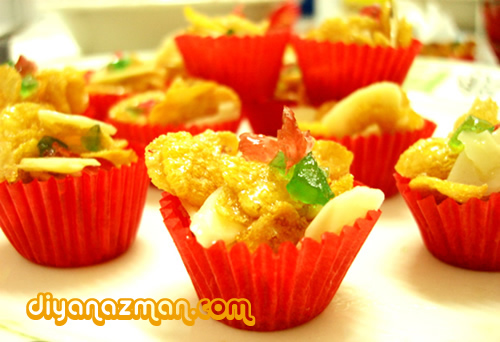 Toasted Honey Cornflakes with Almond
Ingredients:
7 cups of cornflakes
1 cup of butter
3/4 cup of honey
2 cups of almond slices (toasted)
Cherries
Methods:
Pour softened butter and honey onto bowl of cornflakes and almonds then mix well.Place in cookie cups, sprinkle tiny bits of cherry and bake in 170º for 10 minutes to make them chrunchy.
I plan to engross myself with these tasty tidbits while watching those sad teary Raya dramas and totally ignore those spunky kids who will be trying to squeeze the duit raya outta me… hehe!

Email This Post
Similar Posts
5 Comments »