Feb 26th 2007azmanI know what you did last weekend
Last Saturday, I was invited to University Malaya Za'ba Alumni Night. This was the first time I've ever attended my former residential college's alumni dinner…thanks to my ex-college mate, Ayoi for the invitation! He is currently Za'ba college supervisor & was also Diyana's lecturer at the Computer Sc Faculty when she studied there in 2001-2004.
It was a really nice dinner and what made it even better was most of the attendees were the notorious A-Top & B-Top gang!! During my stay in Za'ba college from 1994 ~ 1999, Za'ba was indisputable the best college in University Malaya and the only college that managed to win the overall title for both SUKMUM & Pertandingan Seni Pentas (PSP) – currently known as Festival Seni (Art Fest) – in the same year.
However, due to "over" celebrating the victory during that historic year, University Malaya has decided to stop recognizing the overall trophy for both competitions in the future!!
A Top is actually the Top Floor members on Block A. During our reign, we were so competitive we had won almost all college inter-floor title, from Sukaneka to Flower Arrangement Competition!! It was the best Floor & also the paling busuk aka stinkiest in Za'ba College because there're lots of socks left around the corridor & we also enjoyed kicking the dustbin for absolutely no reason at all.
Not only Malaysian, we also had a Finland student that can speak fluent Malay, Juho Rissanen that called his roommate, Lanoon as "Pengetua Akademi Budaya Songsang".
We knew a lot about Za'ba College!. We knew which room was haunted (Macet knew better..) & we knew there was even an invisible ghost castle in the woods at the back of the college buildings.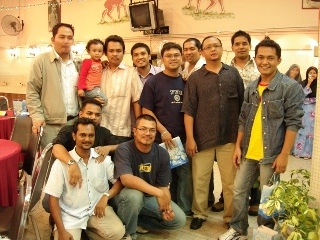 Personally for me, I am much pleased to see that the Court Soccer has become one of the most popular sports in Za'ba because I was the pioneer of Court Soccer Project in Za'ba College in 1996. It started with me; Abul & Bulat when we played soccer at the tennis court using the hockey team's training goal post. Then, when Lanoon & Katak came, the goal post was totally damaged!!!..hahahaha..
Now,I saw they have built a new & beautiful court in front of the college.
Back to Za'ba Alumni Night dinner, A-Top notorious members present were Lanoon, Katak, Yob, Tallang and Mamak. While B-Top members were Mayol, Cok Man, Apeng, Pardon, Tugi and Jaeh. Others that I can recognize were Hirud, Faridz, Amran, Bad & Zaki. It could have been better if Apek, Ponpon, Pyan, Poeng, Abul & Bulat were there too.
At the end of that dinner, we needed to choose the new Alumni President..and as always..the Position got to go to someone from our group and we have nominated our proxy, Mayol!! Just like the old times…we just can only win!!!
So, now Mayol is our new President!!! However, its not going end there; because Lanoon & Katak has already started lobbying for the secretary & treasury post!!
The history will repeat itself again.. I can hardly wait!!
Please visit this blog gallery for that night pictures…

Email This Post
Similar Posts
20 Comments »