McDonalds Bandar Baru Bangi Sucks!!
Last Thursday before work, I stopped by McDonalds Bandar Baru Bangi for a dose of eye opening caffeine and some extra calories to start the day off. Things at the office was not going so smoothly so I guessed I'd just order a take out and eat at my desk.
I ordered the Sausage McMuffin breakfast meal, that comes with a hash brown and coffee. It was 8 in morning and customers was flowing in but for some annoying reason there wasn't any food that's available immediately other than coffee.
The cashier asked me to take a seat and he would call me once my order is ready. I thought this was a fast food outlet? You see, waiting and fast, they just don't go together. Anyhow, it was early in the morning and my patience battery was still fully charged.
So I waited.
And I read that stupid magazine with some yellow haired Chinese surfer dude on the cover.
Minutes later I looked up and everyone around me was munching on something. They came in after me! Patience battery goes down to 50%.
I walked to the counter and asked about my already-paid-for food. One chubby girl answered that my sausage is not ready yet and what's everybody else was eating was McEgg that takes a really short time to make. I should say something to her but then again its against my rule to start a drama early in the morning.
I sat down again until they told me that my order was ready; looking at the time that was getting late, I grabbed my breakfast and rushed to the office.
With my tummy growling, I sat down in front of my notebook, grab my McDonalds Sausage McMuffin and I found this!!!! This!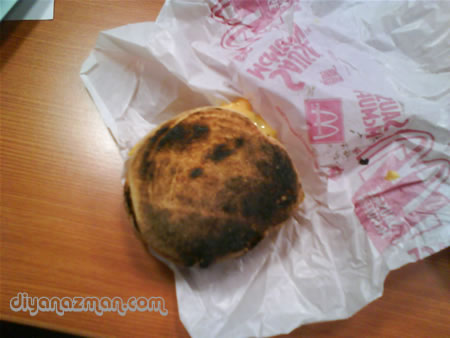 This!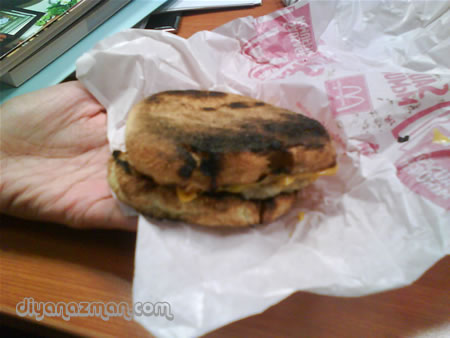 This is not food! This is charcoal! Carbon! Black as night!
I almost screamed with anger! I was hungry, and I waited so long for the food and this was what I got? Who was that bloody idiot McDonalds hired behind the grill? Would you let me stuff this burnt sandwich in his mouth,please! What happened to quality control? If its black as your black-black heart, JUST THROW IT AWAY!!! Nobody can eat this!!
I ached so badly to drive back from Putrajaya to Bandar Baru Bangi so that I can throw this ridiculous black piece of junk on the store manager's face and I was so sorry the work at the office that was piling up didn't permit me to do so.
BUT McDONALDS OWES ME A BIG APOLOGY!
McDonalds Bandar Baru Bangi especially, they are often really slow but burnt food? I cannot forgive that! No way!
So you guys reading this, when buying take out from McD Bandar Baru Bangi, take a peek of your food before leaving or better still don't go there at all. Save you from lots of annoyance and money.