Places To Eat That I Wanna Go Again – Langkawi
When I was in Langkawi last year I got the chance to have a late breakfast at Tun Mahathir's Japanese bakery and bistro, The Loaf. Situated at Telaga Harbour Park, Pantai Kok, The Loaf is so freaking awesome! The location is simply perfect; the scenery gorgeous; the food fantastic!
The other thing that makes me remember my dining experience there was the music that was playing. It was a nostalgic refreshing fusion of both local and international song; so lovely to the ears that my friend actually asked the waiter where did he get the cd.
The waiter had replied in a rather thick Langkawi accent; that the other waiter had made the cd himself. Well, sorry dear Tun, I didn't mean to disclose the fact that your bakery plays pirated cds but whatta hell at least the songs were great!
I cant remember the name of the sandwich that I ate. It was huge and delicious. Served with crisp salad. I was 4 months pregnant and I finished everything up. Not that the pregnancy had influenced the appetite though.
There is another The Loaf in KL but it is right in heart of the city and I hate going to the area. So till I go to Langkawi again or till someone wanna gimme a treat at The Loaf KL; Tun Mahathir's bakery on the paradise island is still in my list of nice dining place to re-visit.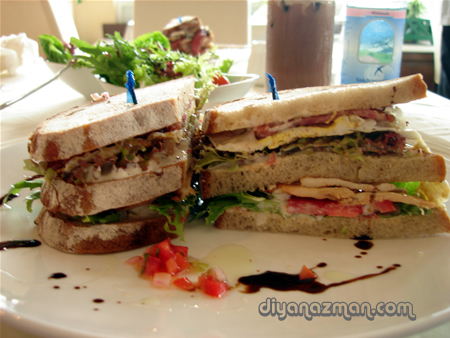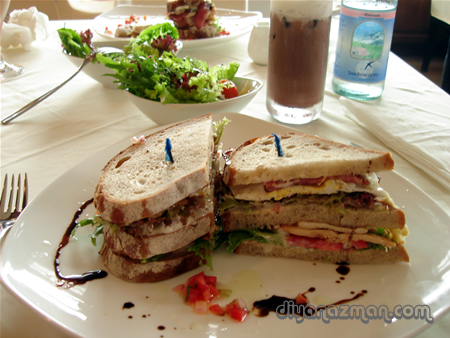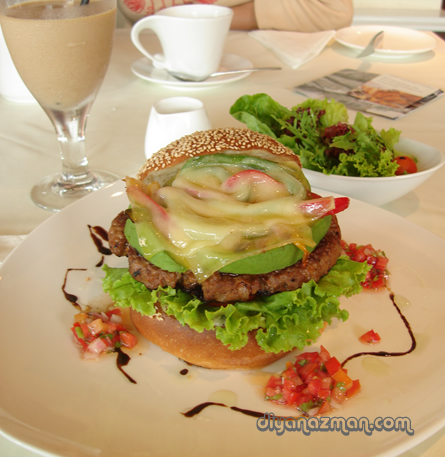 By the way, as I don't go back to bed after sahur everyday, I was thinking about breaking my own personal record and spend 15 minutes to update this blog EVERYDAY ( gasp!). Bukan apa, I know you guys are not in the mood of working already having it is the last week before Raya; so you guys can have something to read lah.. hehe