The Green Kebaya
I was browsing the thousands of fabrics in one of those boutiques in Jalan Tunku Abdul Rahman before I spotted the green beaded material worn by a mannequin. Without second thought I made Azman paid for it and it had became the kebaya I wore during our nikah day. It was green in color. Not so many people wear green on their nikah day I reckon, but I guess even in 2005, I was already inculcating the spirit of green environmental technology. Heehe!
The morning of our nikah day was one of the most spectacularly dramatic days in my life. My mother almost went crazy!
The green fabric had been turned into a lovely four piece kebaya; one satin skirt, one satin corset top, one beaded kebaya top, and a beaded long shawl. To me it was simple yet very lovely but to my mother it was an object that that almost caused her a vital mental shock, attire that had taken her to the brim of disowning her own daughter, cut her into 18 pieces and then buries her down the cellar. I was lucky we didn't have a cellar, and my mother was a little terrified of my pondan make-up artist to enter the room; or else I would have succumb to a tragic end in the hands of my panicky mother.
My kebaya was a little too see-through.
I am not kidding. My mother was on the verge of tears, she could not accept the degree of transparency of my kebaya. While the make-up artist applied fake lashes on my squirming eye lids, I told her that I have a matching shawl for cover, so IT IS NOT SO BAD, RELAX WILL YA?
She answered "Only David Copperfield can use a fish net to cover another fish net, oh I had given birth to a dimwit!"
"But Mama.." I said "I think David Blaine better than David Copperfield laa.." with that she punched my ear. And karate chopped my kidney.
My mom was wailing KITA ORANG MELAYU DIYANA KENAPA KAMU BUAT MAMA MACAM NI? MANA BOLEH PAKAI BAJU MACAM NI KITA NAK PERGI MASJID… BLA BLA BLA BLA…while tearing out her hair and rolling on the floor. Just kidding.
Ok, now let me be honest, I am not that twisted and bad ok!? On the mannequin I didn't realize the material was like that, to me it seemed lovely. The indecency was not intended! Luckily my genius make-up artist had done a creative twist to my baju and it ended looking like this. Appropriate enough I'd say. Nothing too crazy aight?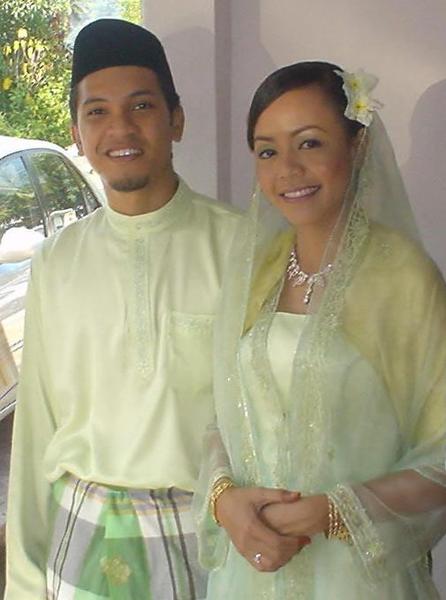 After our wedding day, the kebaya, dried-clean and nice was left hanging in my cupboard until a few years and a baby later, on 7 March 2009 I wore it again to my dear friend Farah's wedding. I have been with Farah since the day she and her husband Osmera mengorat-ed each other in our Matriculation College, until now. I am so glad that they got together and aren't they such a beautiful couple? Congratulation Farah and Mera!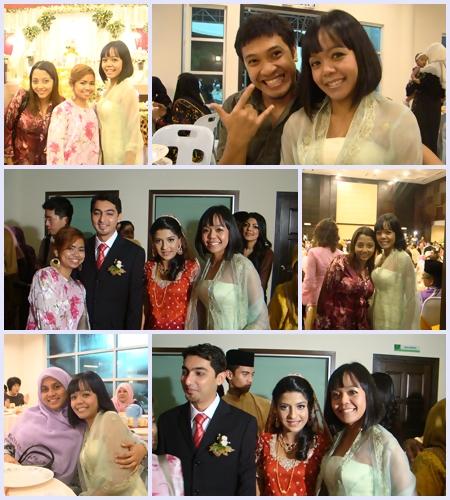 Top/left photo- beloved Hazrina in purple,single not available, beloved Sabrina in pink, single and AVAILABLE, top/right photo Azman does that when he had too much lamb briyani. Middle/left photo beautiful Farah and sleeping Osmera, bottom/left photo beloved Nadia congratulation on your pregnancy.