Aug 23rd 2009DiyanaFood glorious food! & Recipe Kuih Raya
Yesterday I was telling Azman that I love my blog so much because I have been  treating it like a journal or diary. He said if that is so how come I never blog about my vomiting experiences in neuro-surgery kinda details. For your information, yours truly even though has the power to scare away sales assistants at the perfume department with just one icy stare; is very prone to puking. I go to crowded places I vomit, I smell stinky stench I vomit, I read the yoga blog also I vomit.
I told Azman if he thinks I should write about my puking, I think I should also write about his artsy-fartsy farts. He looked away and quickly start teaching Miki ABC right there and then.
I think I will stick to blogging about shopping and food. Which brings me to kuih la raya kan kata nak raya dah lagi 29 hari  4 jam 25 minit dari saat ini??
I have some recipes that I love and have tried in previous raya but can't seem to find them now. I have been digging my old  folders somewhere in : D and :E and found a few. Here is one that I will definitely make because it requires no egg. Miki has eczema and allergic to egg but he loves cookies especially chocolate so this one is for concern Moms that love cooking. Happy trying.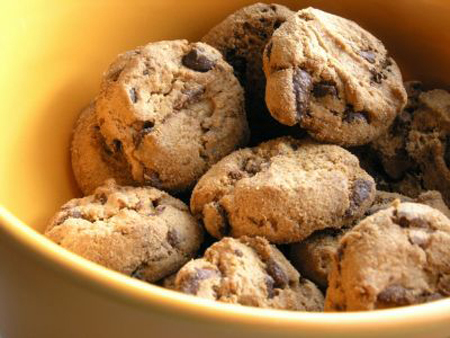 Ingredients:
1 1/4 cups flour
1/2 tsp baking soda
1/2 tsp baking powder
1/4 tsp salt
1/2 cup melted butter or margarine or 1/3 cup veggie oil ( about 70ml )
3 tbsp water
1/2 cup brown sugar
1/3 cup white sugar
1/2 tsp vanilla
chocolate chips
orange zest
a bit of ground cinnamon and all-spice.
Methods:
1. Mix flour, baking soda, baking powder, and salt and stir well.
2. With a mixer on medium speed, beat butter, brown sugar, granulated sugar, 3 tablespoons water, and vanilla until blended. Stir flour mixture into butter mixture, then beat until blended. Stir in chocolate chips, orange zest and nuts.
3. Drop batter in 1-tablespoon portions about 2 inches apart on baking sheets.
4. Bake in a 300° oven until an even golden brown, 18 to 20 minutes. If using 2 pans in 1 oven, switch places at half-time.
5. Let cookies cool on pan about 3 minutes, then transfer to racks with a spatula. Serve warm or cool.
Note – It would taste better if some chopped nuts can be included but if baking for toddlers this can be just another option. Al-maklumlah anak aku kekurangan gigi geraham. Optionally also, 1/4 cup blended oatmeal can also be included to reduce those colestrol consumed with the lemang and rendang. heheheheee

Email This Post
Similar Posts
16 Comments »