Two days ago I have taken my blog to a greater height. I created a POP QUIZ, hooray!! And it was not about reaching just another blogging milestone, I was genuinely pleased that I could generate such an intellectual question specially made for my intellectual readers.
It was a pretty tough question, alright. Kinda challenge your brain ability in semantic and logic, and hopefully after my readers are done thinking, they are still capable of doing basic mathematic instead of turning spastic and starts changing the nose with plastic. Wtf?
Anyway, the question is:-
WHAT DO HELLO KITTY, SPONGEBOB, SHIN CHAN AND DIYANA HAVE IN COMMON?
A lot of people submitted their answers in the comment box, thank you very much. I must say that all answers are correct so all of us are pemenang and no one is pengalah.

But one thing that I don't understand is answers like penepet (dangerously cynical),muka berlubang (holes in face) , hidung penyek (flat nosed), muka petak (square face); and kekampungan yang hanya Tuhan boleh membalas ( a beautiful young woman from the suburban and God will always bless her beauty) !!!!!
KORANG NI PEHAL HAA?? KORANG MENGAMBIL KESEMPATAN NAK MENGEJI AKU YE??? HAMPEH BETULLAAA KORANG SEMUA…..

I know la all those characteristics describe me better than depicting Bani as a big fat vain badass but you don't have laaa to say it out loud kan?? Pantang aku suruh komen, habis sebakul kutukan bagi kat aku.. aku pasrah je… dalam hati membara-bara..

Anyway the person that came the closest to the correct answer is Shqrmom; she said "Is it about pictures being stolen and used against legal rights?" I would hand her the first prize immediately if it ain't for the word legal that she used. Owhhh Legal is a word too big for someone kampong hanya Tuhan membalas like me… hahahaha
Actually people, my photo with eyes closed, mouth open and rambut like Kumpulan Hujan has been used by some stranger as his/her avatar in forums. So the similarity between Hello Kitty, Spongebob, Shin Chan and me is that our photos have used as profile pictures by strangers to represent themselves.
I am deeply concern about the one that has been using my picture especially. What if she wears baju kurung with suede loafers? OMG!! She could be a lady driver from Putrajaya!!! Noooo….. I would rather die than be associated with someone who drives with her face three inches from the steering wheel!!!! Nooooo….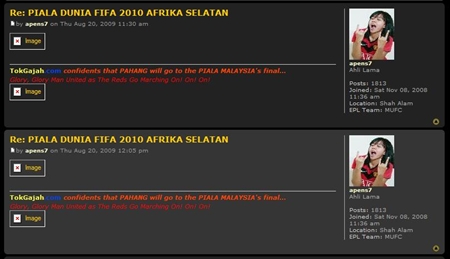 Tok Gajah forum

mymanutd forum
I found out that my photo has been misused as informed by Bauk my spunky spy. I hope there are no more out there that hasn't been discovered.
To apens7, yang ko berkenan sangat dengan gamba pompuan gila mulut ternganga tu pehal? baik ko tukar gambar aku tu cepat sebelum aku hanjengkan ko dan ambil legal actions. Ehh pandai pulak guna perkataan legal?

Email This Post
Similar Posts
26 Comments »