Finally Paypal support withdrawal to Malaysian Bank (Tutorial)
I have been waiting for almost 5 years to withdraw money from Paypal directly into my bank account. About 3-4 years ago, I almost considered taking risk as other Malaysian active Paypal users by registering with US account.
By the time I already decided to open a US account in year 2007, Paypal allowed us to withdraw PayPal money to credit card, debit card, or prepaid cards. That sent us rushing into opening Al-Rajhi account that offered Debit Card and also Public Bank Debit Card. But… the fee was still considered high. USD5 per transaction is too much for most of us.
But, yesterday after reading the news at TheMalaysianInsider, I found out that Paypal already accept Malaysian Ringgit and we can withdraw our Paypal money directly into our Malaysian Bank account for FREE if the transaction higher than RM400 and only RM3 per transaction if lower than RM400.
This morning I give it a try and everything worked fine. This is how to withdraw Paypal money to Malaysian Bank account.
After login into your Paypal account, go directly to "Withdraw" tab. Then, you can choose either withdraw to your bank account or withdraw to your card. Click at withdraw to your bank account and notice that it took 2-3 business days to process PayPal to Bank transaction.

After that, fill up your bank information and add your bank account with Paypal. For MEPS Bank Routing Code, you can click at Details and copy your bank routing code and paste it inside the box.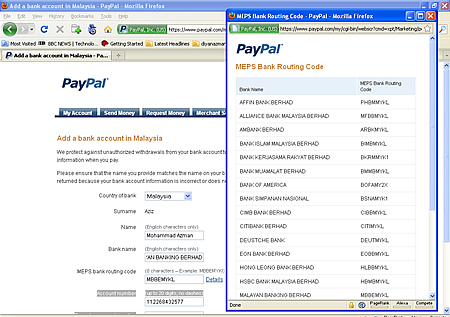 After adding your bank account, fill up the amount that you would like to withdraw in the next page and click continue.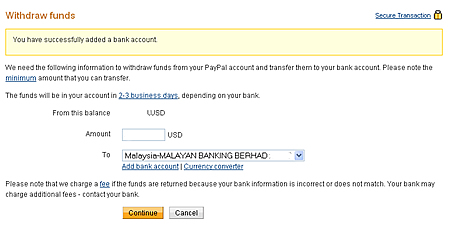 In the next page, you can send the total amounts in Malaysian Ringgit based on latest exchange rates.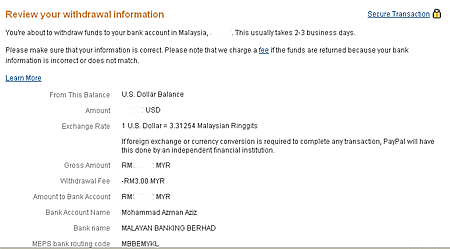 Click Submit and wait for another 2-3 business day!! Go to your bank ATM and.. buat la apa yang patut!! Takkan tu pun nak ajar. hehe!
I already used Paypal for almost 5 years now and I believe it is very secure and safe. This should be a very good news for all Malaysian selling stuff online. You can enable your online mall to accept credit card for free now through Paypal and you can now start selling internationally.
For online merchant that still doesn't have Paypal account and interested to make your online store accept Paypal payment, register now.
Diyanazman also decided to open our own online mall soon. Tuuunnggguuuu…