A Little Boy's Eating Habit
Salam Maulidur Rasul!
This is our lunch today, oven roast meatballs with gravy and French fries. Those fries was in fact, oven baked too so I am kinda pleased for being able to cut some fat in my family's diet. Imagine how much cooking oil used if those potatoes were fried like we always do.
For garnishing I only shredded some carrots and celery mainly because that's all I have in the fridge. While I was cooking, Miki already ate a handful of those vegetables.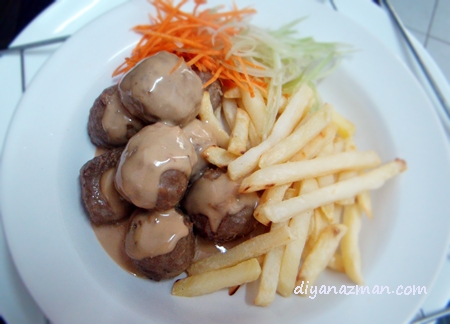 Yes, Miki is sorta s.t.r.a.n.g.e. He eats more vegetables than anything else. Cooked or raw.
I am writing this down today as an alibi, if ever Miki gets problems with p.i.m.p.l.e.s in his adolescence, it is definitely no way at all – Mummy's fault. Mummy has managed to train you to eat vegetables when you are as young as one and a half years old and any skin problem that arise is simple because kau gatal the hormone.
I think I have written on how much Miki loves corn but actually, spinach, sawi, leek, capsicum, carrots, celery, kangkung, cucumber, broccoli, cauliflower, asparagus, muchrooms, long beans, French beans, pumpkins.. MIKI WALLOPS EVERYTHING!
When we went for Nasi Ayam at Chicken Rice Shop, instead of everything else on the menu, Miki feasted on the whole serving of taugeh! At Domino's Pizza, he picked the thin slices of capsicum from under the cheese toppings. I picked on my toppings too, I don't like olives so I take those and put them on a side. Miki looked at them funny but when I said "Makanlah Miki, ni SAYUR olive!" he absorbed the magic keyword "sayur" and started to eat them all!
Yuck! Heeehehe
When Miki was not even 2 yet, he had this habit of collecting the salad pieces that has fallen of his Dad's Big Mac in the burger box and eat them like they were M&Ms. Same goes with sayur sawi, he eats that when he was not even 2, while I started to eat sawi when I was in secondary school and Azman ate sawi on the second year of his marriage. Miki is advanced eh? Compared to his parents?