May 17th 2010DiyanaFood glorious food!
My girlfriends and I went this restaurant for lunch last week. It is my third or fourth time there and Azman and I had also dined at its Bangkok chain when we were in the city last year.
The branch that I went to last week was Black Canyon Coffee at Alamanda Putrajaya, Bangladesh Nehi nehi kabi nehi!
I had my favorite meat – lamb! Roasted with plenty of hot balckpepper sauce. Izzatul had chicken teriyaki, Natrah had fish steak thingy that's very juicy and yummy. All are served with salad, fries and buttered toast. I drank coke but I guess the ladies were more health conscious then me they had some fruit yoghurt smoothie. (Kiddies!)
My black pepper sauce was tad on the salty side, my Coke tasted like it was supposed to be and the ladies claimed that their smoothies were heavenly. So I am giving this restaurant 3.5 out of 5 stars! Yeay!
They could have gotten 4 if it wasn't for this euphoric feeling of wearing a colorful sari, dance around barefooted in a beautiful meadow surrounded by blue mountains with snow on the top. And as I took a sip on my corn soup (gratis for every purchase of steak) suddenly I was wearing a hot red sari (yang singkat nampak perut tu), and dancing and singing on a train with Shah Rukh Khan.. Chalo Chaiya Chaiya… Later when I sank my teeth into the tender meat, the waiter asked how my meal was dan tetiba aku teringat scene from Slumdog Millionaire the part yang err.. never mind.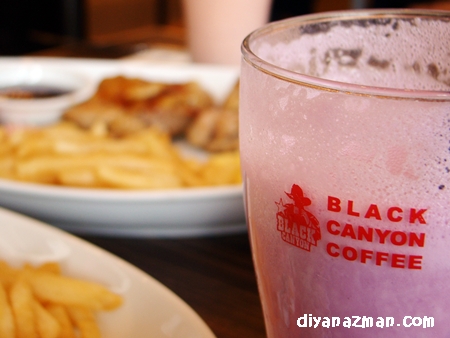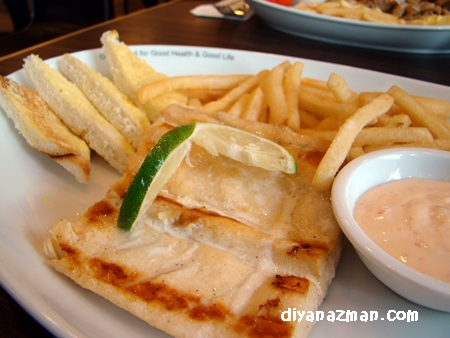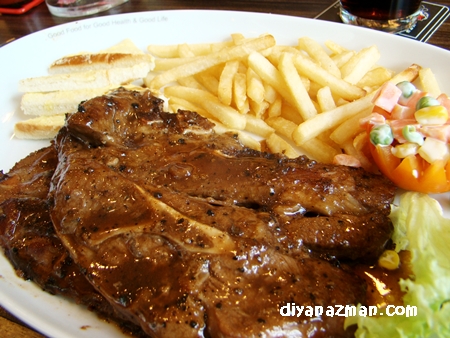 The waiter was a Bangladeshi man. In fact all the waiters in the restaurant were Bangladeshis. I am not saying they are bad waiters, trust me world worst waiters are those Kelantanese speaking Pattani people from the Tom Yam warungs. They are rude, stupid and annoying. Nuff said but these Bangladeshi men are prompt and courteous, suitable for a nice restaurant like this. The only thing that I cannot stand is the accent – I CANNOT UNDERSTAND!
I was like huh? Beg your pardon? Huh? Come again? Ayoyo terrible wei! It's ironic that a Thailand origin restaurant recruits all Banglas. Anyhow, I would still go there again.. wearing a sari… :p

Email This Post
Similar Posts
3 Comments »