House Renovation Diaries – The Oven and Lady Gaga
On 3rd June 2010, on Azman's 34th birthday, our house renovation project has completed up to 90%. The bathrooms are ready, the kitchen pending little touches here and there, all wiring works are finished, lights installed, air-cond cool and breezy, paint for all home interior has also been applied. Once we wash and clean the place, we can already move in. What's missing is fresh coat of paint for the exterior and fence.
We bought new hood, hod and oven last month from Houz Depot. They were having a great sale then and my purchase was berbaloi-baloi! Last week the hood and hob has been installed into place but the oven remained in the box. Yesterday I asked the contractor why is this compartment for the oven still empty and the answer was
"Kenapa mau letak washing machine di sini? Ini bukan washing machine kah? Saya ingat ini washing machine…"
*pengsan*
After I gained conciouseness, I proceed to gelak guling-guling on my beloved checkered flooring while they put the oven into place. Kontractor tu mesti rasa nak tampar je muka aku patblas kali sebab gelak cam nak mamps tapi sapa suruh dia kelakar baca O.V.E.N sebagai Washing Machine? weheheheheee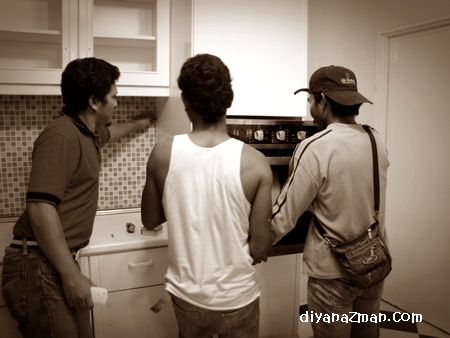 "Begini cara-cara memasukkan washing machine ke kitchen cabinet ye adik-adik!"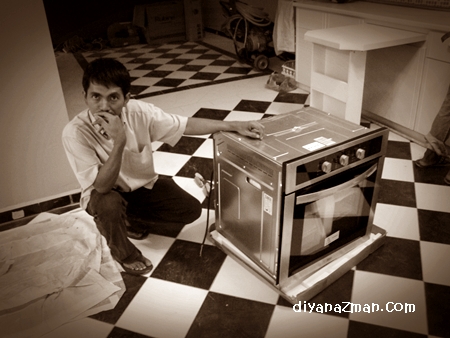 Ini pulak model iklan oven/mesin basuh sedang bergaya ala-ala Yusri KRY berselipar jepun.
Although there still a lot of things need to be taken care of, I am still very euphoric looking at the outcome of the renovations. Yeay! Happy Happy! I seriously cannot wait to start staying in this house despite having to go an extra mile in disciplining Miki. I can just imagine screaming all day and night…
MIKI, DON'T DRAW ON THE WALL! MIKI, WHERE ARE YOU….GET OUT OF THE CABINET! MIKI, DON'T WIPE YOUR HANDS ON MY CURTAINS! MIKI, GET OUT OF THE TUB, YOU CANNOT BATHE 5 TIMES A DAY! MIKIIIIIIIIIIIIIIIIIIII………….
However, I am still very–very happy! I will cook more in my new kitchen, I promise! It's gonna be great!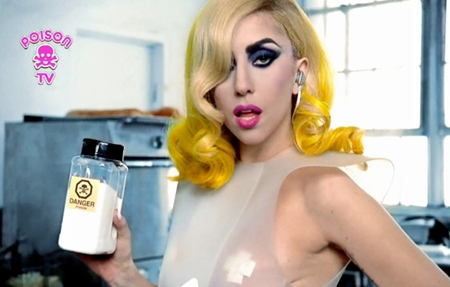 Aku dah terbayang-bayang nak masak sambil pose-pose Lady Gaga!