Hijrah
Boy oh boy…. Moving house can be so freaking tiring. We rented the lorry service on Sunday, the two tonnes lorry look two trips to get our furniture to Chateau Diyanazman. We are so freaking lucky that Bauk and Nize came to help. These two guys look very small but they are actually very strong. Bela hantu raya kot.. tatau la… hehe
Anyway that night was the first night that our family sleep over in the house and thanks to Nize and Bauk we got company. We have always wanted to have people staying with us in the house on the first night and although our family couldn't make it our best friends did! thanks!
Miki was super annoying throughout the time that we were moving, he wanted to help carrying the huge wardrobe, he wanted to ride in the lorry and the funniest was the part that he got super–duper broken hearted when the guys moved our TV!
Miki wailed in despair "Kenapa ambik TV Miki……………………………!"
And later at the new house when Azman and Bauk carried the big screen badass up the stairs to the family room once again he bawled and slobbered hingus sampai basah baju mak dia… cis! "Jangan amikkk TV Miki punyaaaa…!!!"
Ok fine! Ko sayang sangat TV tu ye? Kalau sayang kenapa ko conteng dengan crayon haa??
The truth is he was extra excited having Nize and Bauk at home with us. But I have to apologize to Bauk atas perangai anakku yang kurang sopan ittew owwhhhh! Apparently once (or more times) when Bauk was laying down watching the World Cup, Miki jumped onto his tilam Vono tummy, gomoi him like a teddy bear, pinch his cheeks many-many times with his nails yang berbisa itu and sang "PIPI TEMBAM! PIPI TEMBAM! PIPI TEMBAM!"
Sorry Bauk! Next time, if u ever feel like smacking Miki please smack Nize instead ok? *muka bersalah*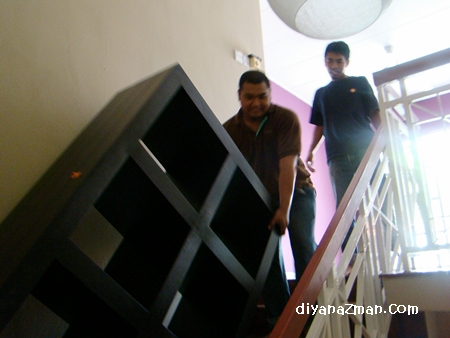 Bauk and Azman (can't be seen in photo) carrying my display cabinet upstairs while Nize pose ala-ala mandur…
The work of carrying stuff upstairs is a bit tricky because I have this  super long lampu bulat-bulat as the lights for my staircase so everyone had taken extra care not to bang the furniture in the glass ball and make Madam Diyana unhappy. You don't like her she she is unhappy.
But all are lucky, praise God the moving process went well without any problem (except in handling Miki) and Madam was very happy! Yay!!
The house currently is still a huge mess. Clothes still piling in plastic bags waiting to be sorted into wardrobes and other stuff still in boxes. Floor still dusty despite being washed many times, and time is what we need to polish them. As for stuff, I need to go couch shopping, carpet shopping, more curtain shopping etc etc… The TV is still doing its thang on the cabinet, we are yet to mount it on the wall. The wallpaper (for feature walls) still not installed, dunno when I am gonna call the suppliers… yeah.. still a hundred more things to do… not including clearing the remaining stuff that we have in the old house. Sighhh…
But in the mean time, here are a couple of pics as requested my my friends…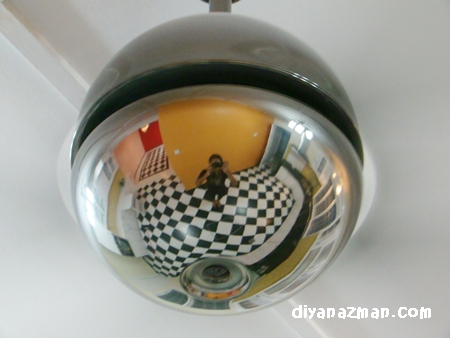 That's the reflection of me in the glossy black fan that we have in the kitchen. I love this fan. It is really cute! Seperti orang dalam kipas ittew kan???? (macam orang lidi jekk erk!) Yes my walls are colorful because I am a fan of perayaan cahaya remember? ayoyoooo…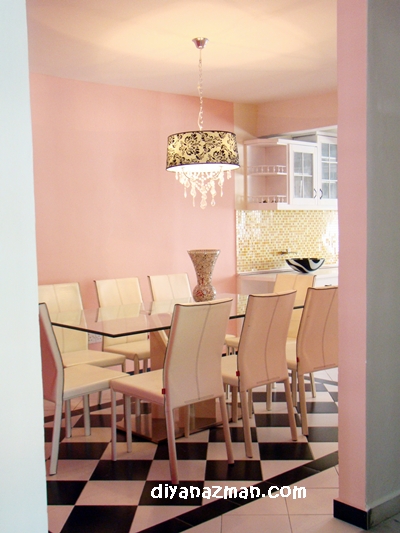 Above photo is my dining room, viewed from living room. My friend Azliza said it's nice just like a scene in the Movie Alice in Wonderland. AKU TAHU KO NAK KATA AKU KEPALA DONGGA MACAM THE RED QUEEN AZLIZA!!! AKU TAHU! AKU TAHU!!! AWAS KO AZLIZA!!!! AKU SENTAPZ!!
That's all the pics that I can share… hehehe…  Anyway just like any other home owner I am loving our new home, praise God the Almighty syukur Alhamdulillah that He gave a home, a shelter, a sanctuary for our family. Alhamdulillah…