Ayam Penyet AP
Saturday had been such a nice day. Nize came at around noon to help with the wiring works for the lamps at my patio. Azman the Handy Manny really needed his help this time around because Nize is certified and a better candidate for blaming may anything goes wrong later. Touch wood. haha
Miki was so happy to see him. Even when Nize was already seated inside, the lil boy opened our front door and stared at his new white MPV. "Nak tengok car Uncle Nize!" he said.
Come to think about it, I dont know if Miki was happy to see Nize or Nize's car. Hmm… In fact when we scolded Miki for playing with the car's lock when we driving later that day, Miki threatened to berak in Nize's car. Keji kan? He pointed at a bird's dropping on the windscreen and said "Tu! Miki beyak kat car Uncle Nize" Anak sapaa la keji ni… isk..
For iftar we went to Ayam Penyet AP at ioi Mall.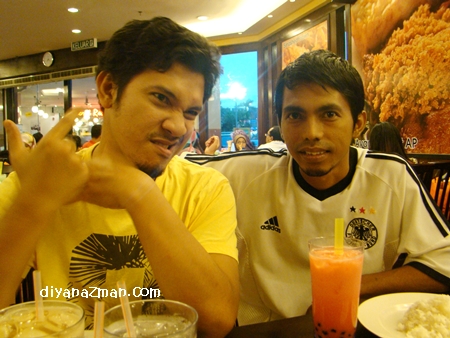 Muka lapar..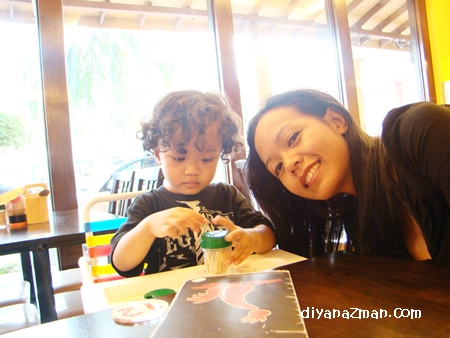 Sorang lapar sorang lagi dah bedal macam-macam dari pagi tadi..
Ayam penyet is actually an Indonesian cuisine that has recently gained so much popularity in Malaysia. We ordered the sets of the crushed fried chicken, which came  served with fried tofu, tempe, hot sauce a.k.a sambal and vegetables. It's delicious! I like it! This is the first time I tried Ayam Penyet AP, before this my favorite is from Wong Solo's.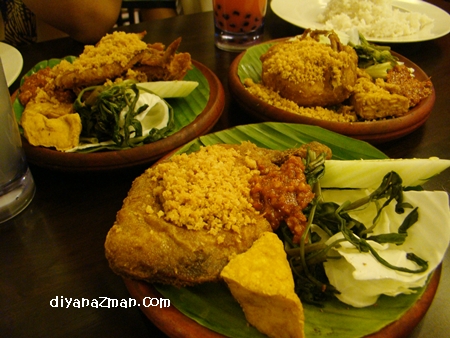 ayam penyet. tempe is missing from this pic, Miki dah cilok buat dadu.
We also ordered an oxtail soup and "masak lemak pucuk ubi". The soup had nothing to shout about and I personally think it's not worth the RM10 that it costs but the masak lemak was very yummy!
When it comes to eating out, I have this tendency of trying to decipher the codes of the restaurant's secret recipe each and everytime I was impressed with the dish. I have cooked masak lemak pucuk ubi many times but AP's has a lovely aroma to it and being the Plankton that I am, I scrutinized every savory bite and at the end…
I FOUND THE SECRET INGREDIENT! BWAHAHAHAHAHA!!!
They used an additional herb that I have never used in my masak lemak! Just why have I never thought of that!! The simple green leaf that i found amongst the pucuk ubi can now be the key to my own culinary success!
I CAN NOW COOK LIKE AYAM PENYET AP!!! BWAHAHAHAAHA…
After i found out what type of leaf that is.  I.CANNOT.RECOGNIZE. IT.DAMMIT!!!!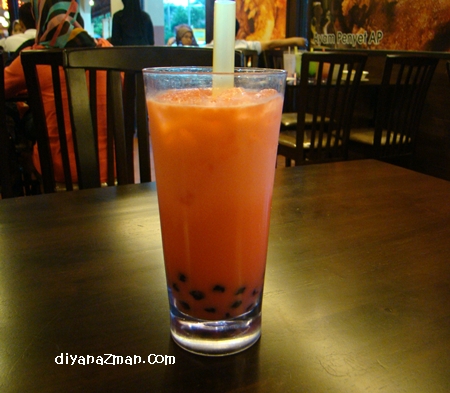 I didn't take any pic of the masak lemak but I did take the above pinky drink. Look like sirap bandung right? Actually it's watermelon juice. Don't know how it tasted like. Nize ordered this.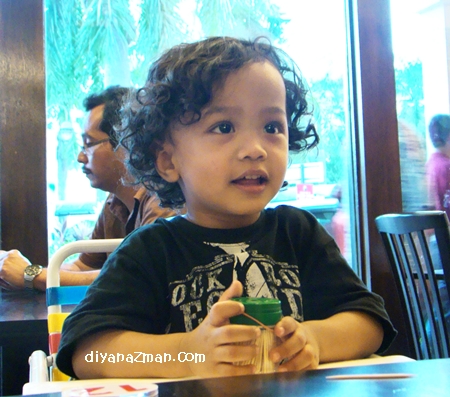 Isn't he so precious? This is my baby Miki. 2 years and 7 months. Nize's biggest fan. Thanks Nize for helping us. Nanti mmg nak mintak tolong lagi pun..