Baju Raya Miki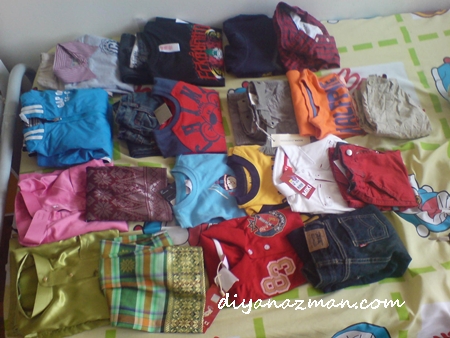 1. This happened to me 2 or 3 times already. Bought clothing items for the lil boy at Osh Kosh and Gap boutique before going to Brands Outlet JUST TO FIND THE EXACT SAME PIECES AT 50% OFF! Sakit hati! Takmau beli kat boutique lagi!!
2. Miki has 2 pairs of Baju Melayu with matching samping this year. Baju raya for his parents macam tak beli jee….
3. The best place to buy Baju Melayu for kiddoes Miki's age is MYDIN Mall! Best! Murah gilerrr with quality.
4. 8 pairs of pants (to date) including the coolest one – Skinny by Levi's. haha! Style eh? It's Miki's second pair of Levi's, Mummy got her first when she was 17 kot… giler kertu…
5. Hardly any pastel colors to avoid further mistakes by strangers who thinks Miki is a girl!
Can't wait for Raya!! :))
ps- aku nak gi beli baju raya kat mak aku pulak… dulu orang tua tu pun mesti cam aku jugak skrg seronok bukan main belikan baju anak… now it's our turn to make our parents happy… Love u Mama!