Jungle Tracking with Toddler at Air Terjun Sungai Lepoh
Last Sunday we had so much fun and muscle ache at Sungai Lepoh waterfall in Ulu Langat. Azman, Miki and I went jungle tracking together for the first time. Our friends Zira, her husband Wan and Miki's best friend at Mama Rose's, Danish invited us to join them for the activity and of course we couldn't say no! We also invited Nize because he is awesome and he is Miki's most favourite Uncle in the world! hehe
Wan, an avid mountain climber suggested the trail among others such as Broga Hill etc because of the waterfall that awaits us at the end of the trail. I really regret however for the fact that I forgot to charge my camera and we end up to use our cellphones hence the fugly photos. sighhh…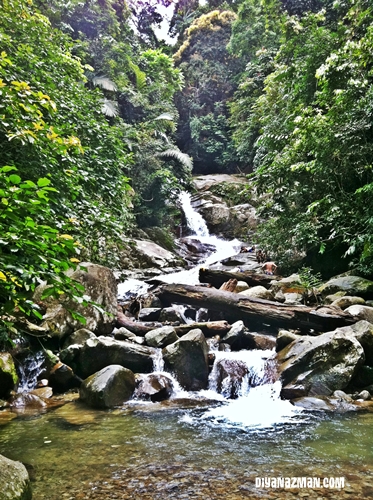 Sungai Lepoh waterfall
We parked our cars at the foot of the hill, an Orang Asli woman who was collecting the parking fee said there has been cases of injuries and one death up there on the hills that we were about to go. Gulp! I swallowed hard… It was an elderly Mat Salleh that couldn't catch his breath and passed away. Horror takkk??? Horror takk??? mat salleh panjat bukit tu sampai semput mampus terus… Aku yang bersenam sambil makan Oreo ni camana??
We started the climb at around 10.30am and arrive at almost 1pm! Berpeloh keti! hhaha.. First 30-40 minutes was walking through Orang Asli's farm thus the wilderness wasn't so thick. But as we go on, the banana trees and rubber trees amidst immense bushes turned into densed jungle.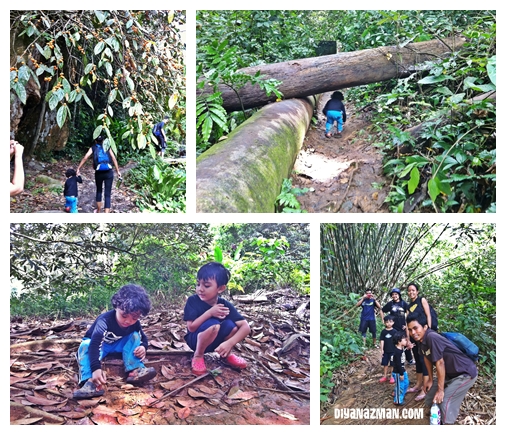 We walked on red slippery dirt. Miki and Danish both wore Crocs but I was the most "terror" one… I wore RM5 pretty pink slippers that I got after a padicure at The Nail Parlour! haha.. My Adidas was stolen la… I didn't get a chance to replace it yet….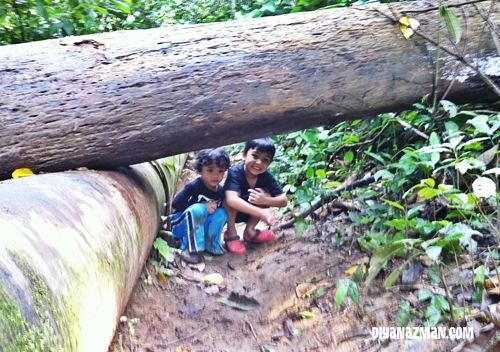 Miki, 3 years 2 months and Danish who is about 5 posing underneath a fallen log so huge!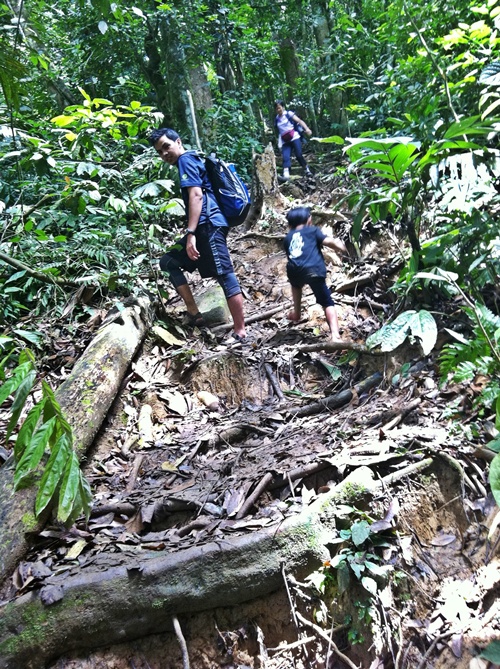 Check out the trail yo! Isn't it steep or what? Wan and lil Danish climbing like a pro!
Some parts of the trail is quite wide that 2 people could walk side by
 side but most of the time it's very narrow and slippery. We had to jump over fallen logs several time, cross small stream with water cool as ice. We walked pass huge rocks as big as elephants and not to mention flora and fauna. It was amazing! I love it and I wish we could go a bit slower so that I can enjoy the nature around but we need to move fast, we didn't wanna caught in the middle of the jungle when it rains!
Above, me resting on a kayu balak and Miki snacking on biscuit. Mushrooms growing fresh on another mossy log and a great beautiful flower that I have never seen before in my life. As we went uphill, the color of the flower turned whiter. Gorgeous!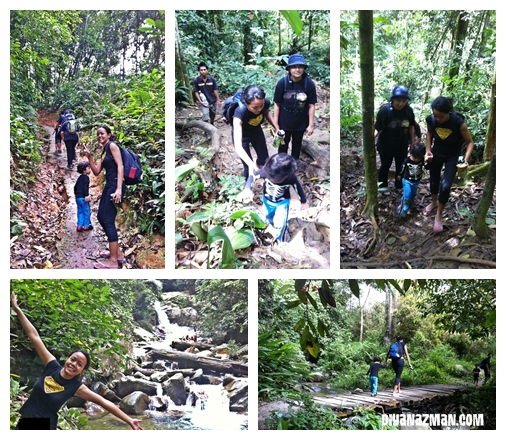 I am very-very proud of Miki and Danish! BTW, Danish as young as he is, has climbed Mount Jerai in Kedah OK!!! Isn't he the coolest or what!? Throughout the entire time, Danish was really cool and strong, he hardly complained and only asked to stop for weewee. As he was doing his business in the bush, he would yell very loudly
"Datuk.. Nenek… Cucu tumpang kencing!" LOL! Danish is the best! His motivation to go on is the waterfall that he couldn't wait to swim in.
Miki on the other hand need extra motivations. He doesn't understand waterfall so he took up the challenge of racing with Danish. He always wanted to be in front of Danish when we walked on the trail. He giggled when Danish fell down but one problem with Miki is he either ran or wanted to be carried. Miki hardly ever walk slowly! He is hyper like that!
Miki walked on his own half way through the trail and after that he started to get tired and asked for more stop. Azman had to carry him at some parts because Miki was tired and mostly the path was too difficult, too steep, too slippery..
However I am still very proud of him.. He is soooo terror! This was his first time ever walking amongst nature that wasn't a zoo or a park. He did very well! But actually Daddy lagi terror because on the way back from the waterfall Miki was sleepy (it was his nap time), so he got cranky and fallen asleep on his Daddy's shoulders!
Haha! So Azman had to ascend the hill with his backpack and a 15kilo boy on his shoulder. Terror la Daddy! Proud of you also la! haha.. After Miki woke up, he was so refreshed and happy, he walked with me hand in hand.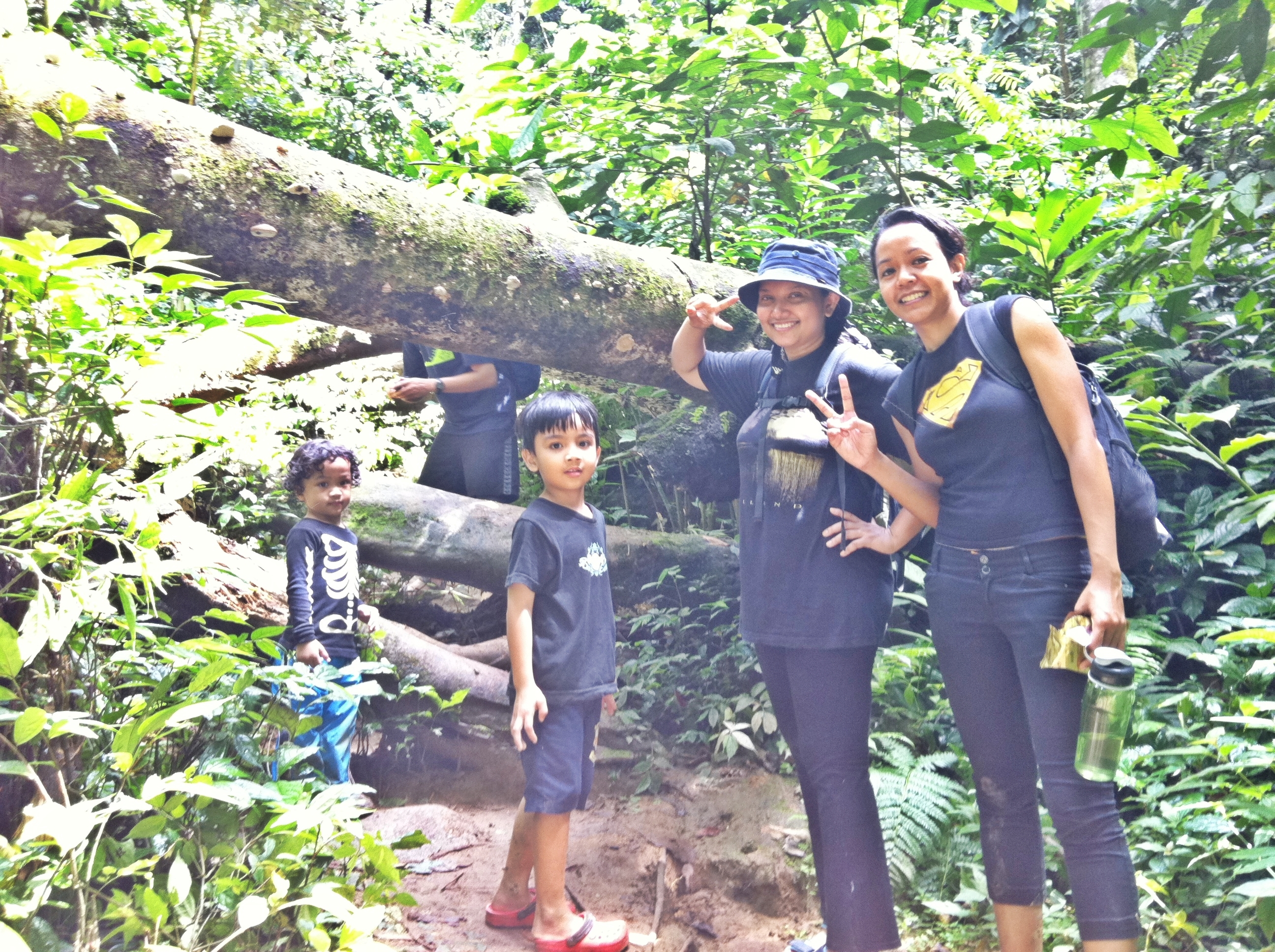 Miki, Danish, Zira and I…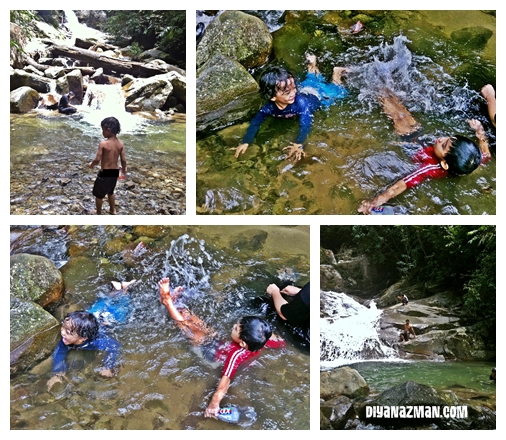 Air Terjun Lepoh is so amazingly beautiful. The water us green and teeming with fish. See below pic, Wan, Danish and Miki is feeding them bread. The water is so clear, you can see the fishes swimming around you just as though you were snorkelling at the sea! The guys climbed up the rocks really high and dived down but Zira and I tak berani la… hahaha
We brought lots of food and lunch by the waterfall can never tastes so good!
Miki also got his first pacat bite yo! I saw it on his calf and called Azman but he said "Cabutlah!"
I was like.. cabutlah??? I didn't go meroyan pulling my hair and melompat-lompat is good enough ok?? Pacat is the second creature I am most terrified of after caterpillar. Ada ke suruh aku cabut… giler ke….. Miki steady je… dia tak sedar pun apa berlaku.. he was busy playing with the cool water…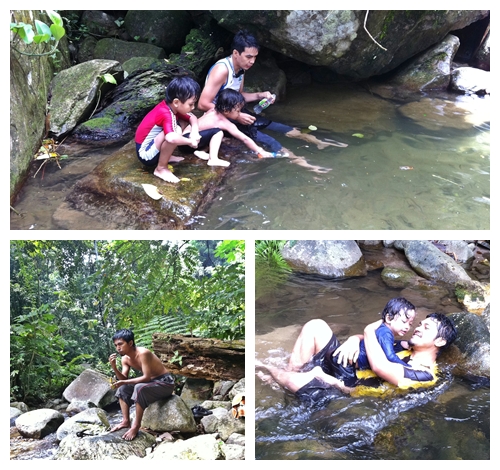 Above – Nize layan blues and Azman dipping in the water in his clothes. At the foot of the hill where we parked our car, was actually camping and picnic area as well. So once before we go back home, we took a cooling dip again! Lovely cool water and beautiful surrounding…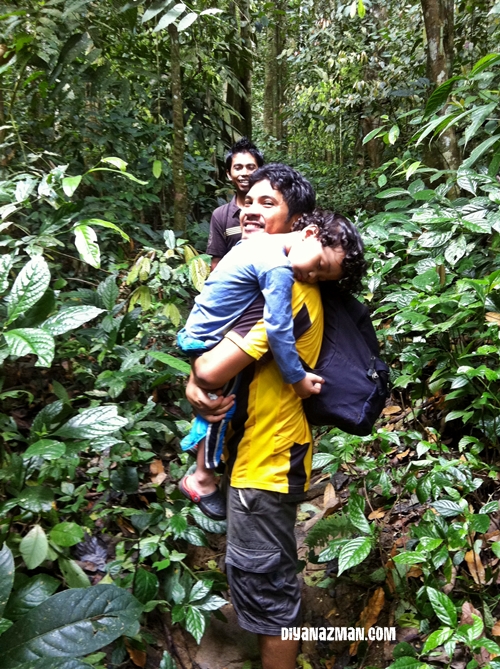 I am glad Miki managed to hike the hill although with his Daddy's assistance. I am glad I managed to as well even in my selipar padicure. Haha! I want Miki to be tough and be a nature lover. Jangan nak main game pastu jalan-jalan kat mall makan ice-cream je! Lembik ok! Lembik!
Next time we should camp, so that we can take our time walking and rest well before we make our way back. I cannot wait for the next adventure!