Buffet Ramadhan 2011 – Selera Kampung-Ku At Cinnamon Coffee House Of One World Hotel
Buffet Ramadhan started way too early for me this year. I was invited by One World Hotel to get a taste of their Ramadhan buffet last Thursday and I didn't just get a taste, I had one of the best feasts ever.
FYI the Cinnamon Coffee House that we went to is an award-winning restaurant! It is located on the concourse level of One World Hotel. I have never been to the Ramadhan buffet at this hotel before but I think this  year I will take my friends here laah… Simply because the selection of super yummy food is huge! Semua sedap-sedap including those authentic malay dishes that you can only find in specific places  in Malaysia.
The Ramadhan buffet is starting from 1 – 30 August 2011. I loveee the home-made kampung food! At times you can forget you are in PJ but feeling-feeling macam kat Pahang, Perak etc… They serve  traditional favourites like nasi minyak sari shawal, kari daging tetel berkentang, ayam masak rendang raya, ikan tenggiri goreng belada, udang sambal petai hirisan, ketam goreng berempah, nangka muda lemak cili padi dengan tulang ikan masin and much more.
Other than that, just like what Miki and I had, you can treat yourself to Middle Eastern specialties, Penang nasi kandar, barbecued delights, whole roast lamb and hawker stalls featuring char kway teow, laksa, mee mamak, popiah and rojak prepared a ala minute.
There is also the kerabu station, dim sum corner, Japanese counter and Italian kitchen to satisfy your cravings. An assortment of refreshing beverages and sweet desserts complete a memorable dining experience.
Enjoy the pics!
RAMADAN BUFFET 2011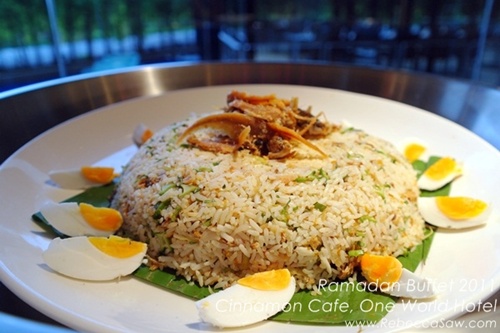 Nasi Ulam terbaik!!
DO YOUR OWN TRADITIONAL MALAYSIAN SALAD
Rojak buah-buahan with traditional condiments
Caesar salad with condiments
SAVORIES AND PICKLES
Aneka Keropok , Aneka papadom , Tempeh Ikan Bilis Berlada, Telur Masin,
Paru Goreng, Hati Goreng Kicap, Ikan Masin, Ikan Masin Talang, Ikan Masin Talang, Acar jelatah, acar buah, acar rampai, Ikan Masin Sepat ,Jeruk Kedondong, Jeruk Anggur, Jeruk Betik , Jeruk Kelubi ,Jeruk Cermai, Jeruk Mangga Muda, Jeruk Pala, Lemang , Ketupat Palas, Nasi Himpit, Serunding Ayam, Serunding Daging
MALAYSIAN SAMBALS
Sambal Tempoyak, Sambal Budu , Sambal Belacan , Sambal Cincaluk , Sambal Hijau,
Sambal Cili Manis, Sambal Mangga Pedas , Sambal Kicap Pedas, Sambal Kacang ,
Sambal Asam Jawa
HOMEMADE FUSION BREAD COUNTER
Assorted Bread Loaves & Roll, Serunding Bread, Morocco Bread, Spices Zatar Bread Kurma Roll., Grissini Stick & Lavash.
INTERNATIONAL APPETIZERS
Seafood With Penne Pasta Salad
Sausage Cheese Salad
Baked Potato Salad With Horseradish
Ulam – Ulaman Serantau, Petai , Jering , Kacang ,Botol , Timun ,
Daun Ceylon , Pegaga , Ulam Raja ,
Mattar Chat, Zaffrani Apple Chat Chicken, Karara Palak Chat
4 Types Chinese Salad
GARDEN Of VEGETABLES AND MIX LETTUCE (cold)
Mesclun mix, Tomato Cherry, Sweet Bean, Broccoli, Artichoke, Asparagus and Cucumber
CHOICES OF DRESSING (cold)
Thousand Island, French Dressing, Italian Vinaigrette, Balsamic Vinaigrette and Mango chutney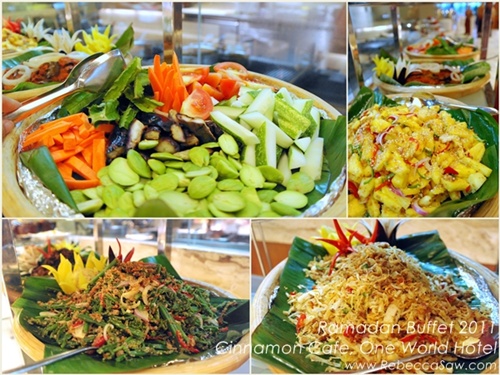 Aneka Kerabu! Peminat Petai sila angkat tangan!
ANEKA KERABU STATION
Urap Pegaga Sari
Kerabu Kaki Ayam
Kerabu Udang Dengan So Hoon
Acar Rampai Mahligai
Kerabu Mangga Bunga Kantan
Kerabu Taugeh Bercili
MIDDLE EASTERN FOOD
Salad and Cold Appetiser
Cucumber With Yoghurt, Labneh With Walnut, Hummus, Warak Enab(Stuff Vine Leafs),
Mutabble, Tabuleh, Fatoush, Hummus Bairuty, Hummus Eith Mince Lamb And Spices,
Tomato Tahini Salad.
HOT STARTERS
Bourke With Mince Lamb, Bourke With Spinaches, Bourke With Chess, Tahini Parley Sauce,
Potato With Corinder And Garlic, Falafel(Action Station), Kebbeh With Beef And Spice With Pine Nuts(Action Station), Spinach Arabic Pie(Bakery)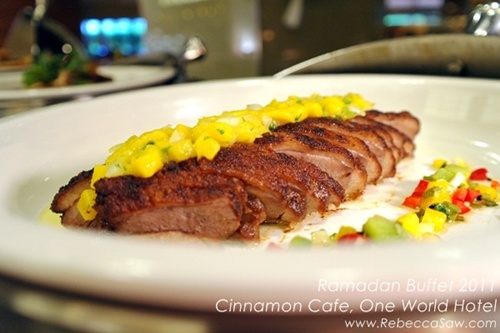 Duck breast with mango salsa… This is soooo delicious!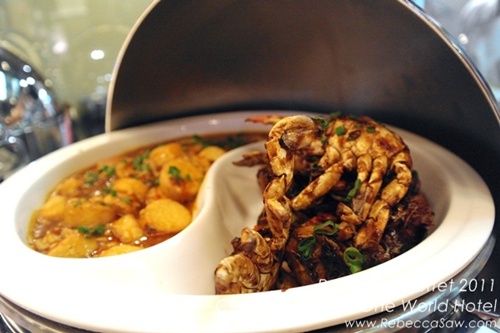 Crabs for seafood lovers..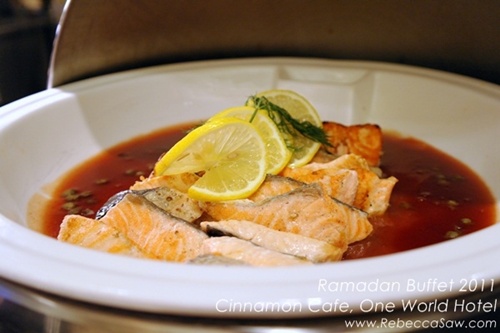 This is definitely my favorite!! SALMON!!
Soup on buffet
Soup Ekor Cendawan Hitam Bersuhun
Moroccan Harira
Soup Seafood Tom Yam
Chicken Rawa Rassenm
Vandalia Cream Onion Soup
Corn Soup With Crab Meat
Bubur Lambuk "One World"
With varieties of Condiment
Carving Of The Day With Condiment And Sauce
Marinated Roasted Whole Lamb with Garlic Rosemary Sauce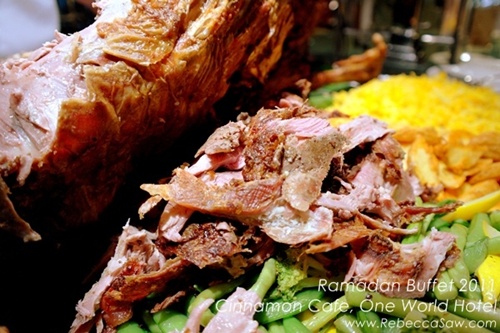 PIZZA
Seafood Percik Pizza, Beef Rendang Pizza, Chicken Satay Pizza, Masala Veggie & Seafood Pizza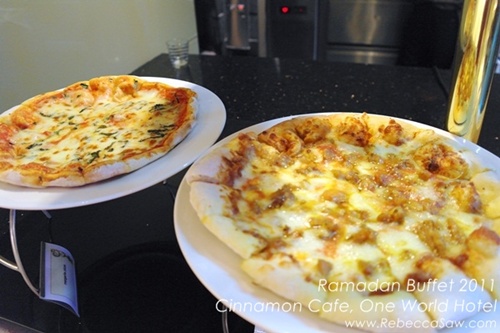 Pasta Station
Freshly home made pasta cook in tomato sauce with herbs and seafood
Dim Sum From Our Chinese Chef
Assorted Dim Sum Of Steam, Pau With Chili & Sweet Sauce
Putu Piring , Putu Mayam, Kacang Kuda Rebus,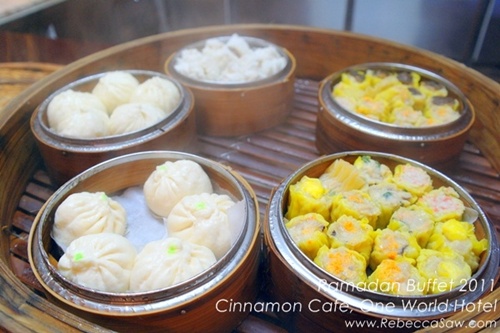 Dim Sum… Miki sangat suka ni sebab dia feeling-feeling KungFu Panda.. hehe!
Malaysian Hawkers Fare
Noodle Soup Of The Day
Mee Curry
Prawn Mee Soup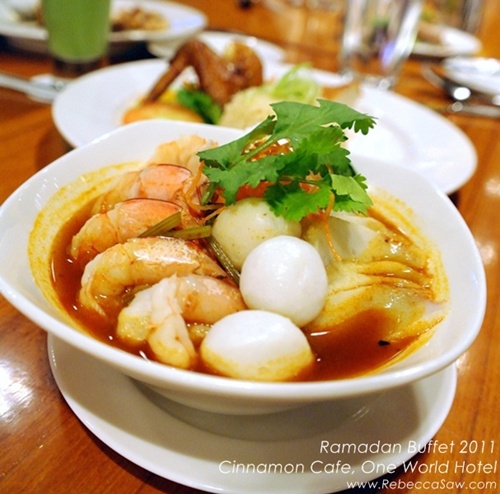 Mee Udang makes me feel like I am in Teluk Kumbar, Penang where the best prawn is found!
Hainanese Chicken Rice
With Steamed Or Roasted Farm Chicken, Roasted Duck
YOUNG TAU FOO CONER
20 Items For Guest Choice
Blanched And Dip With Your Choice Chili, Sweet Sauce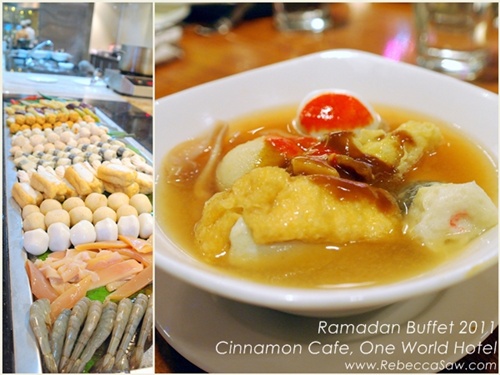 Yong Tau Fu

POPIAH BASAH CONER
ANEKA PANGGANG "SERANTAU"
Charcoal Grilled Chicken Wing, Beef, Lamb , Squid , Mini Steak, Green Mussel , Crab, Otak – Otak , Lamb Chop, Terubuk , Cencaru, Tenggiri , Kembong , Selar ,Pari With Kicap Manis, Cincaluk , Air Asam Tomato , Cili Manis, Rice Cake, Cucumber, Onion, Pineapple & Peanut Sauce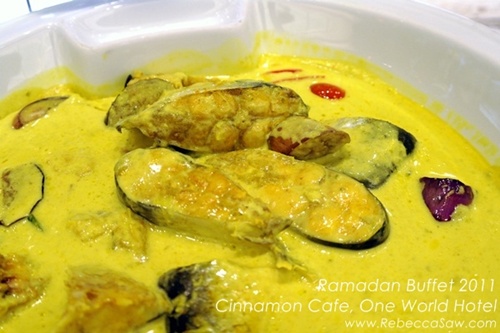 Gulai Tempoyak Ikan Patin Pahang! Terbaekkk!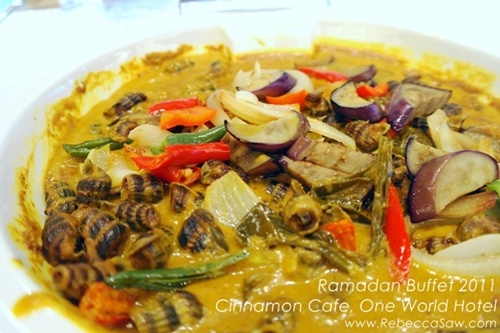 Lemak Cili Padi Siput Sedut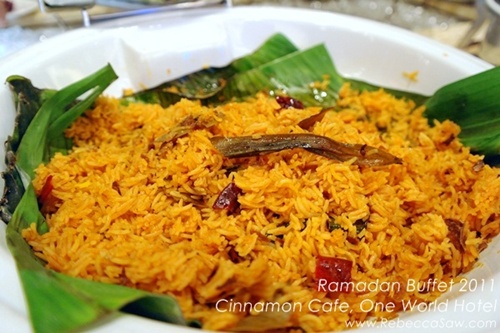 Nasi Tomato
Middle East Specialties
Shawarma
Incredible India
Tandoori
Murgh Malai Tikka
Chicken Tikka
Fish Tikka
Seekh Kebab
Order Your Favourite "Roti Canai"
Roti Pisang , Roti Tissue , Roti Cheese , Chicken Murtabak , Roti Kosong , Roti Susu Dan Gula.
Roti John, Roti Bom.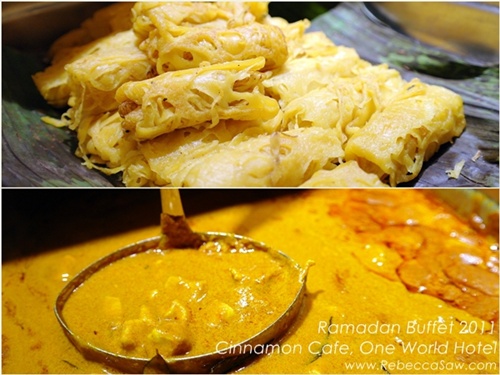 Japanese Appertizer
Japanese Kim Chee, Anchovies Aie, Sunomono, Unagi Su, Kurage Chuka, Edamame, Hotate Chuka,
Wakame Chukka, Parikozuke, Shibazuke, Takuan, Ama Rakyo.
Japanese corner
Tempura
Deep Fried Seafood, Meat & Vegetables Served With Soya Sauce, Grated White Radish & Wasabe
Tiger Prawns, Snapper, Seabass, Black Mussel, Octopus
Egg Plant, Carrot, Zuchinni, Bell Pepper, Lotus Root, Okra, And Yellow Squash
Sushi & Sashimi Deli Corner
Maguro & Salmon Sushi, Baby Octopus & Unagi Sashimi,
Futomaki Rice Rolls With Prawns & Vegetables
California Rolls With Avocado & Cucumber
Served With Kikoman, Wasabe & Pickles Radish
Deep Blue Seafood On Ice With Condiments (Cold)
Oyster, Green Mussel, Tiger Prawn, Crab And
Lemon Wedges, Cocktail Sauce, Red Tabasco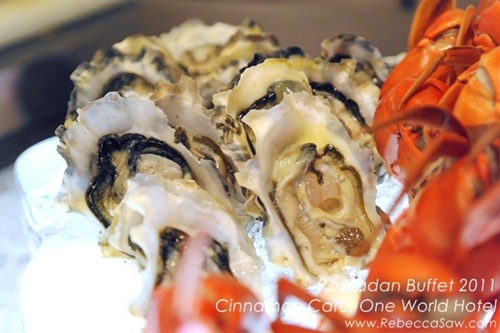 Azman's favorite – Fresh oysters and prawns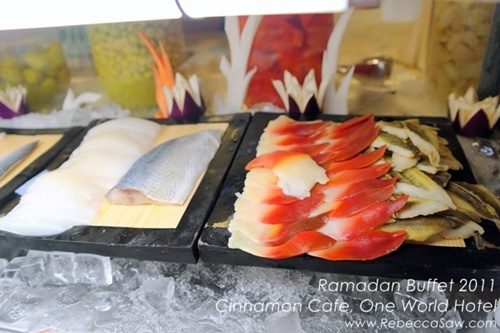 Sliced Fruits
Red Watermelon, Honeydew, Yellow Watermelon, Papaya , Pineapple
Dragon Fruit With Asam Powder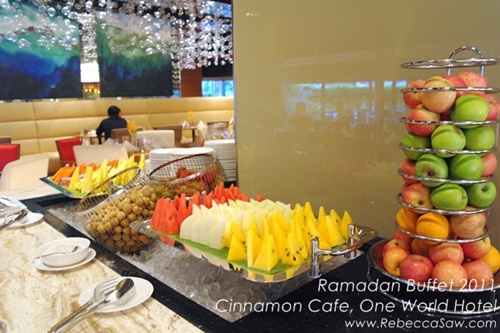 Seasonal Fruit Of The Day
Longan, Rambutan, Jambu Air And Banana Mas
Dessert Malaysian
Variety Of Malay Kuih, Pandan Kurma Layer Cake, Nutmeg Coconut Pie, White Lady Cake, Agar-Agar Gula Melaka, Agar-Agar Santan,Rich Cherry Chocolate Moist Cake, Kurma Cheese Cake, Cream Caramel, Fruit Tartlets,Cinnamon Souflle, Kurma Linzer Tart
Honeydew Pudding In Glass,Passion Pannacotta, Tart Kurma, Brownies, Dodol, Bahulu, Strawberry Mousse, Tapai Pulut , Tapai Ubi , Pisang Rebus ,Jala Emas ,Badak Berendam,
Mini Popia, Kuih Sepit, Kuih Bijan, Kuih Cakat Ayam, Tart Nenas ,Pulut Panggang, Kuih Kuci,
Lepat Pisang,, Ondeh- Ondeh , Kuih Lapis , Bingka Ubi, Kuih Talam,
Middle Eastern Dessert
Pistachio Baklava, Spice Semolina Cake, Rice Pudding With Blossom Water, Semolina Pudding.
Ice Cream Coner
Chocolate Ripple, Creamy Vanilla, Exotic Strawberry,
Peppermint Choc Chip, Sweet Corn, Vanilla Fun Blueberry, Vanilla Mix Berries, Yam
Ice Crem Potong 4 Type
Chocolate Fountain
Strawberry, Grapes, Marshmallow, Wafer Biscuit, Chocolate Éclair, Profiterole,
Chocolate Brownie, Selection Of Dates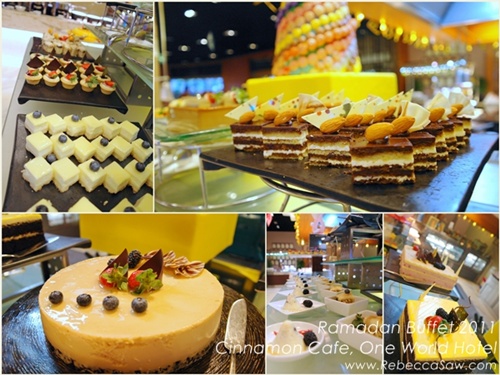 How can I resist this!?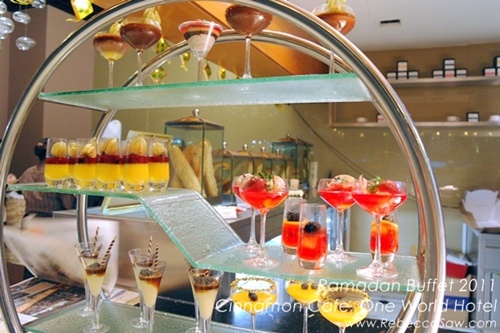 Jellies that Miki loves so much…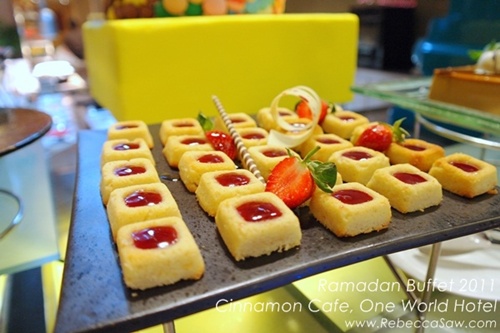 Dessert A La Minute
One World Ice Kacang With Condiment
Ice Crem Goreng ,Pop Corn,
Pengat Nangka Bersago
Ginkgo Nut With Soya Bean
Air Manisan Station
Air Jagung , Air Tebu , Air Sirap Bandung ,
Air Cincau, Air Soya Bean,Air Asam Boy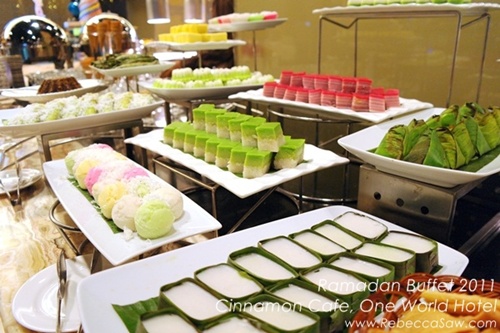 I was there at Cinnamon Cafe with my blogger friend Rebecca and other blogger. I was too busy eating, feeding and entertaining Miki until the pics that I took was lousy so I used Rebecca's.
If any of you would like to buka puasa here, these are the details:
Buffet Dinner: 6.30 pm to 10.30 pm
RM108++ per adult
RM54++ per child aged 4 – 12 years
Surau facilities are available for Muslim guests as well as ample parking. They also cater for private group dining.  For example if you would like to belanja your clients or your stakeholders for an unforgettable buka puasa event in the comfort and privacy of our function rooms, they offer delectable set menus priced from RM130++ per person.
For reservations, call Cinnamon Coffee House, One World Hotel at 603 7681 1157.
Selamat Berpuasa! 🙂