Jul 31st 2011DiyanaFood glorious food!
Wah wah!! Belum puasa dah fikir kuih raya camana nih??? Tak sesuai betul! hahaha..
Anyway, this time I would like to share a recipe that was given to me by a very health conscious friend of mine. This is due to the fact that a couple of our family members has diabetic but it's sad if they can't enjoy food especially during raya.
In fact,  less sugary food is best consumed by all of us not just diabetes patient kan? Ayoo takkan dah sakit baru nak jaga diet kot? hehehe
Diabetic Date and Nuts Cookies Recipe (Resipe Biskut Raya – Biskut Kurma Berkacang)
1 cup Diabetic Orange Marmalade (kat Cold Storage ada jual)
1 tsp Baking Soda
1/2 cup Shortening
2 cup Flour
1 Egg
1 cup Chopped Dates
1/2 tsp Cinnamon (serbuk kulit kayu manis)
1 cup Nuts
1 tsp Vanilla
Preparation:
1) Mix all ingredients together well.
2) Drop by teaspoon on greased
sheets.
3) Bake 8-10 minutes in a 350oF preheated oven.
Hehehehe senang kan? I am so into these recipes that use cup as measurements instead of grams. Kalau pakai gram-gram ni boleh terkehel jari aku wooo… Maklumlah! Berbakat! ehehhehe
Happy trying!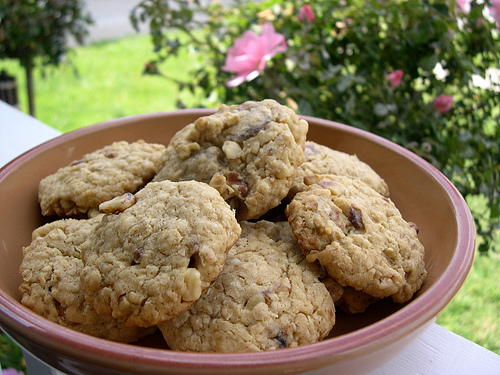 Email This Post
Similar Posts
4 Comments »