Hidangan Buka Puasa – Chunky Tomato and Celery Salsa
I would like to apologize to any of you that is allergic to pictures of food during this fasting month. But I am sorry la… apart from my work at the office, myself just like most moms/wives out there could not avoid thinking about what to cook for iftar, what to serve to my vegan-wannabe 3 year old, what to feed laki aku masa sahur nanti… etc
So whether we like it or not, food topics are still reflected in the blog. Just like now, I am writing about what we had last night. I made this salsa thingy that I served with pasta (because we need the carbs badly).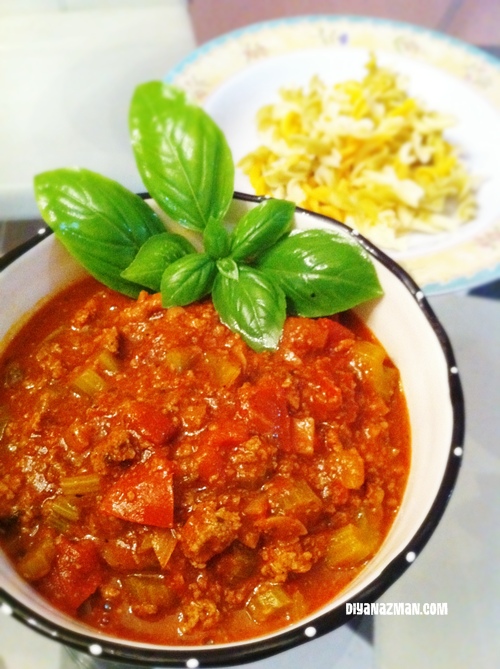 It's packed with tomatoes, celery, beef, onions and some mushroom too. I used tomato puree as the base and I added lots of chunky chopped tomatoes to get the real taste. The main herb that in this dish is basil! My fave!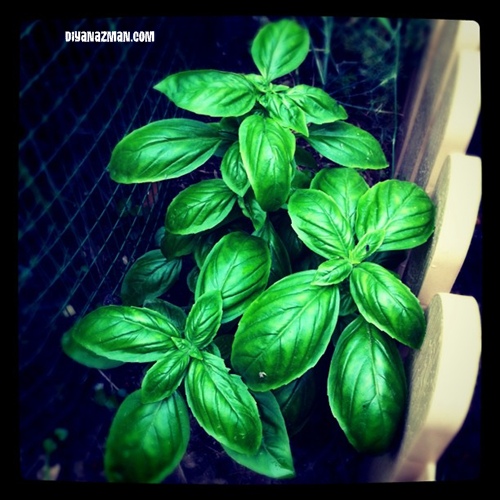 Above is one of my many organic basil plants in our garden. This one grows so nicely by the plastic fencing Azman uses to divide his sawi patch from the bayam patch. Glorious eh? When it rains especially you can smell the fragrant basil in the air… I love my garden.. hehehe..
Miki on the other hand, loves pasta and everything vegetables. Nowadays he has become a bit picky and prefers hard vegetables than  green leaves like sawi and kangkung. When he saw me serving this last night, he said
"Wow! So goody! My favourite lunch!"
"We are having dinner lah Miki, lunch tu tengah hari!" Mummy commented.
"Yay! It's dinner time!" Miki jumped with joy! La… ko baru sedar ke hari dah nak malam? Haishhh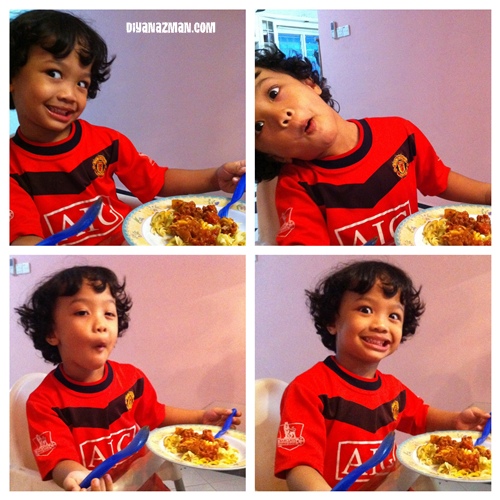 Inilah budak notti yang makan dalam pingan plastik tak berlapik else my table cloth will be smeared with the tomato sauce. Walaupun dah besar tapi makan masih comot lagi!!
So what are you guys having for buka puasa today? I am not cooking today because I got an invitation from Holiday Villa! Yay! Wait for my review…
Have a blessed one everybody!