Healthy Care Deluxe Booster Seat – Another Seriously Cool Baby Stuff
It's December everybody! As you all might have known I am once again a preggy Mama, still battling the fierce first trimester with vomits and fatigue but nevertheless excited, oh how much I am excited!?
Hehe call me crazy or whatever guys, but let me show you what I got for Adik Miki. It is the Fisher-Price's Healthy Care™ Deluxe Booster Seat, yay!
Apparently this is one of the latest product of Fisher Price and just like the others, this booster seat is freaking cute! As a Mom that is a bit obsessed with safety and quality, let me tell you why the Deluxe Booster Seat is a must have.
First of all, we already have a high chair at home that Miki sits on. Although it is not so bulky but I don't think  I want another of that thing in the house, just where would I keep it? The Deluxe Booster Chair is just awesome because it is not only portable, it can be strapped to most of the dining chairs you can imagine. Senang sangat!
You can just bring it anywhere, friends' houses, balik kampung, even restaurants knowing that you baby will get to sit comfortably on a clean, stable chair.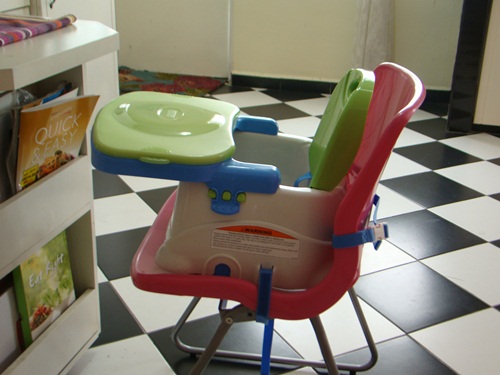 Fisher Price's Healthy Care™ Deluxe Booster Seat
You may wonder how can one baby chair fits all but here let me show you. First you place the Booster Seat on any chair, over here it's my pink IKEA's at my breakfast nook.
Then you secure one cute blue strap at the back of the chair: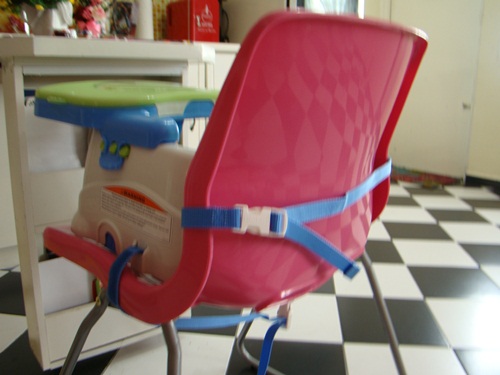 Another at the  bottom of the chair; and wallahhh…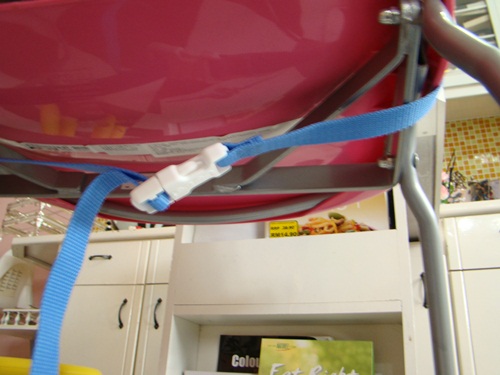 A nice comfy sturdy chair for the lil one!
The tray that you see here is actually adjustable and removable. That means, once lil baby grows out of it, you can just keep it away. So this seat can be used for years! The trays are very easy to clean and for those who has a dishwasher, the trays are even dishwasher-friendly. So easy-peasy for lazy Mommy! haha! Unfortunately I am a typical Malaysian, mana ada dishwasher! :p
If you look closely, the trays are very smooth, there are no crevices to trap crumbs at all. Very good lah the designers, they think of the design sampai cam tu sekali kan?
The feeding tray, which snaps in place over the main tray, comes together with a snap-on lid; allowing food items to be covered in place when not touched.  Measuring 8.5" x 15" x 12', with a weight capacity of up to 45 pounds, the booster seat provides great on-the-go portability with its over-the-shoulder straps and compact foldable feature.  With this portable feature, you can easily move from feeding baby in the kitchen to having him join the family at the dining table during mealtime.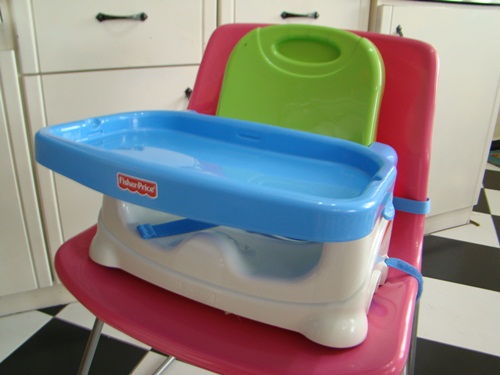 The blue tray is the main tray that sticks to the seat.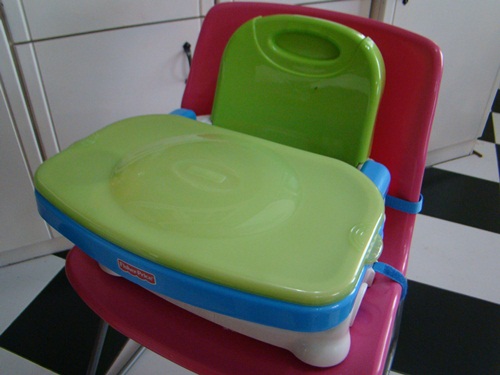 The green lid covers food to keep it clean! Amazing!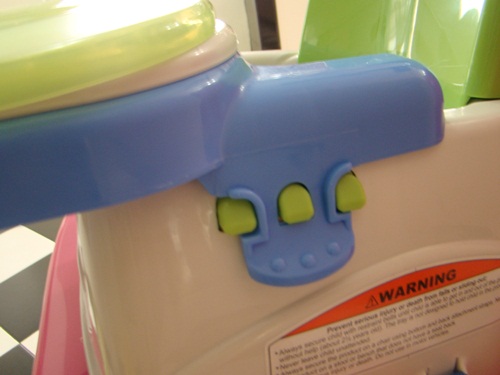 Here is the adjuster, to keep the tray comfy around baby's belly. cute!
So there you go, if any of you Momma would like to get one of these Fisher Price Healthy Care™ Deluxe Booster Seat, just are available in leading department stores, toy stores and hypermarkets nationwide at a retail price of RM199.90. Shopping for baby is so nice ya!? Azman is not gonna be so happy but I am already plotting a shopping plan! Haha…
But first, Miki's 4 birthday party next month! I am so excited! have a great week everyone!
Update:
Others Fisher Price product for you to read;
Laugh & Learn Bathtime Bongo
Stride to Ride Lion by Fisher Price
Press & Crawl Lion by Fisher Price
Newborn to Toddler Rocker by Fisher-Price
Healthy Care Deluxe Booster Seat
Sing-A-Ma-Jigs by Fisher Price