Gardening Tips – My Choy Sum (Sawi) Patch
Lately I have seen many people out there, ladies and men alike starting to grow their own edible garden.  It gives a great pleasure seeing how KL folks especially begin to appreciate gardening be it in their backyard, balcony or window sill.  Azman and I started gardening probably 4 years ago at our old rented house. We wanted to feed baby Miki with organic vegetables so Azman planted spinach etc in planters' boxes while I spent a lot of time trimming and caring for my colorful petunias.
I didn't write much about gardening at that time because seriously?!!!! Orang Melayu sangat suka mengata orang!! When I wrote openly about gardening in this blog and in my Facebook, you guys don't know how many times i was called KAMPUNG,  ORANG KAMPUNG MASUK BANDAR etc..
Each time I just smiled although I could really really tell them that even Michelle Obama, Maria Shriver etc have their own edible gardens but I guess these girls who called me kampung ni tak kenal siapa Michelle and Maria kot… Dia kenal Siti Nurhaliza dengan Lisa Surihani je kot.. Sorry not my type of role model! Besides it is the era of taking up healthy diet and being fit kalau duk bangga makan cheese berkilo-kilo kat Chillies and TGI Friday lagi tu, well that's so 1990 lah! :p
Anyway check out our sawi or choy sum patch in the garden. They are planted from seeds that Azman bought from TESCO at about RM2.00 per packet.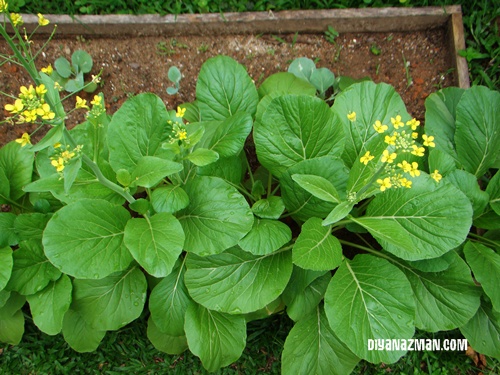 Sayur sawi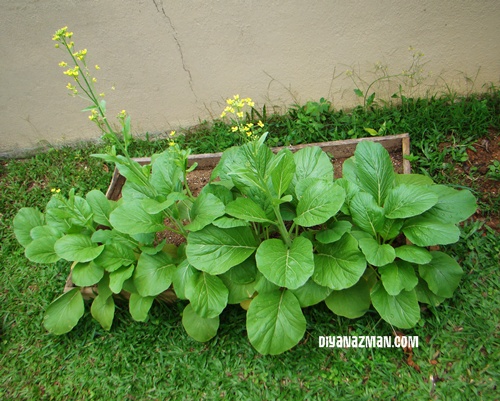 How to plant Sawi or Choy Sum
1) Sow the seeds in your planters box.
2) After 3days to one week, when the plants have grown about 2 inches tall, move the seedlings to the location you want to grow them.
3) Sawi is best grown under full sun.
4) Water twice daily.
5) Soil must be well drained. What Azman did was mix the soil of our garden with sand and compost.
6) We also water the sawi with organic liquid fertilizer that Azman made himself using leaf, grass cutting etc. I will write how to make you own liquid fertilizer in another entry.
7) Sawi is supposed to be harvested before they flower not like what you see in the picture. What happened here was, we went back to Penang/Kedah for about a week during CNY holidays and once we come back home, our veggie have grown sama besar dengan Miki!!!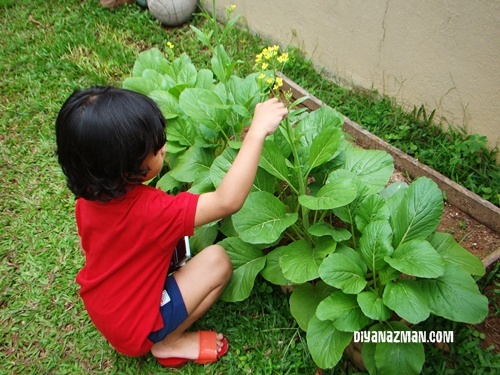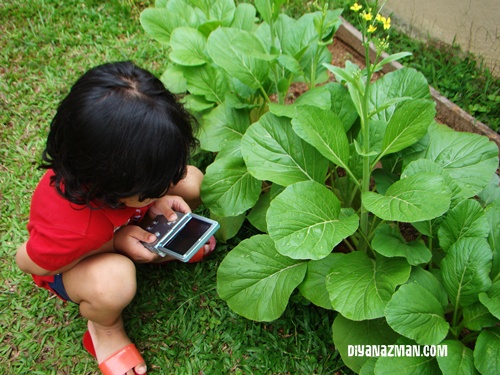 Above pics – Daddy suruh Miki cari ladybug kalau ada tapi dia main Gameboy aje! haishhhh!
Cheers to all urban gardeners out there! Come on and join me make gardening SEXY! haha! Go green guys! 🙂