Are you one of those people who uses gallons of water for every shower, everytime you brush your teeth and everytime you visit the throne? If yes chances are you are just like me, staying in this blessed tropical region with unlimited access to H2O.
I read somewhere that there are people in a desert country most prob in Middle east that show their hospitility to visitors by offering them a bath. Like imagine us Malaysian do that to friends that come over to the house.Like..
"Salam!"
"Salam! Jemput masuk.. Ko nak mandi?"
"Takpe lah terima kasih.."
"Eh kenapa pulak… sila lah mandi! Sila lah! Sila lah!"
"KO INGAT AKU BUSUK SANGAT KE SAMPAI KENA PAKSA MANDI NIH?"
LOL…Ok now let's thank God we have plenty of water for our daily use ok!
Anyway, just last month we celebrated the International World Water Day. I bet not so many among us know that right? The World Water Day is held as a mean of focusing attention on the importance of freshwater and advocating for the sustainable management of freshwater resources.
In conjunction with the World Water Day, my favorite household item brand – Tupperware is running an online photo contest on their Facebook page. The reason why I am sharing this info here, is well of course I am also promoting the World Water Day and the importance of using H2O wisely for the sake of the future generations but these prizes that Tupperware is offering for the online contest is so freaking awesome!
Here is the summary of how to enter the contest:
1) Go to Tupperware Brands Malaysia's facebook page at http://www.facebook.com/Tupperware.Brands.Malaysia.Singapore
2) Click "Like' if you have not 'Liked' the page
3) Then click on the "Tupperware World Water Day 2012" icon to join the contest
4) All you need to do is submit a photo of your 'Smart solution' on how you do your part to reduce pollution and preserve our precious water resources. Once submitted, share with your friends to get them to vote. They can vote a maximum of 1 time per day.

I am sure you all want to know the Prizes right? Well, first prize is the Entire Eco Living Set, which I personally love and collect.Tak percaya? Search my older entries in this blog about Tupperware and you will know how I simply adore Tupperware products. They really my life in the kitchen so easy and much more healthy.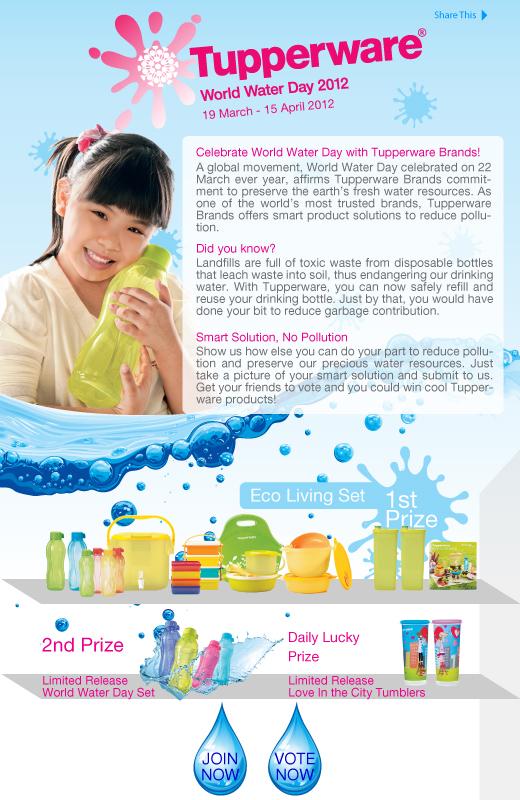 I saw on Facebook that Tupperware has already given out DAILY prizes to lucky winners! How cool is that? The competition is from 19 March to 15 April, OH MY GOD!! WE ONLY HAVE A WEEK!
So come on guys and don't forget to join this one. I am seriously joining too today. What do you guys think of below pic of Miki? Konon-konon he is sleeping with his beloved Tupperware bottle because he loves it so much and he loves water too!Ada chance menang tak? Hehehehe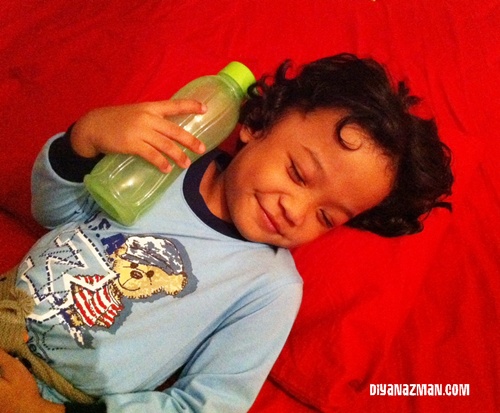 I am sure you all have really funky pic ideas too… So log on to Facebook now and join the challenge! yay!
Have a great week everybody!

Email This Post
Similar Posts
2 Comments »