[Instagram] Dinner for three #malayfood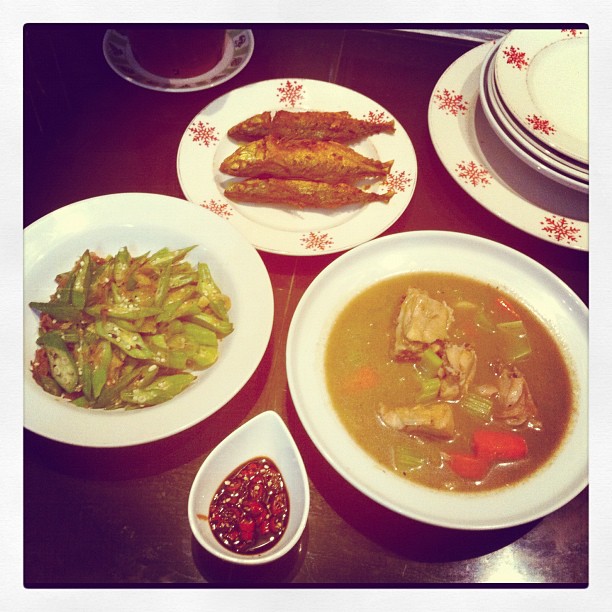 Actually "dinner for three" doesn't really fit the real story. These dishes are actually for one adult, one toddler and one ferocious eating monster – me!
This is my third (or is it forth?!) rice meal for the day. And I might whip up another batch of lauk-pauk for my late night supper! *nangis*
I am now 7 months pregnant but already put on 20+ kilos. Sangat badak kan? Pasrah je lah… *sambung makan nasik*
Anyway Malay food has become a must-have for me during this pregnancy and tonight I made chunky chicken soup with lots of celery, carrots and even snow peas in there as per Miki's request. I fried some ikan kembung garing-garing and sauteed some ladies fingers with anchovies. And the best dish is of course that super pedas cili padi in soy sauce! Yummm…
To make that fibre-laden sauteed okra, I used 3-4 table spoon of EVOO, pound some red onions with garlic and anchovies. You may add green cili padi in there too but I didn't cause Miki cannot take the heat. Sautee the pounded mixture in the olive oil until tender than add some fish sauce.
When cooking sliced okra, never ever add water. That will release the slime from the vegetable so I let the fish sauce reduced a little before I throw the okra into the wok. Stir well and close the lid for 15 seconds, open the lid and stir again then immediately remove from the stove to stop the cooking. The okra should be crisp and delicious. Serve it while it is hot!
Tadaa.. Tak pasal-pasal today I share another recipe yang orang jarang buat.. Tak ke? Hahaha.. I try to add as much fibre and greens in our diet, trust everyone should!
Have a great week ahead guys! Mak Badak signing off…