Bread and Breakfast with Naturel Organic EVOO – Workshop with Chef Michael Elfwing
Last year I attended "KIDS EAT RIGHT WITH NATUREL BENTO" workshop at Bayan Indah with Rohani Jelani sponsored by Naturel. I learnt a lot new healthy cooking methods especially for kids. This year, I am very fortunate to be invited again by Naturel, a brand within Lam Soon that offers a wide range of cooking oil such as Naturel Blend, Sunflower, Canola, EVOO, Organic EVOO etc.
They invited me to a half-day workshop on "Bread and Breakfast with Naturel Organic" at Senses Hilton Kuala Lumpur with the introduction of Naturel Organic Extra Virgin Olive Oil. At home Naturel Blend is the cooking oil that I use because I believed in its goodness so as a regular customer of Naturel I wouldn't want to miss this.
The workshop consists of a hands-on bread-making and healthy cooking demonstration with Chef Michael Elfwing, an award winning Chef de Cuisine known for widely anticipated cooking classes using organic products, and an interactive sharing session with consultant dietitian Ms. Indra Balaratnam.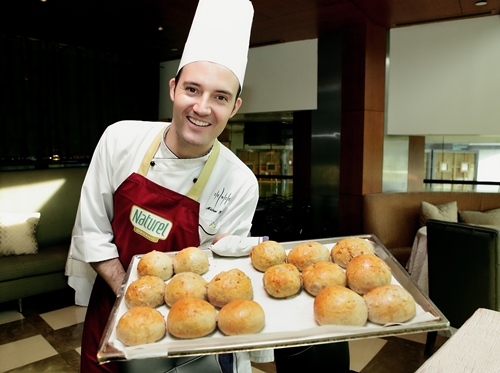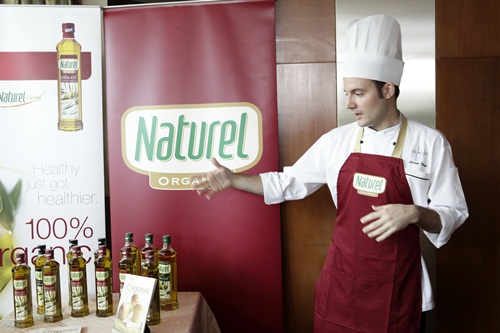 Chef Michael Elfwing explaining the goodness of organic extra virgin olive oil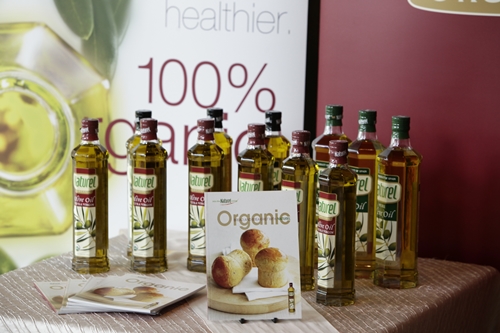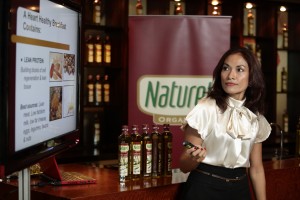 Ms Indra showing us her slide presentation of nutrition
Talk about hands-on. Here are some pics of me, fellow bloggers and members of media learning how to make breads from Chef Michael. For the record, I was 7 months plus plus pregnant at this time. 🙂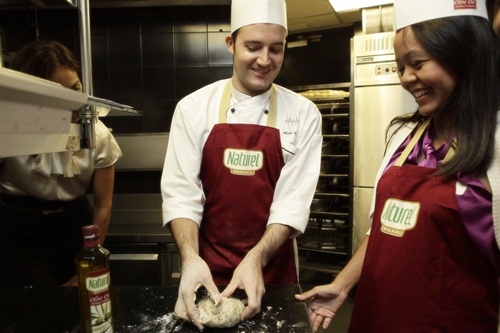 Chef Elfwing and I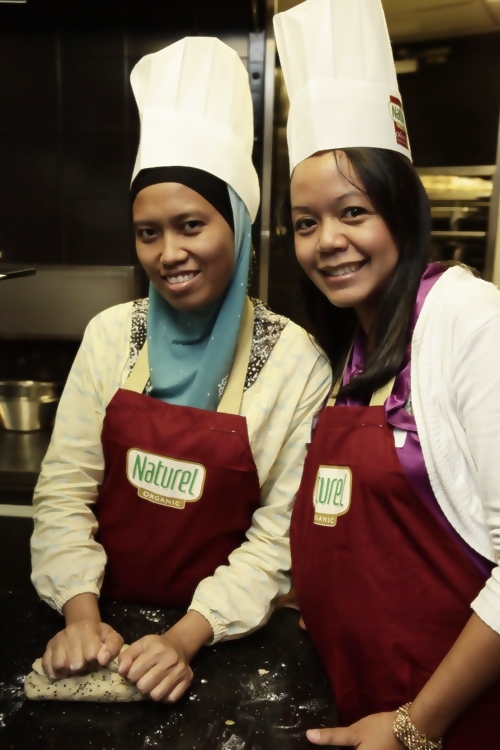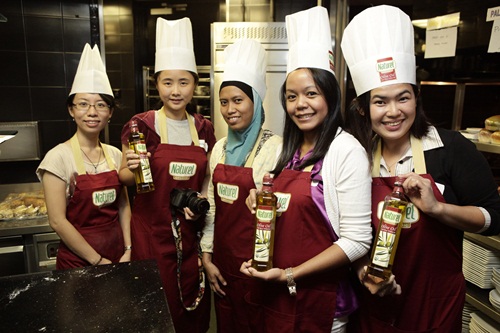 Me and other participants at the workshop. I am the only boyot and bulat one! :p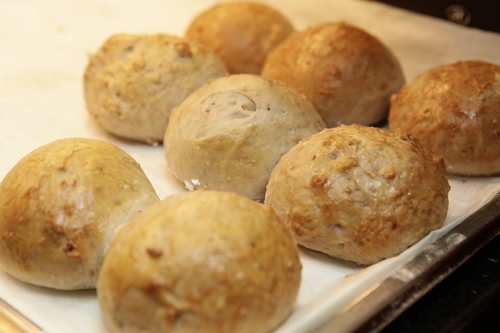 The result! Delicious!
From both the Chef and Indra, I have learnt that Organic EVOO is premium quality, produced from organically grown olives and pressed in methods to ensure that the nutritious properties of the EVOO such as polyphenols which is a great source of antioxcidants and Vitamin E are retained as much as possible. The EVOO also contains monounsaturates, something that all of us need in order to prevent heart diseases. Monounsaturated oils basically wont clog up the arteries! So it is super healthy.
My regular blog reader would probably have known that Azman and I are slowly turning into an organic freak right? We even plant our own veggies and herbs in our garden just to ensure that we are not consuming too much pesticides and chemical fertilizer residue in the commercially grown veggies from the market. So when I found out that Naturel has a new Organic EVOO in the market, of course I would use it. The price is affordable but then again, what is the value of the extra few Ringgit compared to youhealth right?
Back to the workshop, Chef Michael taught us bread-making and also demonstrated ways to prepare nutritious and easy breakfast side dishes to accompany the homemade breads using Naturel EVOO.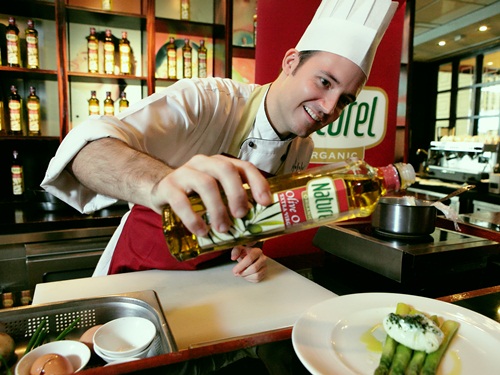 Poached egg with asparagus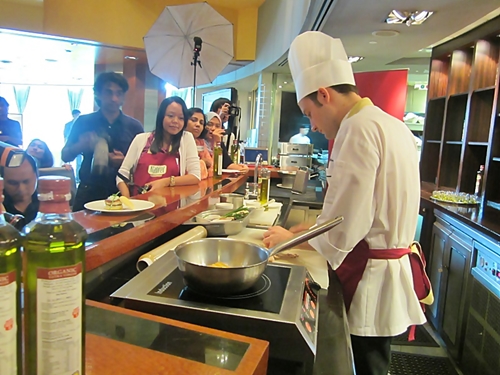 Gigih nak belajar tau! See I duduk depan2! :p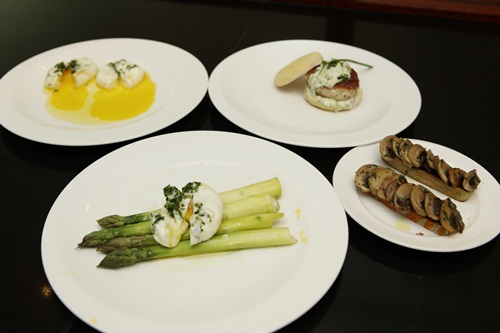 Poached eggs, chicken patties, sauteed mushrooms! YUM!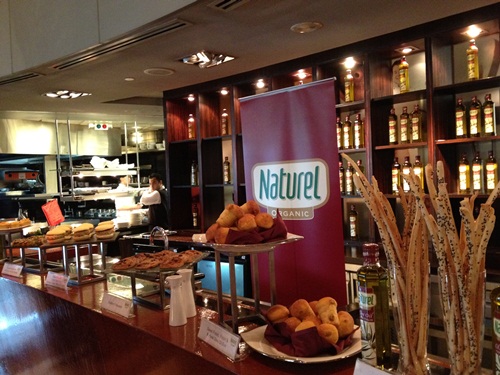 After the workshop, we got to help ourselves with this scrumptious buffet spread.
I guess I would always remember one thing that Chef Michael said about the oil that we use in our cooking. He said, if it's for deep frying etc which requires the oil as the base for cooking, and in the end we remove the food from the oil and we don't actually eat the oil – so perhaps we can use the regular cooking oil. But for food that gets the oil incorporated in it and we will "eat" the oil at the end of the day  – food such as curry, soups, salad, breads, stir-fried food etc – why not use organic EVOO to ensure that you are getting the goodness and doing something to protect your heart.
Saya sangat setuju dengan statement ini Chef! :p
So come on everyone, let's live life healthily. Let's go organic!
Cheers and have a great week ahead!