Oct 9th 2012DiyanaOpen Letter to My Baby No.2 & Open Letters To My Son & Rafa
Dear Rafa,
Hi baby! I am writing this very first letter not only for you to read someday… but most essentially for Mummy and Daddy to recall the beautiful moments when God sent us one of the most precious gifts in our lives – you!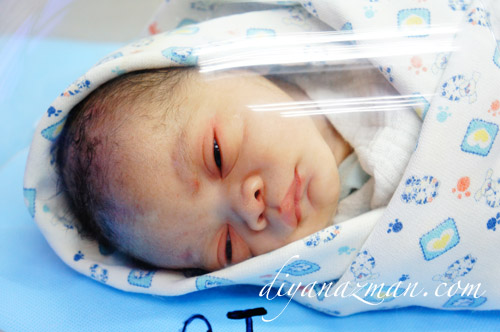 Fresh from the oven…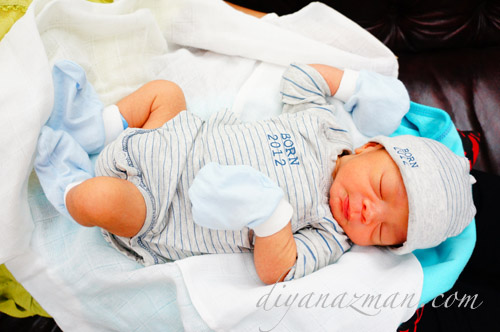 Rafa, you were born on 29th June 2012. Two weeks earlier than you were expected to. You were 2.8 kilos in weight and 50cm in length. You were too cute! If it wasn't for the blood you were covered in, I would have gomoi-ed you right there and then in the labour room of Az-Zahrah Islamic Medical Center, Bandar Baru Bangi at around 8 in the morning. You got more hair on your head than your brother had. Your eyes were huge and sparkling. But one thing in common that both you and your bother had – you guys were born as skinny babies… hehe! Super kurus babies…
Skinny or not, Alhamdulillah you were born perfectly healthy. You had a little bit of jaundice and sent me worrying like meroyan. But actually you didn't even need any phototherapy and meroyan is just a part of me. So I am sorry.. hehe…
Right after birth I have sensed that you were a good baby. You nursed very well, hardly cry and totally not fussy. Thank you Allah swt for being so kind to Mummy and Daddy. Taking care of you is so easy!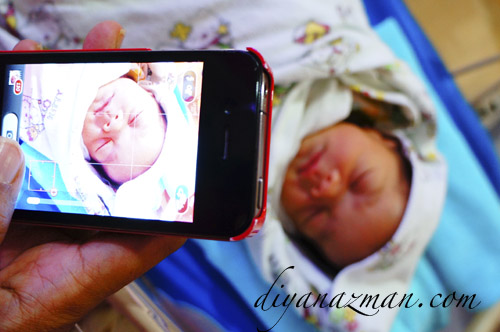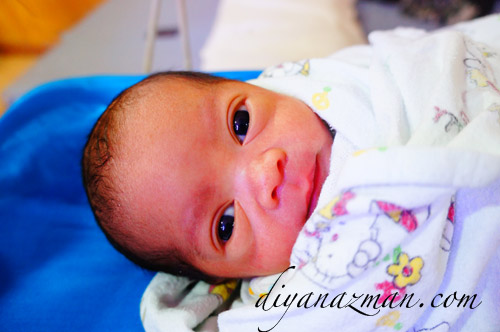 You know baby, ever since I married your Daddy, I have always had these two names that I liked the most. And for some reason they are both boys' names – Mikael and Rafael. Of course Mikael went to your big brother, Miki and Rafael belonged to you. On 5 July 2012, Daddy registered your name as Nuh Rafael bin Mohammad Azman. I thought your name is meaningful (after the prophet Nuh pbuh and the angel Israfel) and yet totally kick-ass!
Your brother Miki played an important role in naming you, my love. If someday you were both be apart (one brother in Universiti Malaya,your parents' alma matter and another in a good college over the sea, insya Allah) and you don't get to meet very often, I want you to know that ever since you were in my tummy, Abang Miki adored to you to bits and he sayang you with all his huge-huge loving heart.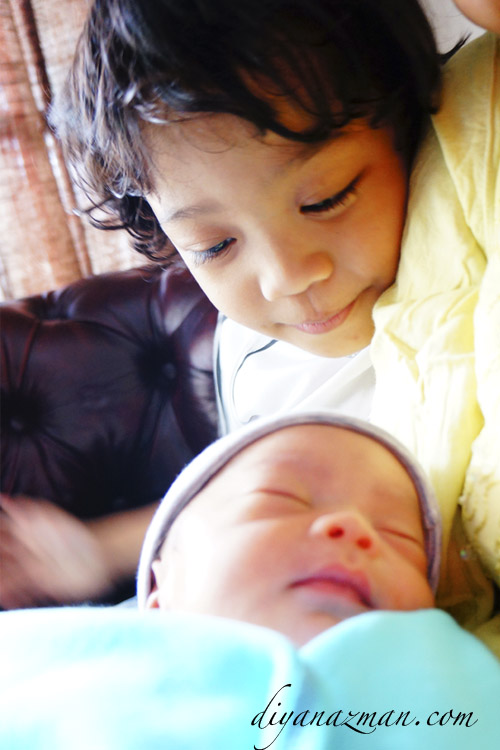 If Abang Miki reads your diary cracked the password to your private blog, or if he broke your iPad whatever iGadget you have, don't gaduh for too long ok? He maybe cheeky, your big brother Miki, but I know he loves you just as much as Mummy and Daddy do. And that is more than all the H2O molecules in all the oceans combined!
Rafa, having a second child after bringing up our first for four years no doubt had brought me mixed feelings. You brother was four when your were born and I was thirty. I was thirty and afraid. I was afraid I couldn't be a good mum, afraid that I couldn't find the time to equally spend with the both of you. I was afraid I might get either one of you feeling left out. But Alhamdulillah Miki had been very understanding and you as baby were not very demanding. That's how I am surviving.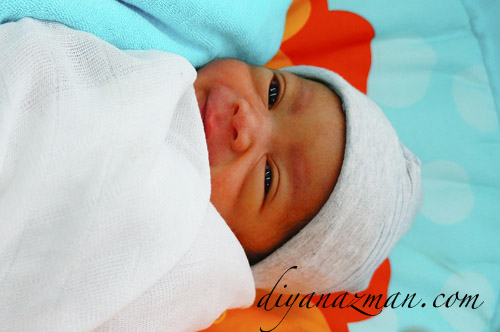 Rafa, the thought of you overwhelmes me with love all the time. You got my heart flooded with warmth and affection I was afraid my heart chambers would just explode like kebabooommmm keluar heart shaped confettis berkilo-kilo. But I want you to know that although you can win your parents' hearts with your little sugar-coated smile, it doesn't mean that you can have ice-cream for breakfast, macam yang Abang ko suka sangat tu… brush your teeth! No girl friends until you are in college and yes! no girls from that state of Malaysia, remember?! Mummy garang ok! jaga!
Take care now my love, be good and strong againts the world. Mummy prays for your safety and health 24/7.
I love you,
Mummy
;

Email This Post
Similar Posts
22 Comments »