Oct 11th 2012DiyanaLuth Mikael & Siri Bercakap Dengan Miki
My first baby Miki is 4 years and 9 months old in October 2012. He is 20 kilos and 113cm tall. His super curly hair is now just waves and his chubby cheeks are now leaner. He looks lesser and lesser like me these days and more and more like his Daddy.
Academically Miki hasn't progressed much, thanks to me, now that I am in this new position – Mom of Two. He can read a little bit, count a little bit, color draw and paint a little bit and he can remember his doa and ayat-ayat lazim a little bit. I guess that's ok lah next year he will being going to kindy already. Balancing the attention between Miki and Rafa (and Azman) gets me missing out on our homeschooling activities. Which I am deeply guilty of. But Miki sure has advanced further physically, in his speech and eq.
Now that I dont have the time to teach him much. Miki learned a whole lot of things from TV. Recently, it is the word "decided". Since he picked up that word, he just has to use it all the time la kan….. Satu hari 40 kali kot cakap guna perkataan decided!
"Mummy, Miki decided nak main Iphone Mummy…."
"Miki decided Adik ni comel la….."
"Miki decided nak tengok Finn & Jake la… tak nak tengok Spongebob.."
"Daddy dah decided ke Daddy nak makan apa?"
"MUMMY… MIKI DECIDED NAK BERAK NI…" Sambil lari ke toilet…. haihhhh Miki….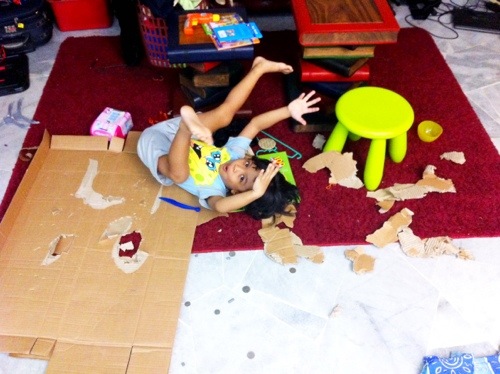 One day Daddy and Miki was quarrelling. Miki was questioning why he had to go to Mama Rose's place while Mummy and Daddy can have a blast at work.
Daddy- Hey, Daddy pergi buat kerja lah! Miki ingat pergi work tu buat apa ha?
Miki – Daddy buat Facebook la!!!
Daddy – Mummy????
Miki- TWITTER!
Actually it is Twitter AND Instagram Miki… Macam mana ko tahu ek?
One day I was working late and Azman fetched the boys from Mama Rose's.
Miki – Daddy, mana Mummy?
Daddy – Mummy work lagi.
Miki – Oo.. Miki tau kenapa. Bos mummy tak bagi balik. Dia kata jgn balik sbb kat sini banyak taik kucing.
Daddy – ????
Ok I didn't understand that either LOL!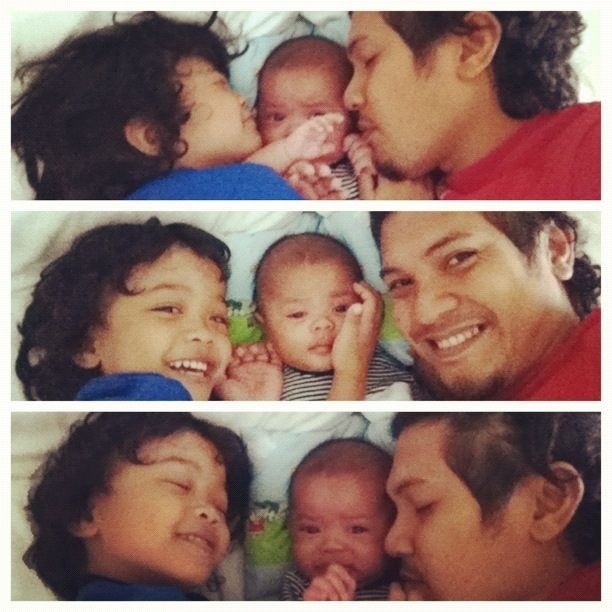 Recently we told him about syaitan or devil. That in our religion we believe the devils exist and they are out there trying to influence us humans to commit sins and become bad people. Miki understands that and in awe with the existence of some mystical creature he couldn't see, he asked question after question. Until one day…
It was Maghrib time. Azman was at work and just the three of us at home. Rafa was crying and refused to go to sleep.
Miki – Mummy, syaitan tekan adik lama-lama!!!!
Mummy – hishh… Mana ada…
Miki – ada… Mummy tak nampak tapi ada….
Mummy – MIKI NAMPAK KE?
Miki – tak… Tapi Miki tahu….
Mummy- ?????? *stress*
At Giant Kinrara, our neighborhood supermarket, there is a kiosk selling waffles and Miki's all time favourite food – sweet corn. Everytime lalu situ mesti kena beli jagung until the jagung sales girl knows him and his favorite, corn in cup without the condensed milk.
In training him to interact better, we often give Miki the money and watch him buy the corn himself. In fact we have done this since he was two. He will order what he wants, wait for corn to be ready, pay money, get the corn and say thank you. Most of the times, the sale girl will return him balance of the money. Which he doesn't get it!
One day after paying for his jagung and getting the balance, Miki excitedly explained to us..
"Mummy, Daddy! Beli jagung ni bagus tau!" he told us so excitedly.
Daddy replied , "Kenapa?"
"Sebab kalau Daddy beli jagung, Daddy akan dapat duit!" Azman and I dah start nak gelak guling-guling tapi tahan lagi. "Orang tu bagi!!" he continued.
Okay we cannot tahan already, gelak cover-cover cause we didn't want to discourage him from talking.
"Kalau Daddy beli one jagung…." Miki explained, "Daddy akan dapat two ringgit!"Hahahaha… memang lah sayang, the jagung is RM3, you paid with a RM5 note.
"Kalau Daddy beli 2 jagung, Daddy akan dapat ten ringgit!!!" he said excitedly, his eyes wide with expression.
"Kalau Daddy beli 5 jagung, Daddy akan dapat twenty ringgittttt!!! KALAU DADDY BELI BANYAK JAGUNG, LAMA-LAMA DADDY JADI KAYA!"
Mummy dan Daddy mengalirkan air mata kesyahduan dalam kegembiraan.
We love you Miki, you bring sunshine into our lives.
Muah!

Email This Post
Similar Posts
12 Comments »