I think the whole of Malaysia have heard about the latest child abuse case involving an Indonesian maid. Maybe because Rafa is about the same age with the abused baby or maybe her devilish act is just beyond belief – I AM SO EMO ABOUT THIS!
The setan – Yuliana, 23 years old from Sukarame in Acheh, hurled, thrown and tossed the poor innocent baby, aged just 4 months like ROTI CANAI dough!!! I want to share with you the CCTV video here but this blog would be disgraced by it.
The syaitan maid took the baby by his limps and threw him on the floor 9 times! She even held him high over her head and threw him behind her back like a basket ball. Why setan?? Why???
Many speculated that she may be holding grudges against the baby's parents but can you believe she started working for them just ONE DAY before? What could the parents do in one day to piss her so much until she would attempt murder to their innocent baby? Gosh, how I wish I could also personally throw her like basket ball again and again sampai puas hati!
Apparently his mother caught the act on her CCTV feed to her cellphone, which genius, everyone with maids at home must have CCTV. She immediately rushed back home and rescued her son. The child suffered bruises but was fine until this morning when he was admitted to the hospital again when her parents realized that he was not moving the way he should even in his sleep. This saddened and angered me so much, I wanna hit the daylight out of that stupid maid! A four month old's bones are still soft and the shaking to his brain may impact him more than just bruises.
Well this is the devil from hell disguising as a woman.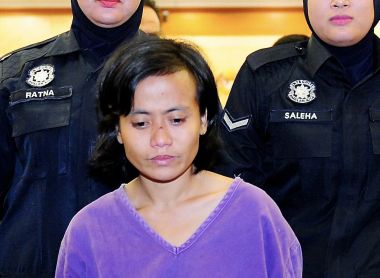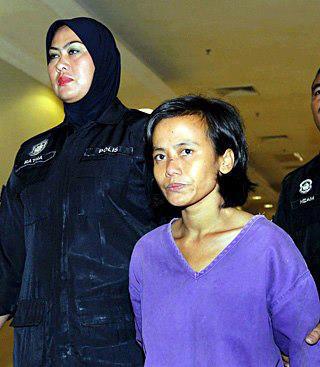 This is an image from the CCT recording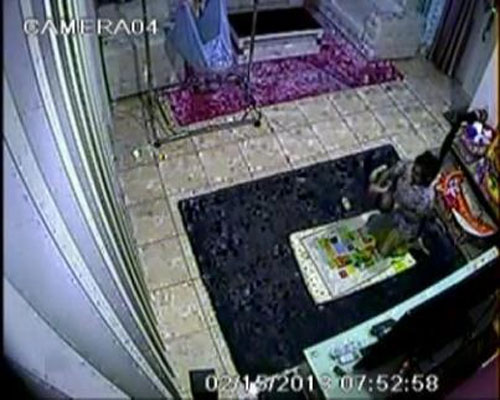 From the latest news, the maid who also has children of her own is sentenced to a total of 20 years' jail by the Sessions Court at Kuantan. She was charged under attempted murder and child abuse. But this is before the baby was sent back to hospital. If anything serious happen to him, my emo self hope she will be charged again and get more years baru padan muka! But then again, she would be lodging in a Malaysian prison makan tanggung berak cangkung on our tax money… setan betul!
I remember how Indonesians campaigned "ganyang Malaysia", burnt our flags etc after a maid abuse case by the employer but just look at what your maid does to our innocent child! HUghhh! May God help us all, protect us from crazy people like this Yuliana and yes, please make the baby well again! Amin!

Email This Post
Similar Posts
7 Comments »