Trip to Americas : What To Eat in Brazil
*This entry is written by Azman
Finding something to eat in a country like Brazil will always be difficult to Muslims. I don't have idea where to find halal food in this place. If you want to know what to eat in Brazil, well I can only recommend fish in this post;  although most Brazillian says that their best meal is actually pikanya or grilled cow's meat. The food that is also known as churrasco.
My first lunch at Brazil was rice with fried fish. Nothing special because it was just a very basic meal and I was still not adventurous enough to eat any other unique dish. At night, we had dinner at Cachacaria do Dede and I already shared the story in my previous post in Brazil.
The next day, Rodrigo request the cafe to prepare special "fish only" meal for me everyday until my last day at Manaus. So, I would only eat fish this..fish that..small fish..big fish… for 2 weeks. Aiyaaaaa…
Before I start with fish dishes, I realized that everytime they serve rice, they will also serve it with a yellow powder called FAROFA. At first, I thought that it is some kind of corn powder but it is actually a toasted manioc / cassava / tapioca/ ubi kayu flour mixture. It doesn't really have taste but by sprinkling and mixing it with rice, it makes the rice taste better.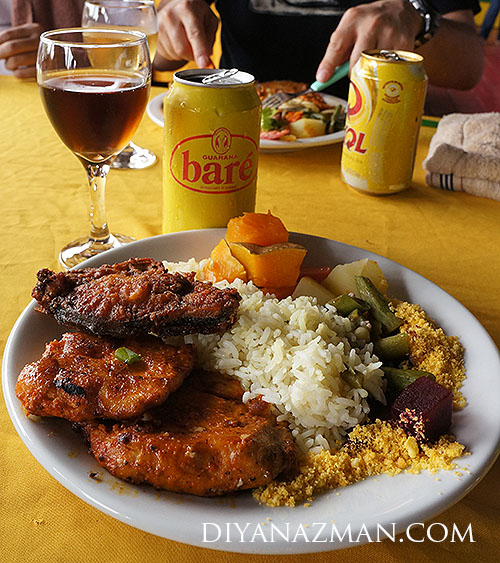 (Fried pirarucu, surubim, vegetables and farofa. Guarana Bare is the most popular can drink in Manaus)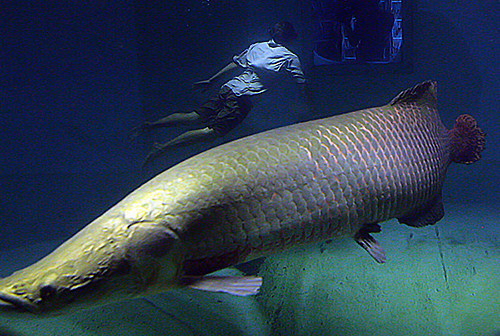 This is the actual fish, I cannot believe I have actual eatem this.. (Arapaima or pirarucu)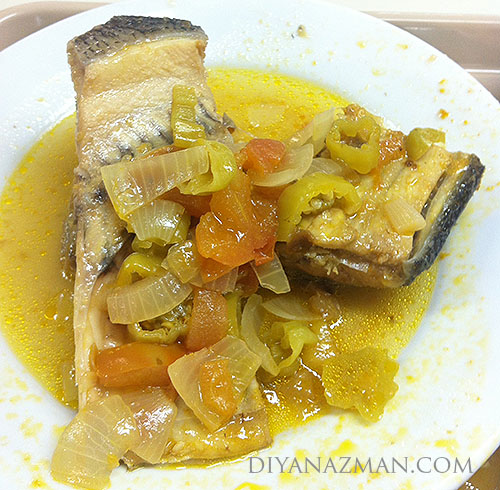 (Stewed Tambaqui or Pacu Ribs)
Stewed Tambaqui Ribs
This is the best meal that I ever taste in Manaus. Tambaqui is a native fresh water fish and well known as one of the most delicious fish in Brazil. It looks like a big pacu fish and since it is quite big, they only took the ribs to cook this meal. It is well stewed and taste perfect! It was served with rice, colourful cube cut roots and farofa. The more I think about it, the more I would like to eat it again!!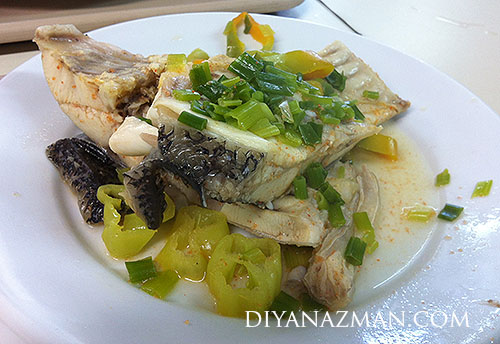 (Steamed Tambaqui or Pacu ribs)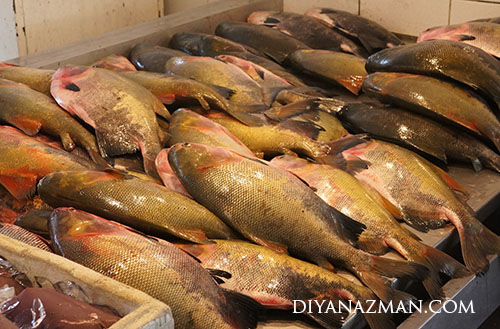 (Tambaqui fish)
Steamed Tambaqui Ribs
This is another tasty Tambaqui fish meal. I don't how they actually prepared this but I believed it is steamed. This one is also serve with rice, salad and farofa.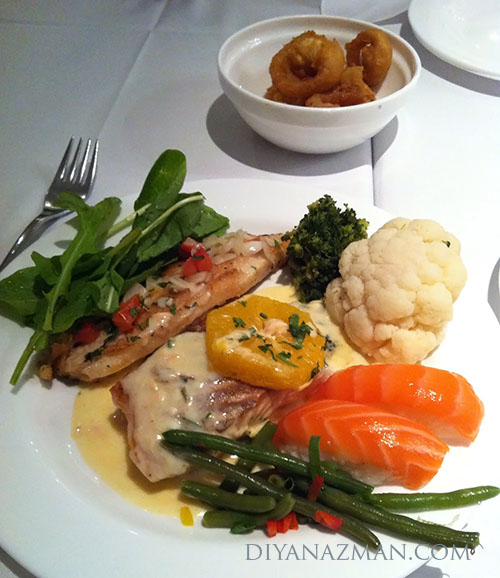 Grill Pirarucu and Grill Tambaqui Ribs at Bufalo
If you ask me about pirarucu, I will say that grilled fillet is the best way to cook pirarucu. The meat is very tasty and boneless. Some people said it taste like cod fish but I am not sure about cod fish taste..so I think it tastes like salmon only a little chewy. However, tambaqui is always tasty in whatever way you cook it.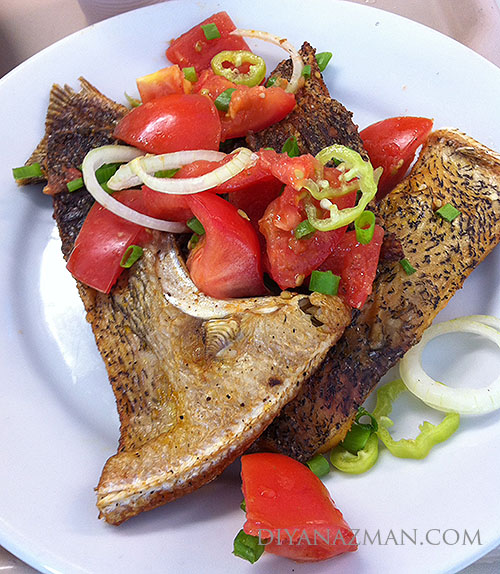 (Fried Tucunare or peacock bass)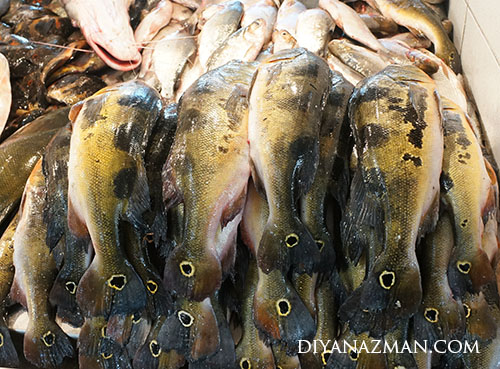 (Tucunare or peacock bass)
Fried Tucunare Fish or Fried Peacock Bass
This one taste a little bit salty but still good. Peacock Bass is quite tasty . The flesh is white and sweet when cooked, making it similar in taste to snapper or grouper however it has too many small bones that make it difficult to eat.
(Fried Pirarucu or Arapaima)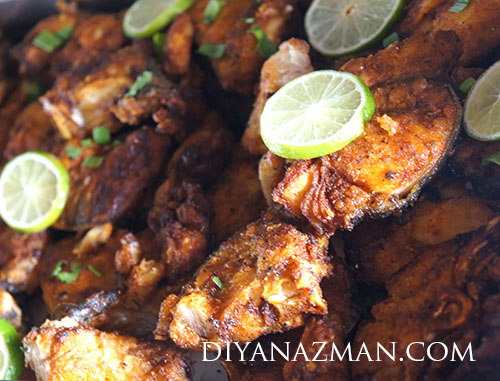 (Fried Surubim)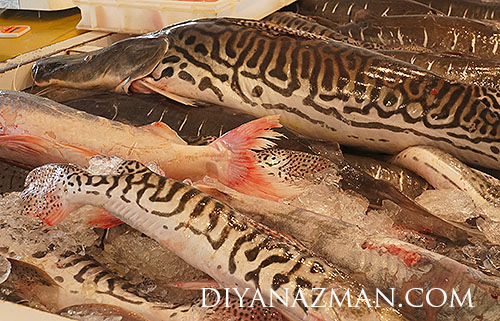 (Surubim)
Deep fried Surubim fish and Pirarucu fish at Valdecy restaurant
Surubim fish tastes is almost same as normal big-type cat fish. I do not really like it. Maybe deep fried is not suitable for Surubim. Masak lemak or sambal tempoyak like ikan patin should make it taste better. In my opinion, fried pirarucu is good but not as good as grilled fillet pirarucu.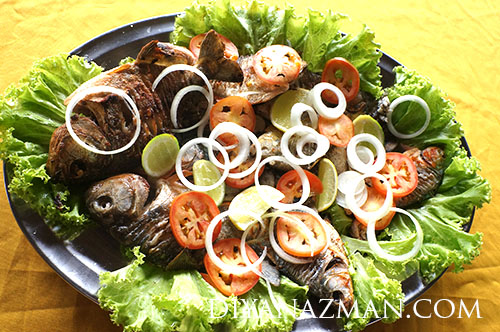 (Fried Piranha)
Fried Piranha
Shcked? You can read my previous post about fishing piranha if you want to know my comment about piranha fish as food.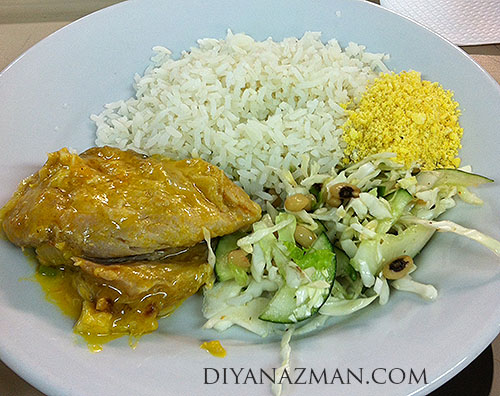 Unknown Fish with Unknown yellow seasoning
I just forget about this one. I forgot how it tasted like. Maybe because it was served at a buffet and placed next to a big juicy pork salad. Potong stim dan selera.
Other than fish, they also served a variety of colourful vegetables.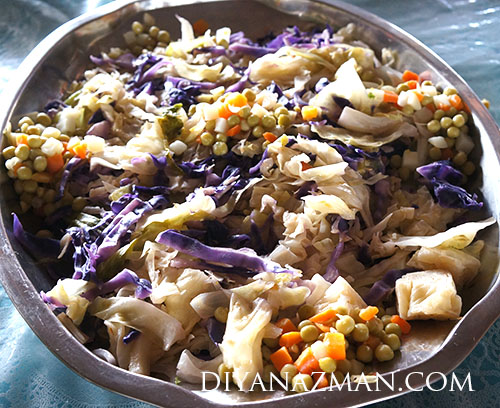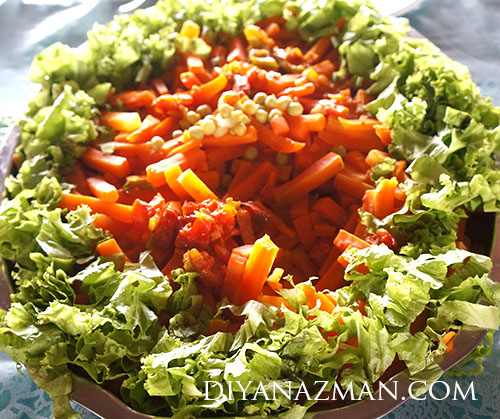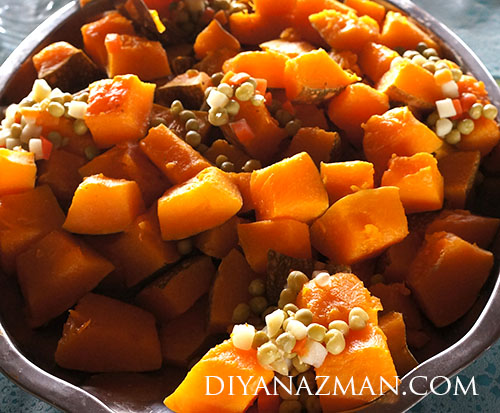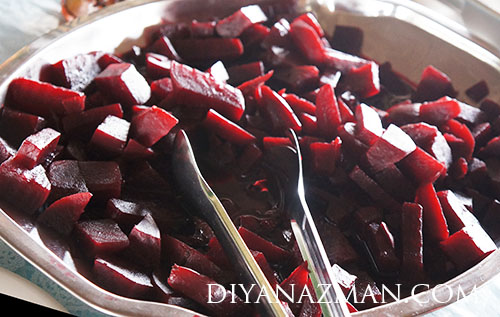 That's all my updates on Brazil. After almost 2 weeks there, then it was time for me to move to another country – United States of America and then later to Mexico.
Stay tuned!