Kisah Rafa – Dinosaur dah pupus, nak….
Rafa, my baby no.2 will be turning 3 very-very soon. He is about 14 kilos, 96 cm tall with cuteness ranked Padawan but once we cut his hair this mushroomy roundie, Rafa's ranking jumped all the way to Master of Cuteness. hehe!
With his favorite animal, shark! – Ikea, 2014
Unlike Miki when he was his age, Rafa is very pelat when he speaks. Until he was slightly over 2 years old, all he spoke was this cute baby gibberish. I could have been worried (for you know that I also Ratu Risau) but despite speaking in single words or two/three words phrases, Rafa knows ABC like he knows his candy, he can pronounced them and he also recognized all the alphabets. He knows his numbers in English until about 20, both saying and recognizing and he even can read a few simple English words. All these by age 2.
And he learnt them all by himself from the iPad and some kids video on Youtube. Pretty amazing, considering Miki had to be taught by me using books and flash cards.
Rafa also communicates well and responds well, so ok, I stop worrying and that's when I realize the reason Rafa is too manja (read: spoilt) is HE SPEAKS BABY. That makes us think that he is still a baby, treat him like a baby, spoil him like a baby, making him feels like absolutely not less than A KING. Hah!
He is super at blaming other people for all the naughty things that he does. His default scapegoat is of course his big brother Miki. Poor Abang Miki gets blamed from everything. Like the drinks that Rafa spills, papers that he tears and Rafa always sternly sticks to his excuse "Miki buat!" walau pun masa tu Miki ada kat school kot?! Air tu tumpah kat baju ko kot? Gelas tu ada kat tangan ko kot? Haish!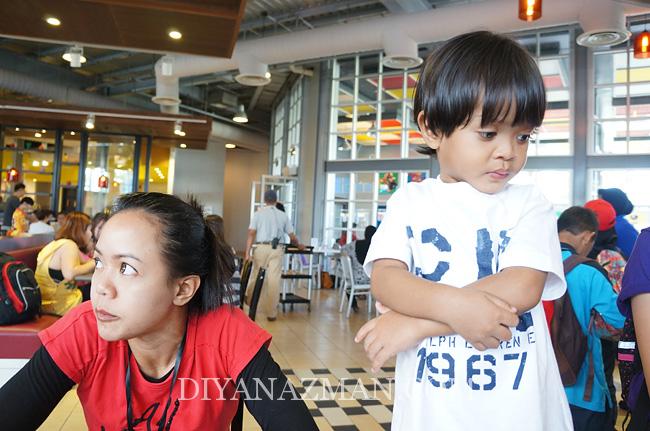 Gaduh dengan Mummy! – Legoland Dec 2014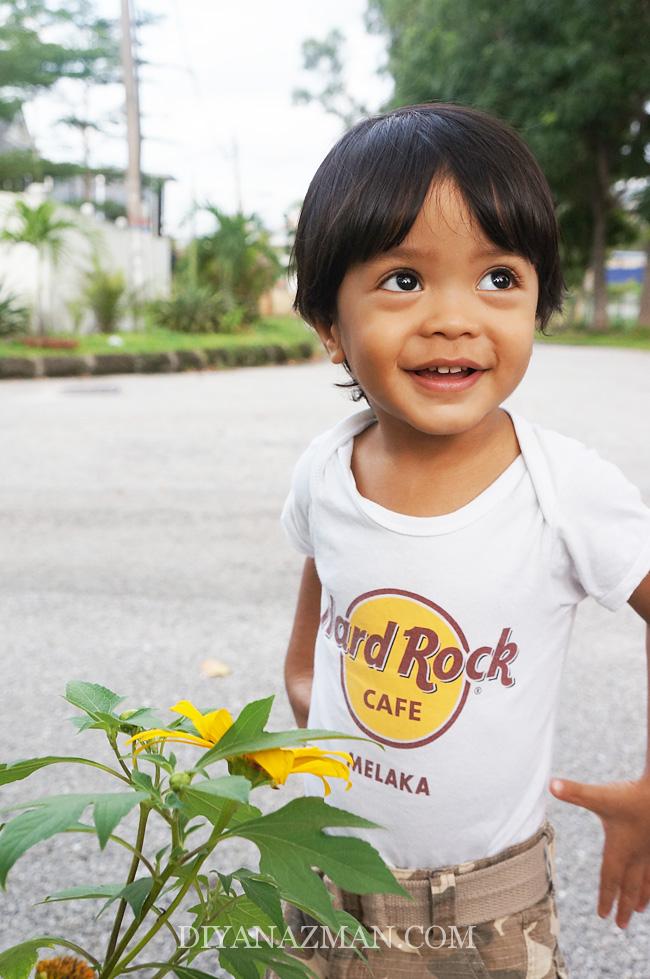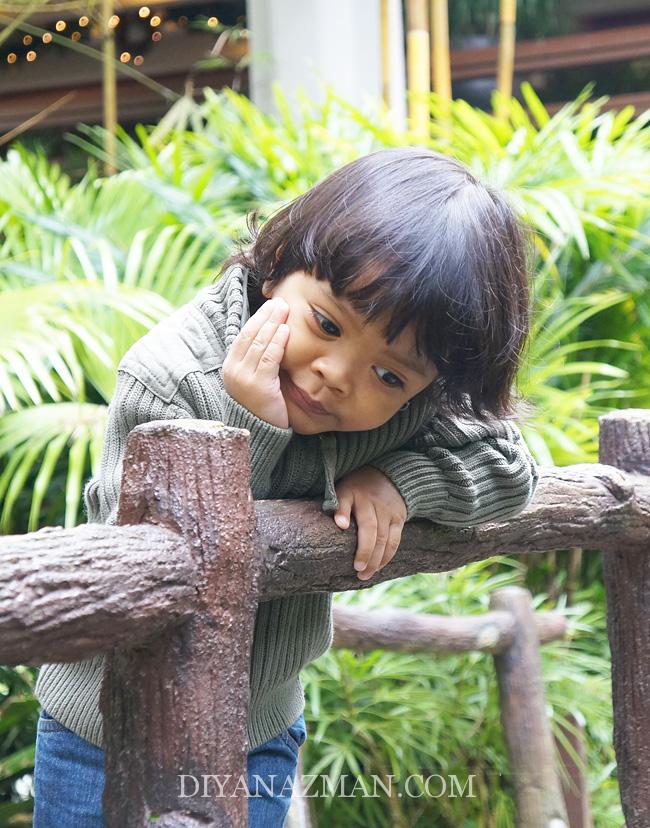 Looking down into the pond at Genting Highlands – Dec 2014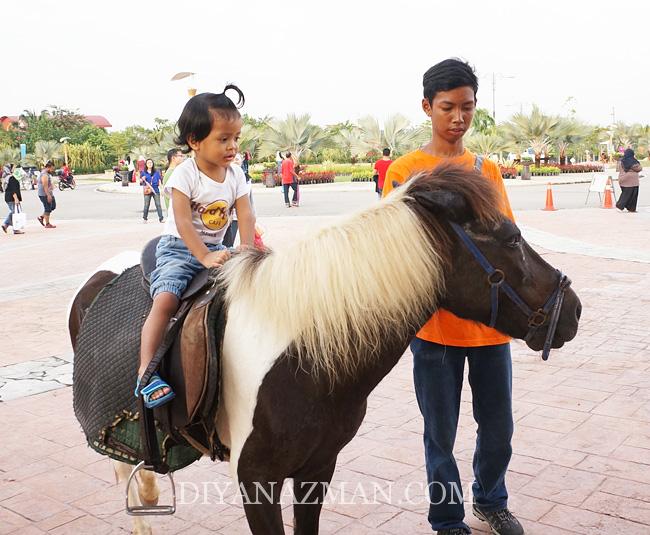 Pony ride during MAHA
While Miki grows faster in speech development, Rafa wins over him in so many other aspects. Like focus, determination, concentration and coordination. He sings and dances very well and he can follow the dance steps he sees on his favorite videos. It is amazing how he memorizes all the dance steps from this mash up dance music video from the movie Real Steel. He even insists that the boy Max is Rafa Comel, him! Perasan giler! Haha
Sometimes, he made me become Atom the robot, while he acts out Max's character. Sabar jelah! Mummy nak jadi Cinderella lah! Cinderella!!! Tak nak jadi robot! Hishh
His love for animals is beyond compare. Seriously! Every time we go to the zoo, we have a hard time leaving, coz Rafa won't part with the tortoise and monkeys. At the petting zoo near our place, Rafa would chase after and if we don't stop him, he would hug and kiss them all…. From rabbits to iguana (wth?) to the 5 ft tall goat and of course the ancient giant tortoise.
He would squeal and shriek at the sight of snakes and alligators though, but that fear is so fake.. gedik habis. LOL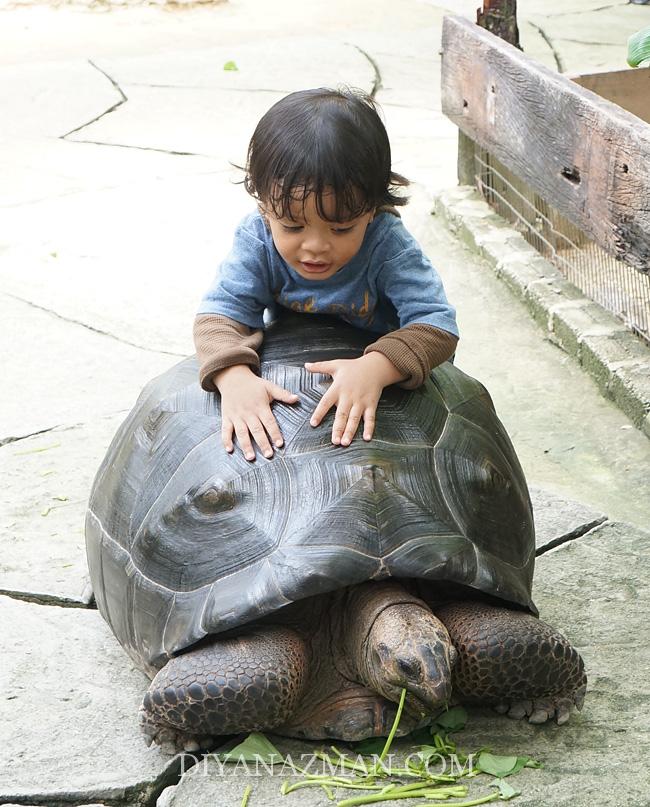 Mr Giant Tortoise – Farm in the City Petting Zoo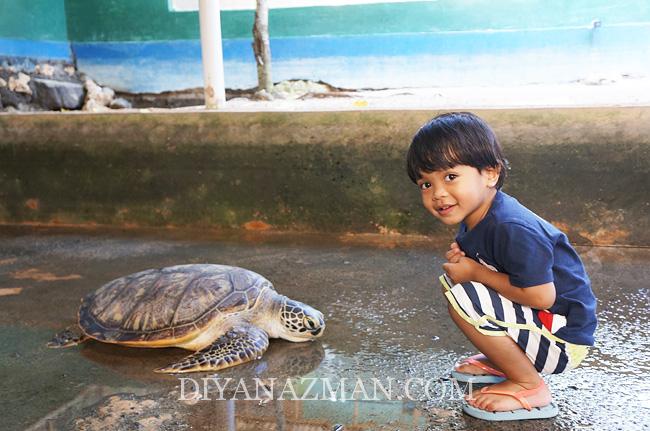 Mr Green Turtle – Pulau Penyu, Bali, March 2015
His latest antics is both cute and head ache inducing. Each and every time we eat out, he will order an endangered species. No kidding! While we are ordering our food, Rafa sibuk looks at the waiter in the eyes, raises one hand with a pointy finger and orders an animal he saw in NAT GEO!
At TomYam Restaurant :
Daddy – "Tom Yam Campur, Ayam Goreng Kunyit, Kailan Ikan Masin…….
Rafa (screaming to the waiter) – "Tortoise! Nak tortoise!"
At Burger King :
Me : "Large Mushroom Swiss set……
Rafa : "Nak shark! SHARKKKK!!!!"
The more we ignore him, the louder he speaks, thanks la Rafa satu restoran tahu anak Mummy order haiwan exotic buat lauk. So nowadays I will just get the waiter to play along by taking the order of whatever Rafa wants, which gets more creative every day. From dolphin to shark, from tortoise to octopus and crocodile… Nak kena tangkap dengan Jabatan Perhilitan ke apa Rafa?
Tu takpe lagi, yesterday he starts ordering a dinosaur. Selagi waiter tu tak tulis dinosaur goreng in the note book Rafa won't stop ordering. Dah pupus Rafa!! Dinosaur dah pupus!!! Adoila anakkkk….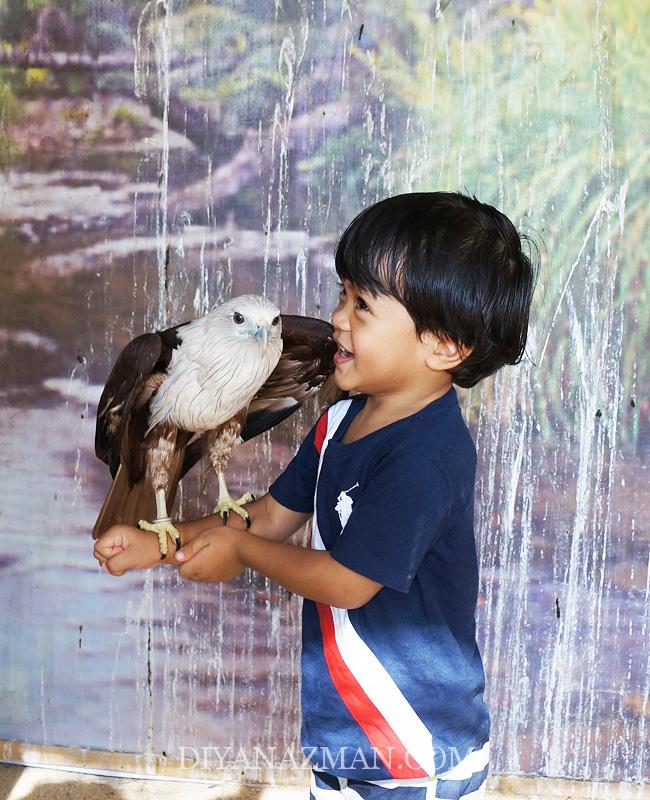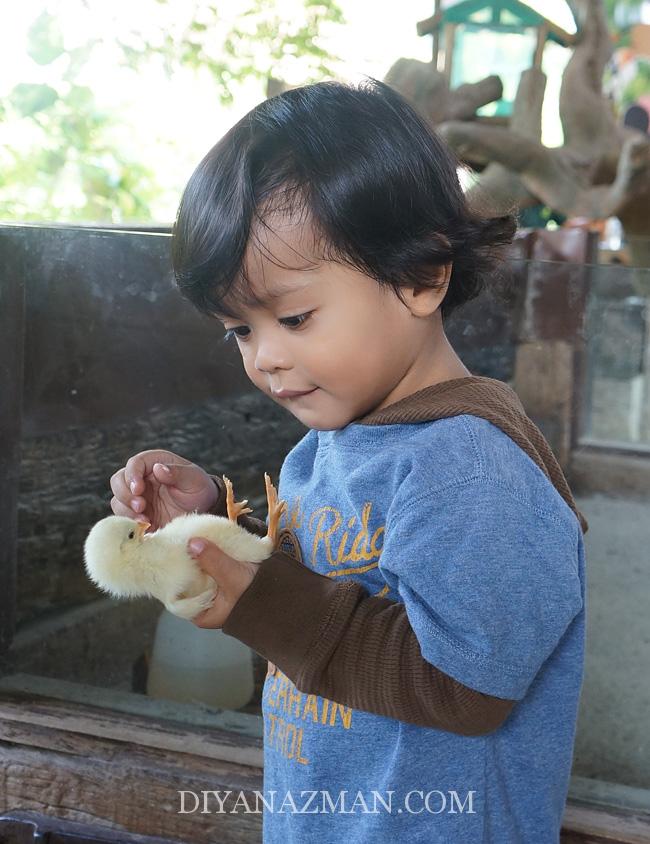 Dear Rafa, you may be my son no. 2 but both you and your brother will forever be no. 1 in my heart. I am so proud of you and I love you very much!
Mummy