Miki's Journey in Standard 1
Look how fast time fly by. In a few weeks Miki will be in Standard 2. My first born, my tiny little cutie, will also turn 8 years old.
Miki's first year of studying in Primary School was full of ups and downs. In the beginning of the year, he got bullied, then he fought back. In the middle of the year, I went to see his teacher for his midyear review and the teacher was unsure of what to comment about him.
He was hardly paying attention in class, yet he was not naughty. He could hardly remember the homeworks he was supposed to do and yet during the first semester exam, he scored 6 As and 3 Bs! He got all As for the UPSR subjects and sat at 10th place in his class and 18th in the entire hundreds of standard 1 students. I was very pleased! Seriously, if you had seen how blur he was, you's probably think he would flunked the exams.
In the month of February, which was the second month of his schooling year, Miki outgrown his uniform pants. Haishhh… So soon? He must be on a growth spurt. But I really want to share here that I am loving these shoes we got for him. It turned out to have very good quality and lasted the whole year!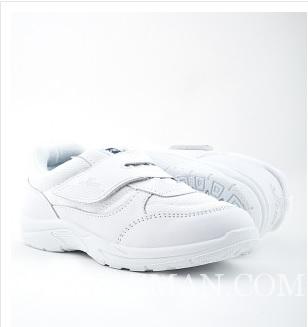 We got him two pairs and wash them during the weekends. It didn't get torn or broken in the sole despite being VERY LIGHT and soft. Miki sometimes complain if his shoes are too small or not comfortable but with these shoes, I heard no complain so they must be very comfortable for him.
I just checked on the internet, name of the shoes is PALLAS JAZZ SINGLE VELCRO STRAP 205-0164W.
The price is also affordable. Just RM32.99 and you can buy the online at www.pallas.com.my. They even have guides on how to measure your children shoe size etc. Pretty good website!
Actually we made Miki wash his own school shoes. When Opah was around in KL, she would wash them for him, because kesian lah… budak kecik lah… But to me, no mercy! You wear it, you wash it! It is called discipline! Haha…
Anyhow this Pallas shoes are very easy to clean because of the design that doesn't have many edges and less fabric surface. Even Miki could clean them well.
Talking about shoes, once in May or June, Miki came home with both of his shoes are for the right foot! When I saw them I was like.. what is the matter with you? Couldn't you realize that both your shoes are the same and how discomfort your left shoes must be? *tepukdahi
Miki, oh Miki… apparently his shoes got mixed up when he took them off during KAFA class and he was so clumsy he accidently took his friend's PALLAS JAZZ SINGLE VELCRO STRAP 205-0164W right shoe. And wore it back home. He didn't feel anything but my malufication was intense.. Hehehe!
I had to apologize to his friend's mom. I guess that lady and I both got the same type of school shoes for our kids cause they are good haha!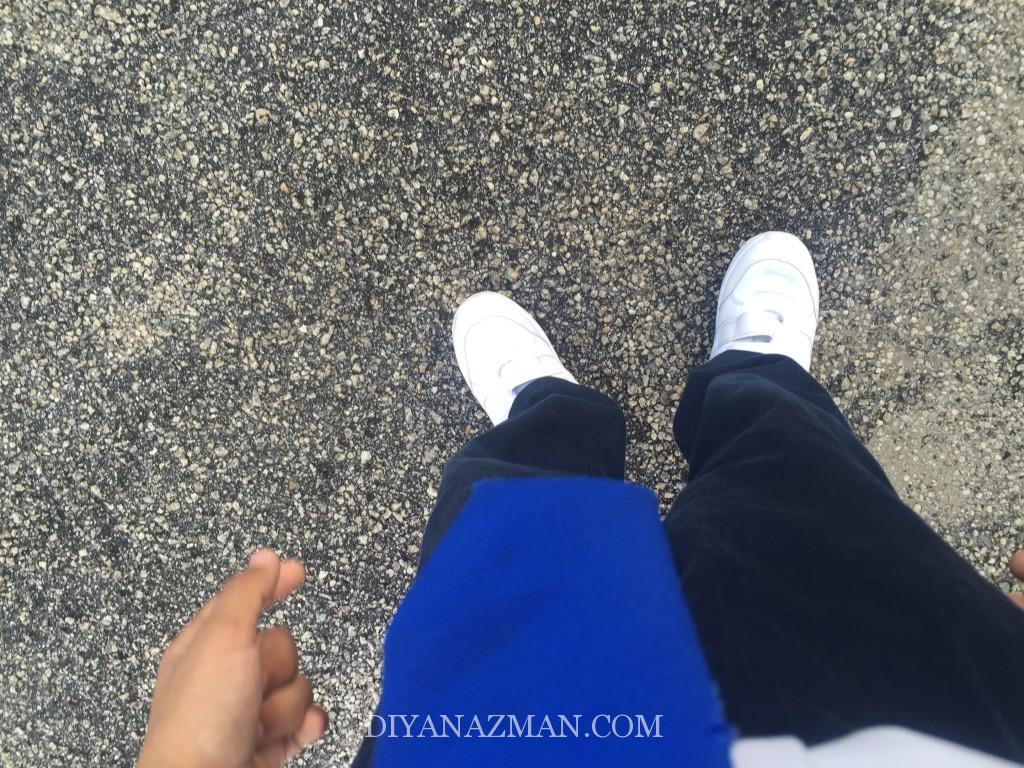 Miki must really loved his shoes, he took a pic of his own feet LOL!
This picture below was taken on the last day of school, on Hari Penyampaian Anugerah Cemerlang. I think he looked so handsome even in his uniform and Pallass shoes. I am so proud of him.
Miki won two awards. One for getting number 8 in the entire class of Standard 1 ( he got number 4 in class, 7 As and 2Bs) and the other award is for " Peningkatan Tertinggi" or something like that. Which means, well, Miki is a late bloomer, lay low early of the year and boom! Score 7As during final exam! Haha! That's my boy!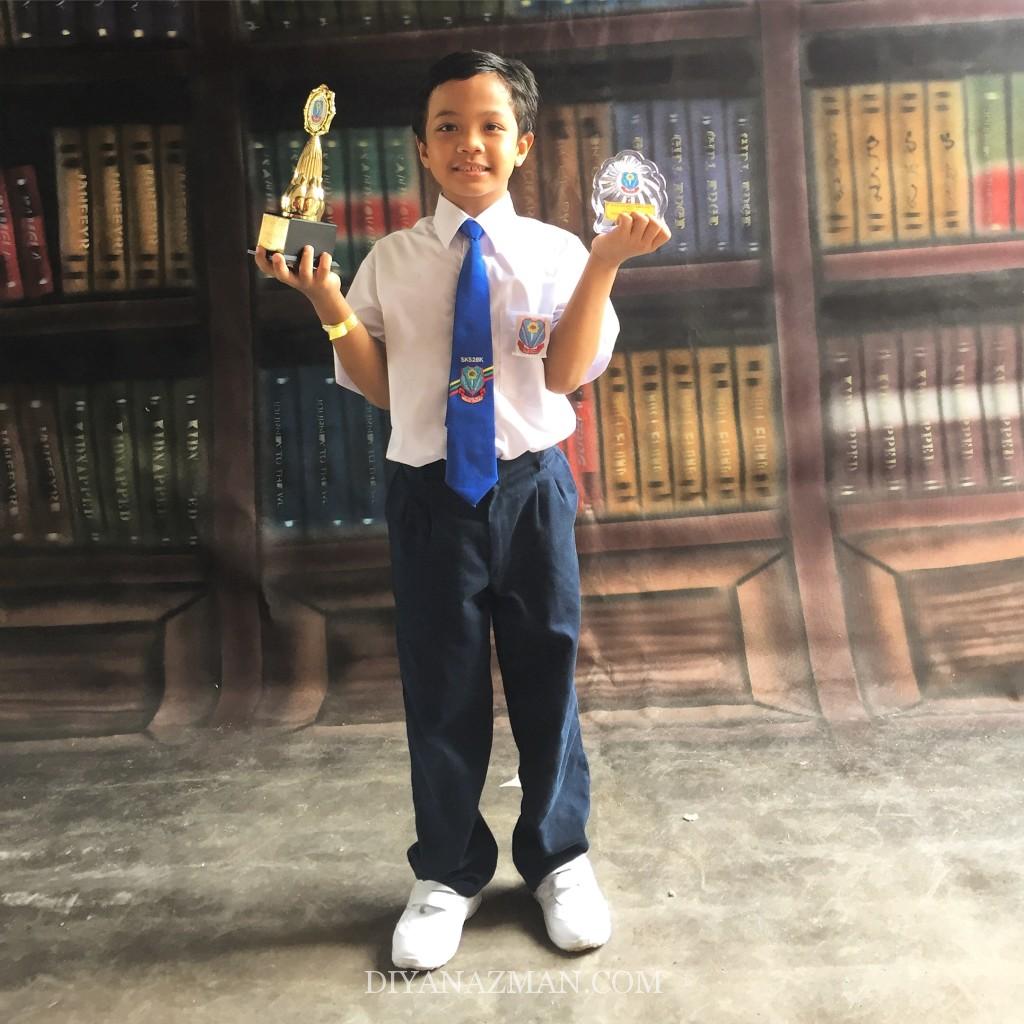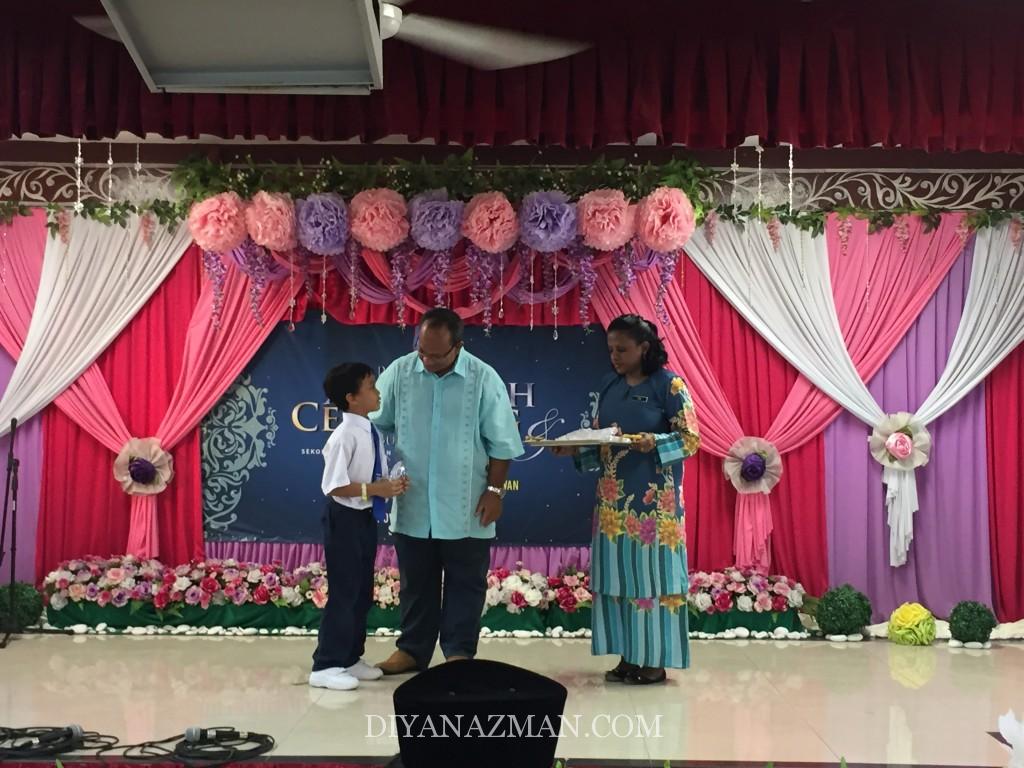 Here is another picture of Miki looking cute in his uniform and Pallas shoes. He is posing with Sarah Hani, his friend his age 5 in kindergarten. Sarah Hani scored number 1 in the entire Standard 1 students and she is quite a genius hehe!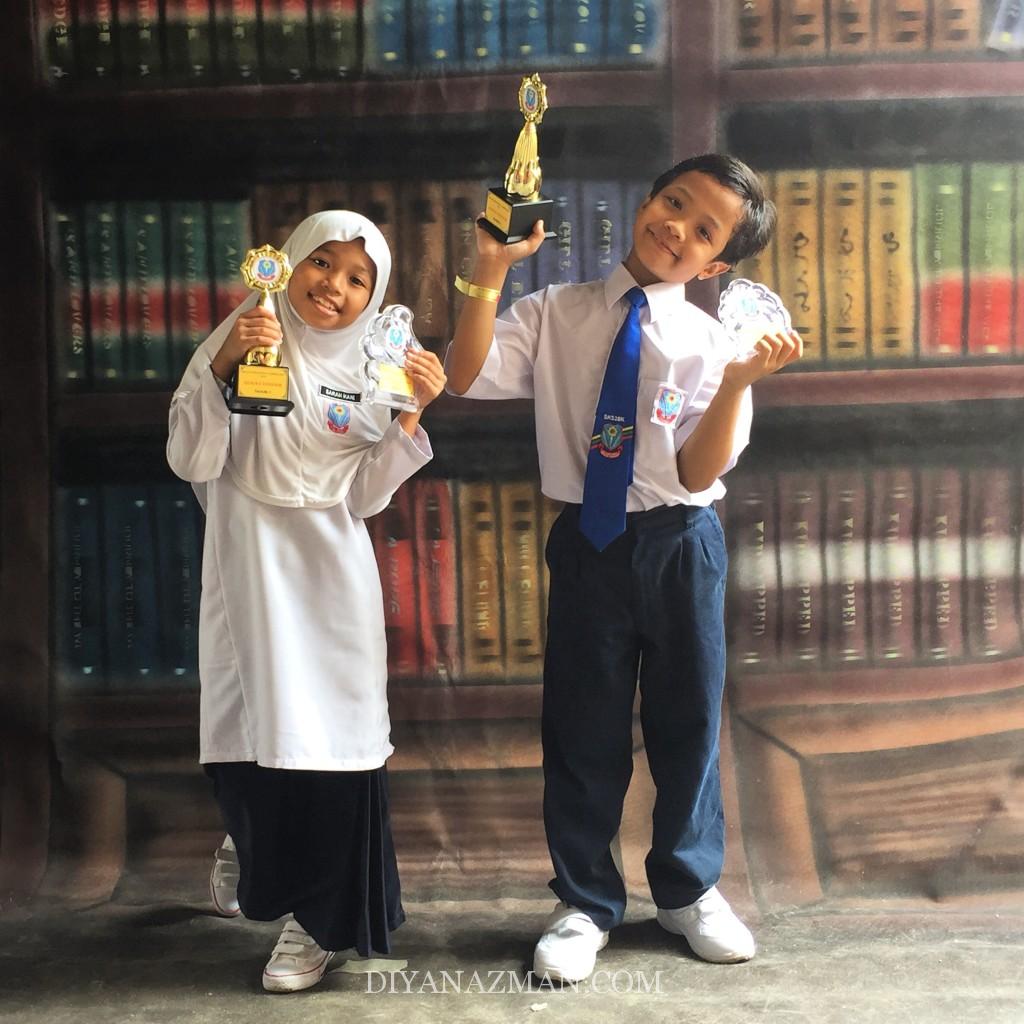 The picture on the left was taken on first day of school, when I was halfheartedly sending him off, almost with tears in my eyes. And on the right is photo from the last day of school, as though I was welcoming him and he brought two outstanding awards from school.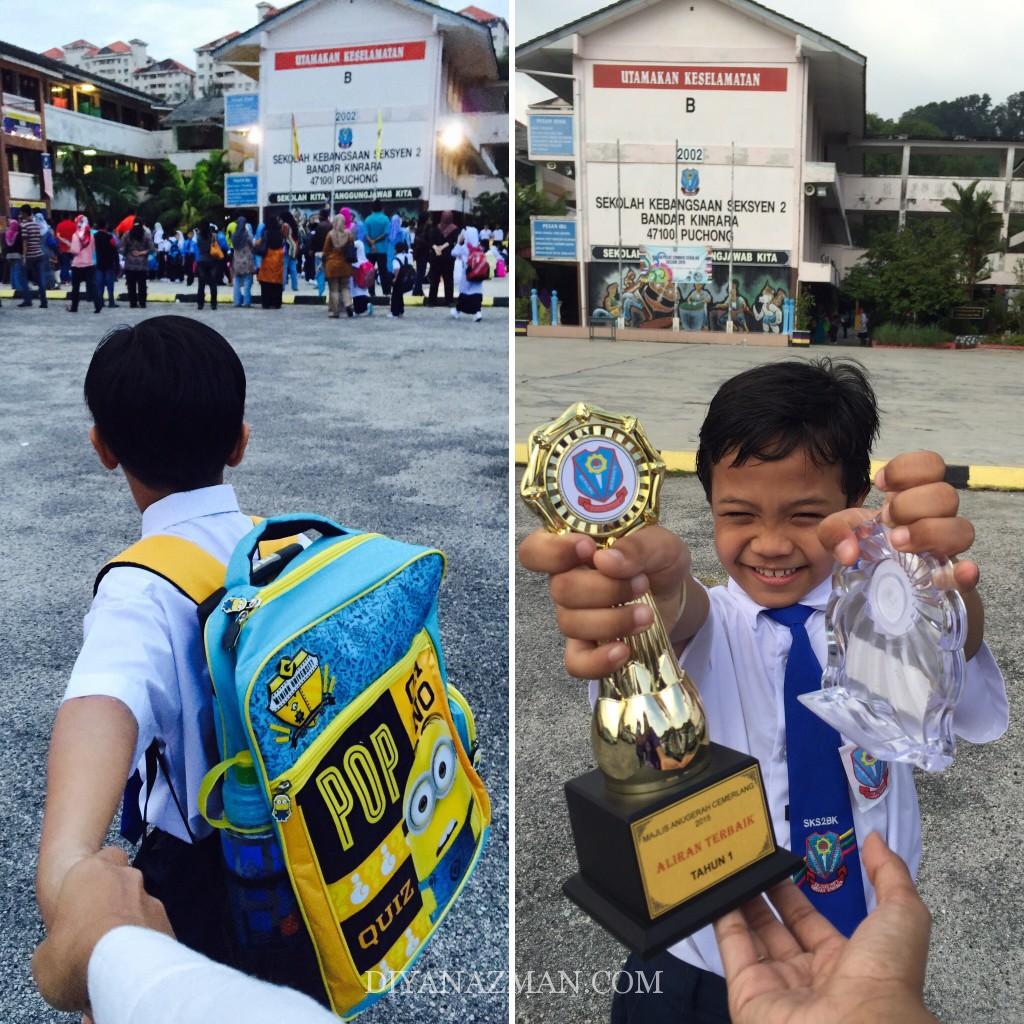 That is my Miki, always making me proud from day 1…. I will always be there for you Miki, I will always try my best to provide you the best education, the best food, the best clothes and the best lessons in life to prepare you for your future. Mummy love you lots!
PS- Pallas school shoes are available online and at all major shoes outlets and shopping malls.