Dec 17th 2012DiyanaChild Education & Parenthood
It is 17 Dec 2012 and Miki is officially 4 years and 11 months old. My first born. Grown so big and tall and registered for school.
I have been "shopping" for the right kindergarten for Miki for the past few months. Criteria include best English-medium Islamic school, best accessibility, not heavy on homework etc. Three kindies that fall nicely into that category are Genius Aulad Bandar Kinrara, Lil Caliphs Program at Tadika Restu Ibu, Bandar Kinrara and Brainy Bunch also in Bandar Kinrara.
We visited Genius Aulad personally and the school is very spacious, neat and comfortable. The location is easily accessible, it is facing the Giant Mall in BK 5. The registration fee is about RM1000 plus and monthly fee about RM260 per month for 3 hours of class. I don't plan for Miki to stay for kindergarten and continue with day care. I prefer him to go back to Mama Rose's place and spend time with Rafa until Azman or I come back later and fetch them both home.
We didn't visit Brainy Bunch but had a good discussion with its teachers when they open a booth in Giant Mall
(BTW you guys must be thinking why we go there so often hehe! Actually this is the nearest grocery store for us, nak beli ubat gigi setiub pun pergi Giant Mall, nak jumpa doctor pun klinik kat Giant Mall, nak pergi post office pun situ, pharmacy pun situ, great Thai food pun situ, pizza, KFC, Subway semua kat situ…. Agak-agak contact lens dah kelabu, my optometrist pun kat situu jugakkkkk… pendek kata convenience laa hehe!)
Anyway, I found Brainy Bunch is too heavy on content but they don't teach the kids to read in Bahasa Melayu. This is the first time my son is going to school I was afraid he is going to freak out. Besides after reviewing testimonials from other parents, I'd say Brainy Bunch is very strict tak tentu hala and if I wanted my kid to tetiba pandai menghafal bagai baik hantar aje kat sekolah Cina. For registration, at one shot parents would have to pay about RM2000 for the entire year. Location, near Bandar Kinrara Golf Club.
The last one is Lil Caliphs. It is situated in a corner house behind IPD Serdang in BK 5. Very easily accessible because that is smack right on my route to work. Not heavy on homework, teaches both English and Malay and they have PE outside in the sun every Wednesday. Two registration fees must be paid – RM900+ in Jan and RM800+ in June excluding monthly RM220.
Since I somehow tak berkenan dengan Brainy Bunch, I was only contemplating between Genius Aulad and Lil Caliphs. Price wise all three is cekik darah. LOL! And in the end, we registered Miki for Lil Caliphs Program at Tadika Restu Ibu.
And his first day of school will be 7th January 2013. And I am slapped across the face with a brand new parenting dilemma. Separation anxiety. Which is happening to me. Not Miki.
I guess not so many parents can relate to me. Most are very excited about their kids going to school but I don't know, I am just so emotional about this. My baby, the one who kicks my tummy from inside out, the one who is breast fed for more than a year, the one that adores me to bits, the one that was afraid of me growing old like Opah, the one that is so really manja…. Will reach another milestone in 7th January. And whether I like or not, that kick starts the process of my little baby moving bit by bit… away from me.
Soon he will find lessons his teacher teach more fascinating, the stories his friends tells more captivating, he will find some other guy cooler than his Dad.. Over the years he will feel awkward going out with us. And he will just not notice that I am growing old… just like Opah.
All of these changes starting 7 January 2013.
Emo, I know.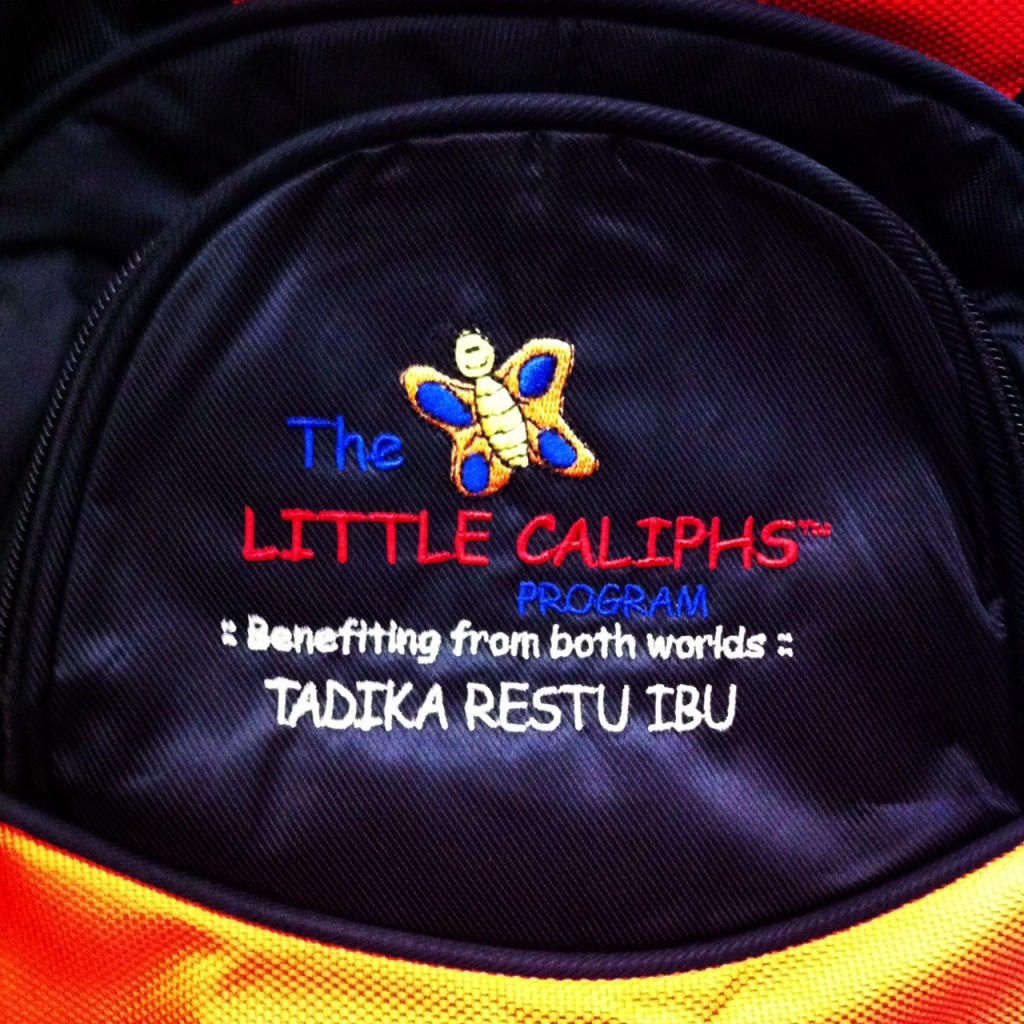 Redha I must be now and I must let go. My child must grow up and be a person of his own. Insya Allah he will be a good person to God , to his family and friends and other people. Miki, no matter how high you want to fly and how far you want to run, fly and run with all your heart. Reach for the stars. Mummy and Daddy will always support you.
And although someday Mummy and Daddy wont be as significant in your life like we do now, you and Rafa will always be most precious gift we have ever gotten in our lives.
Now go to school and kick some ass! In Maths! Not in the playground! Haha! We love you so much! May Allah protects you from the harmful world outside.
Love,
Mummy.
Share