Majlis Akikah and Berendoi for Prince Miki
Sometimes late at night, while nursing Miki I looked out the window and wondered why the baby's poop have to stink so much I thought of Chico. Is he doing well up there? Perhaps we should send him a buddy…
So on the 1st March 2008, we fulfilled the deed of akikah for our baby, praising Allah swt for the perfect little boy that has completed our lives. Miki was 45 days old and I was practically done with my confinement. And because little Prince Miki is so precious I thought maybe we should have a berendoi ceremony for him too! Both the kenduri akikah and berendoi ceremony was done at my mother's house in Penang and everything was done in such beautiful momentous kampung style.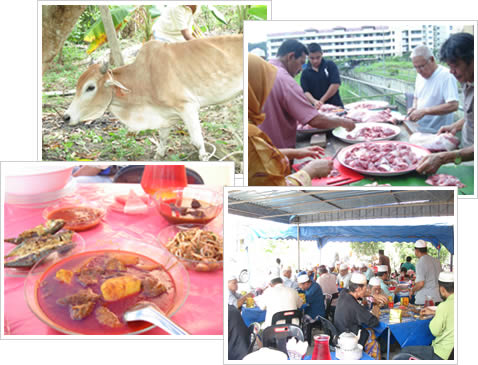 We bought Coco the Bull at Sg Bakap and he was transported by lorry to the island. Coco was slaughtered at my mother's own backyard the day before the ceremony. Her neighbors and friends worked hands in hands in preparing for the sumptuous feast, bergotong-royong just like those days in kampungs. We had Azman's fave sup tulang and for the luncheon Coco was turned into delicious beef curry and daging masak hitam. The latter was cooked specially by my mother in law. Other than that, on the menu, we had kerabu perut & pucuk paku, sambal sotong, fried fish and fruits.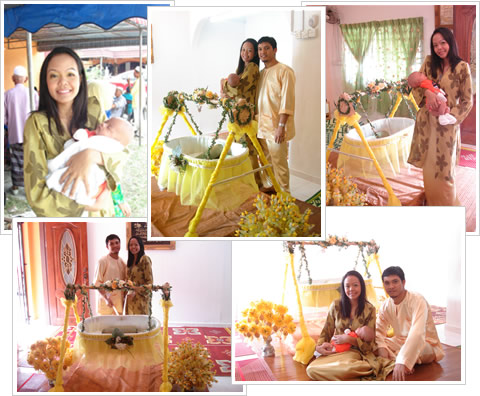 Woundn't it be cute if Miki could wear a baju melayu for his berendoi? I really dont think an OshKosh jumpsuit would be appropriate.hehe.So we searched high and low for a pair of tiny baju melayu fit for newborns. No tailor wanted to make one so small and at last his grandparents managed to get him a pair all the way from Kedah. Though it was still quite big for him and the color didn't really go with the swing, bunga telur or door gifts! Still our little boy was the handsome prince of the day! Yeah! By the way my kebaya didn't match the golden yellow theme color either! :p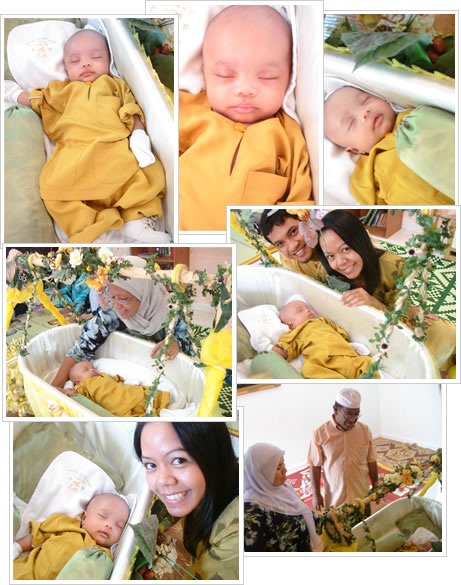 For those who didn't know, berendoi is one of those Malay traditional ceremonies to celebrate newborns, popular in the northern states of Malaysia. The celebrated baby will be placed in a swing and will be lullabied by a marhaban group of elderly. Berendoi is a traditional custom that is almost forgotten, which makes it more a reason why I want one for Miki. The group arrived at 2pm, first they recited the marhaban before calling upon Miki to be placed in the decorated swing for the berendoi song/poem.Our baby never got on a swing before and I was rather worrying if he would cry, but such a sport Miki was, he slept soundly the whole time.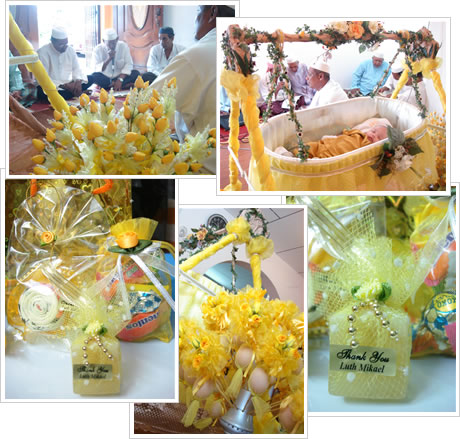 Thank you to all our family ands friends who came for the luncheon, especially those from all the way in KL. Azman and I are very much honored with your presence as much as we are pleased to have another Malay tradition preserved. As for Coco, happy grazing the green green grass in heaven. And be nice to Chico!