Oct 31st 2013DiyanaFisher-Price & Rafa
Quick updates on my two boys :
Miki – Weighs 26 kilos. High dependency on video games and candy. Adores his brother but occasionally full of jealousy. Currently practicing his performances in the year end school concert.
Rafa – Yesterday he turns 1 year and 5 months old. Likes to eat spicy food. Likes to wake up at 3am to poop and only go back to sleep in the car on the way to babysitter's house. At 8 am! Still breastfeeds directly and drinks Friso milk up to 28oz per day. Calls me Mama, Meme, Mimi ikut sedap mulut.
Check out below picture. Melampau tak budak Miki ni?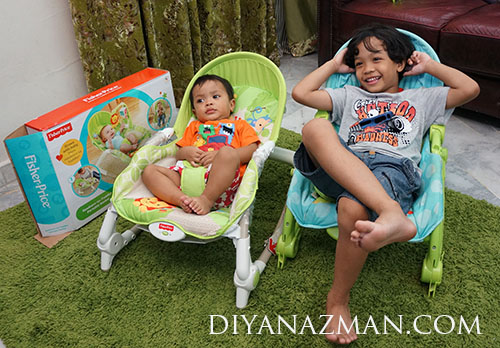 I must say that of all the Fisher Price products that Miki and Rafa have, the Newborn to Toddler Rocker (NBTTR) is the best one ever!  The one Miki is sitting on in above pic has been fully utilized (kena lanyak, kena lompat, kena lempar, kena hangkut sana sini ) and it is still working fine. At one year plus Rafa still sleeps on it all the time. In fact if I hand him his bottle full of yummy warm milk, he would terkedek-kedek walks over to his rocker in front of the TV, climbs on it and starts to drink up. Super cute and I like the fact that he has learned a routine on where to minum susu. Routines are good for kids no?
Yesterday we got Rafa a new rocker. Look closely at below picture guys, see the printing of the box is colorful and bright. If you see similar product at some toy shops, selling really cheap but the box looks faded… THAT IS FAKE!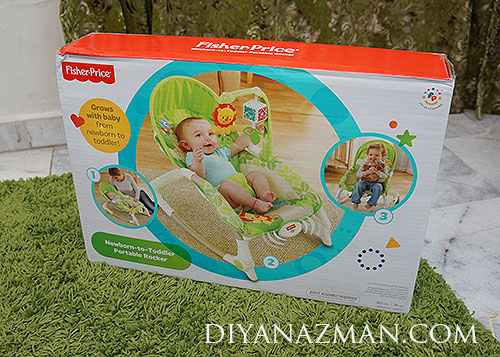 Macam inilah keletah Rafa (dan Miki) kalau kita buka apa-apa packaging baru kat rumah – dia sangat sibuk!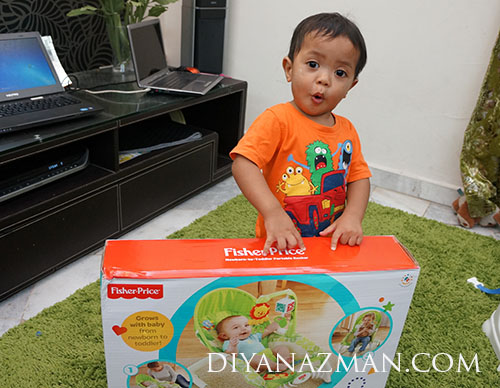 "Rocker baru saya ini hebat wooooo!!" kata Rafa. hehehe.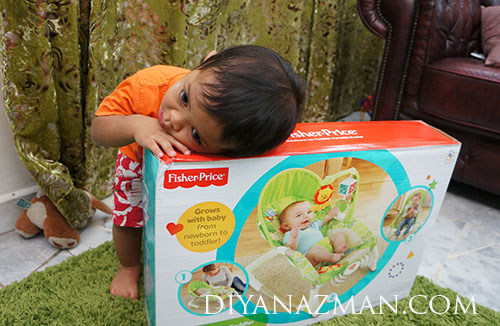 "Saya sangat sayangkan Rocker baru saya…Rasa macam taknak buka aje!"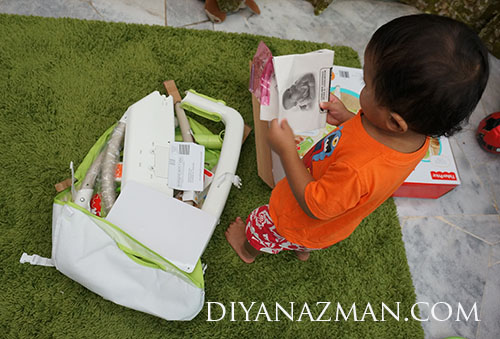 "Must help Daddy fix my rocker… let me see what the manual says first!"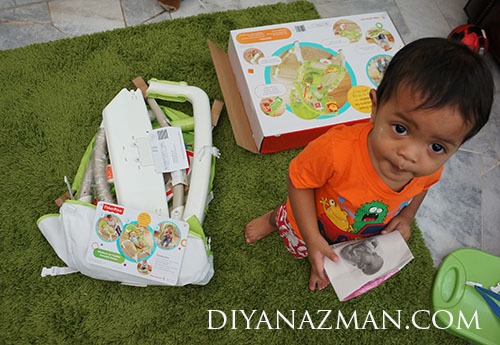 "Äbang Miki, i need some help here! I can't read remember?!"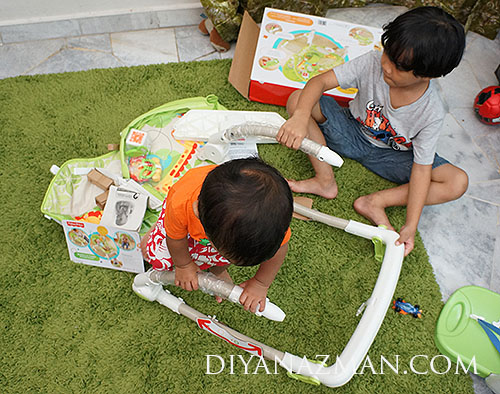 Since Abang Miki pun takde lah pandai sangat baca… so belasah aje!
This new rocker for Rafa is called Newborn To Toddler Portable Rocker. It is one of the latest Rocker by Fisher Price extremely cute Rainforest Friends!  Rafa and Miki are both very lucky lah! Their kiddy gear are all fantastic…. Mummy dulu kecik-kecik duduk dalam buai kain batik kot!
This Rainforest design is just launched as a new signature style that reflects one of Malaysia's most prized possessions which is our lush green rainforests and our precious flora and fauna species! True enough, after the rocker was installed, Miki was quick to teach Rafa names of the animals on the rocker without us asking him to. Good boy Miki…
On the Rocker there are pictures a cute giraffe, monkey, a toucan bird, elephant (Rafa's fave animal), lion and frog. Even the dangling toy is also in the shape of a super cuddly lion. Too cute! And honestly, I find this new rocker cuter than the one we had before. :p
The best thing about Fisher Price, is the fact they are constantly improving their products. This new rocker if you compare with the earlier version that Miki was sitting on in the pic above, rocks way easier and very compact for storage too.
Another genius thing about this rocker is that it has this fantastic 3-position seat recline feature that I know all parents will love. I actually take this step by step pictures to show you.
See how flat it is? I just slide this under Miki's bed for storage and it will be out of sight. Kemas!
Reclining no 1: See that tiny number one in the slot at the front part of rocker. How meticulous their designer can be hehe… This level is suitable for newborns and young babies or baby-baby tua yang macam Rafa nak tidor. LOL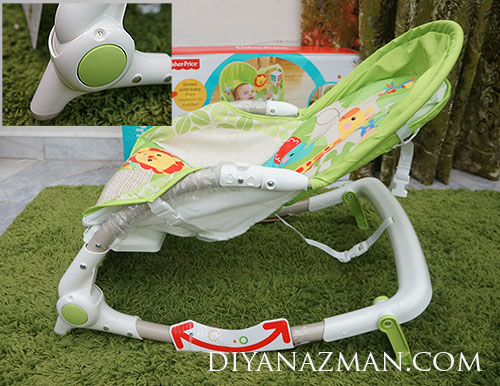 Reclining 2: Great for babies to sit back comfortably high enough to look around and to reach for the over head toy.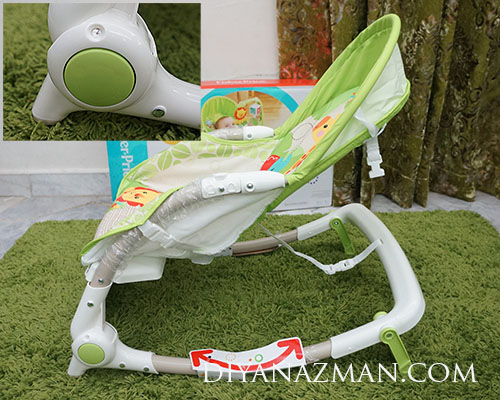 Reclining 3: This level is very ideal for feeding your babies.Rafa sat on this setting and watched TV for a long time. And when he tried to get off the rocker when the show was over, he couldn't because first we put on the very secure seat belt and second, the white belt-tali thingy maintains the stability of the rocker. It was very stable and sturdy! This part I must mention because it is a very noticeably good safety feature.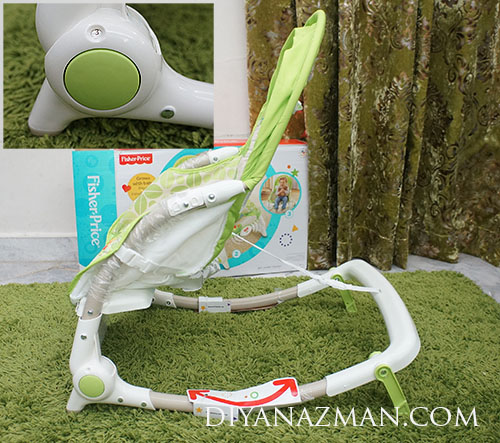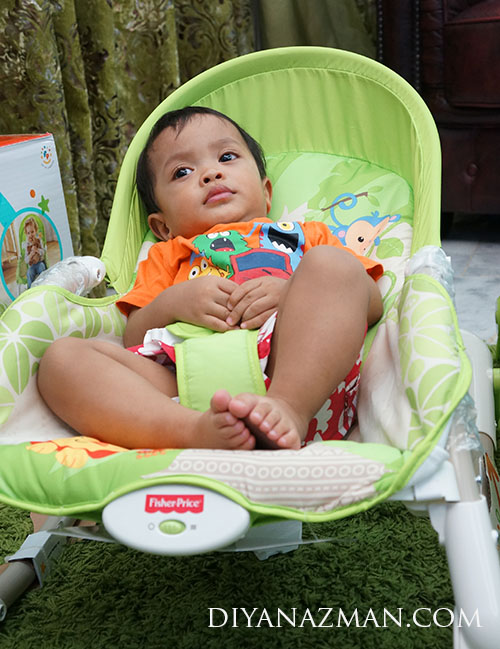 Above, Rafa lepakking in his new rocker.
This new rocker maintains all the older version's features like soothing vibration, comfy surface, washable etc. I am getting another one of this for my sister, Shananana who is going to beranak very-very soon. Sorry Shanaz, no surprise for you! hehe..
On another note, at work now I am working my bumbum off for a huge international conference and exposition that's happening in about 10 days. I have been super busy but somehow very bersemangat to update my blog especially on updates about my children.

Thanks for reading and have a great day people!
Much love,
Di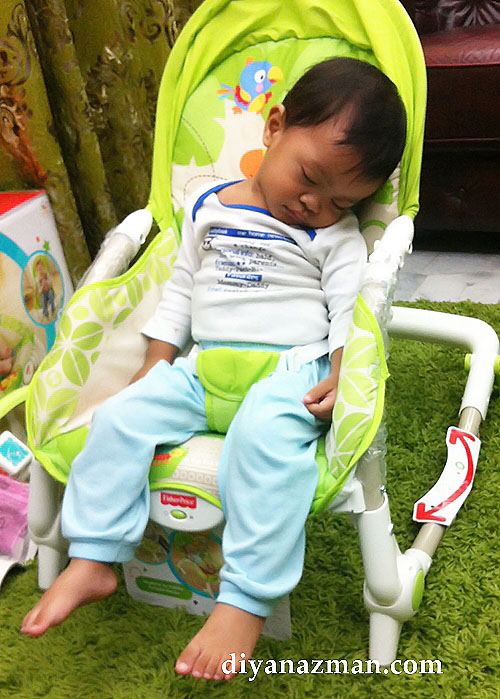 Email This Post
Similar Posts
37 Comments »