Extremely Babywearing
Here is something very amusing to share. I laughed so hard that my gums are numb and my zits pop by themselves. I found a comment by Puan Drama Mama written especially about me.
My first reaction upon reading the first line on the comment was to search my entire collections of memories inside my brain, outside my brain and along my intestines;  HAVE I EVER STOLEN HER BOYFRIEND? OR KILLED HER CAT?Well I honestly have never stolen anybody's boyfriend or killed any animal at all. Period. Oh Ok! Ok! The kitty with the hairdryer was an accident okay? Now will you just forget about it already?
Then why is this woman so freaking mad at me? She reeks personal vandetta from every pores.
So outraged she is, she needs to call me kampong BY THE WAY I LOOK!  Wow, I never knew button noses can be kampong? I thought they are just well, JAWA. Anyway, I really cannot argue on the accusation because I am indeed kampong and VERY PROUD OF IT. But the absolutely hilarious irony about it is the fact that I am from a very kampong little town in Bayan Lepas and she is, ladies and gentlemen…. Not from Hartamas, not from Bangsar, not Mont Kiara, not even Minden Heights but……
SUNGAI ARA, PENANG. That is exactly, like Botswana calling Uganda kampung and Kalimantan Tengah calling Timor Timur kampung.
Hahahahha! Hahahahaha!
I laughed so hard tears flowed down my kampong cheeks, trickled down my kampong chin and wet the kampung t-shirt I was wearing. I bought that T-shirt from QueensBay Mall, Penang. I am sure Puan Drama Mama shops there too. Hahahah! Hahaha!
I have not felt my funny bones tickled this way for so long. This is so damn funny. So I continue to read the comment and well! well! well! Looks like people have mistaken me for Rihanna again. ( Go ahead and vomit blood , haha!) Dude! Never in my life have I ever own an LV bag! Hahahha… I AM NOT A BAGWHORE okay? Whatever I wrote about bags in this blog is intentional sarcasm. haha!
So I laugh again so hard this time not only my zits pop on their own, my bushy eyebrows also shed down on by themselves. Hahahaha! This is so funny. What does my bag got to do with anything?
But as I move on the next para I feel scared. So scared, I was trembling, my teeth rattle, my knees bang against each other making gong-like noise so loud it reminds me of the sound of lightning and thunder. Thunder that will be sent by God to strike me dead as requested by Puan Drama Mama as a punishment to me, the BAD BAD MOTHER. THE TERRIBLE MOM THAT DOES NOT BELIEVE IN BABYWEARING TODDLER. See here.
I have an opinion and because of an opinion I have sinned and Puan Drama Mama thinks that God must punish an opinionated mother.
Ladies and gentlemen, I present to you the mentality of a Babywearing Extremist Mother :-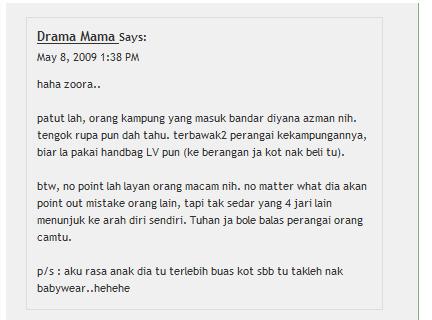 When I showed Azman the comment he was so sentapz! Hahaha! Not because of the ridiculous name-calling-bag-judging behavior of Puan Drama Mama but how could Puan Drama Mama left him OUT in the comment?
Tak aci taww! She covered my looks, my origin, my bag, she also included my little boy. Ya ampunnz… Kenapa tak komen laki aku sekali? Ini tidak adil!  Apek jiran sebelah rumah aku tak komen ke? Merajuk dia nanti…! hhahaha
Calling another child buas or extremely naughty takes a lot of guts to do. Most parents are usually afraid to diss other children due to the mysterious existence of karma. Bukan kurma ye? Karma. Heheheheh!
I think Puan Drama Mama and some other mothers are uneasy with the fact that my opinion on babywearing toddler differs than theirs. I have been accused of condemning babywearing moms etc. Not that I care about what people think the same way they should not care about an insignificant kampong mom like me thinks, lonely in the blogosphere not belonging to any community or forum.
But when a babywearing mom starts to write hateful personal comment with so much shallow remarks like this, mengumpating me in blogs and forums, it not only reflects her true mentality but make her even worse than me, the bad bad mother in the first place.