A few months before Rafa turned 1 year old, I was already thinking about his first birthday party. Isn't it exciting? I love throwing birthday parties for  my kids. Miki had 4 awesome parties for the first 4 years in his life, planned by yours truely but his 5th birthday was celebrated at Mummy Rose's house with his friends that he practically grows up with.
When it was Rafa's turn, I suggested his favourite cartoon show as the theme – Pocoyo. But Azman said what? Pocoyo? Let's have a rockstar themed birthday party!
Sometimes, husbands can be genius too.
Before we knew it, it was only a week before our trip to Europe in May. So what I did was. quickly book a party slot at Kizsports & Gym Bangsar Village. And once we were back from the European Road Trip, we only had a few days  left before the party. I was struck with a common dilemma - What should I wear dress my family? We are having a ROCKSTAR party for goodness sake?! *slap forehead*
So I quickly get this backdrop done. Planned a menu and went Rockstar outfit shopping. We ended wearing stuff we already have in the wardrobe and buying funky tattoo arm covers, crazy rocker wigs and accessories. haha! We also ended up buying a toy electric guitar for Miki as a "prop" and then decided that Rafa should get an instrument too… After we bought an awesome drum set just perfect for Rafa's size, we decided that they have to "perform"! hEhehe..
I made a couple of phone calls and so we got this fantastic guest guitarist – Farrel, so handsome and "talented"!heheh He is my good friend Anezz's son, 4 years old.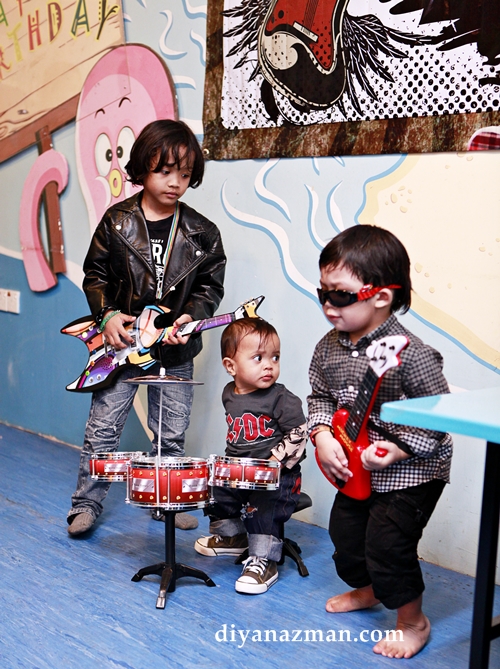 So on top of other activities we had at the party, highlight of the event was the performance of Mikillica – Miki Hammet on lead, Farrel Trujillo on bass and Rafa Ulrich the drummer.
We put on a song and the three of them "jammed" to the music so enthusiastically, even Rafa the boy 365 days old! Check out Rafa Ulrich in action yo!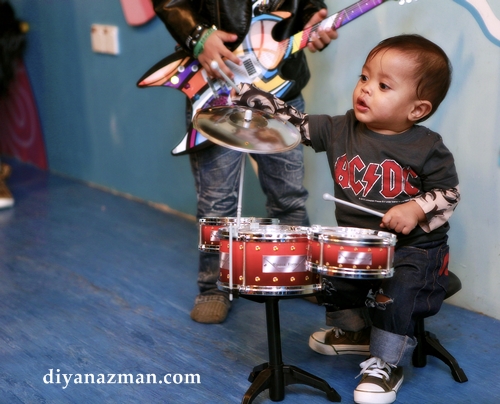 Macam real je kan? heheheh! FUN!
We have a video of them jamming some where. Will upload if I can find it. Haha! Anyway, we had about 30 kids at the party mostly Miki's age that's Miki was super happy and excited for having so many friends to play with. I lost track of the number of parents present at that time. Kalau 30 kids x 2 parents jadi berapa? Ntah!
We had a guitar shaped birthday cake, guitar shaped pinata, lots of good food and even sweets, candy and chocolates that I brought back from Germany. We had the mascot making an appearence for photo op, we had really cool games that got all kids and parents involved. We took great many photos and some are really memorable especially those taken during the games session and pinata hitting session. I will update those later.
Meanwhile, thanks to all our family and friends for coming, hope you guys have enjoyed yourselves.
Hope you have partied like a ROCKSTAR!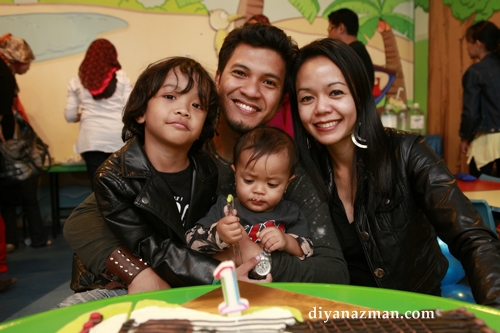 Email This Post
Similar Posts
2 Comments »