Miki & Rafa Euro Road Trip – The Berlin Wall and Hard Rock Cafe
The Berlin Wall was both the physical division between West Berlin and East Germany from 1961 to 1989 and the symbolic boundary between democracy and Communism during the Cold War.
Just past midnight on the night of August 12-13, 1961, trucks with soldiers and construction workers rumbled through East Berlin. While most Berliners were sleeping, these crews began tearing up streets that entered into West Berlin, dug holes to put up concrete posts, and strung barbed wire all across the border between East and West Berlin. Telephone wires between East and West Berlin were also cut.
Berliners were shocked when they woke up that morning. What had once been a very fluid border was now rigid. No longer could East Berliners cross the border for operas, plays, soccer games, etc. No longer could the approximately 60,000 commuters head to West Berlin for well-paying jobs. No longer could families, friends, and lovers cross the border to meet their loved ones. Whichever side of the border one went to sleep on during the night of August 12, they were stuck on that side for decades.
The Berlin Wall stretched over a hundred miles. It ran not only through the center of Berlin, but also wrapped around West Berlin, entirely cutting West Berlin off from the rest of East Germany. The fourth version of the Berlin Wall, constructed from 1975 to 1980, was the most complicated and thorough. It consisted of concrete slabs reaching nearly 12-feet high (3.6 m) and 4-feet wide (1.2 m), plus it had a smooth pipe running across the top to hinder people from scaling the Wall.
After the Berlin Wall came down, East and West Germany reunified into a single German state on October 3, 1990.Now, the Berlin Wall eventually chipped away, into smaller pieces (some the size of a coin and others in big slabs). The pieces have become collectibles and we also have a piece that has been turned into a fridge magnet at home.
Now that's the history of the Berlin Wall, and I am very pleased that WE HAVE BEEN THERE!! Check it out…
The six of us at Berlin Wall Memorial Bernauer Strasse. And below is view from where we were standing…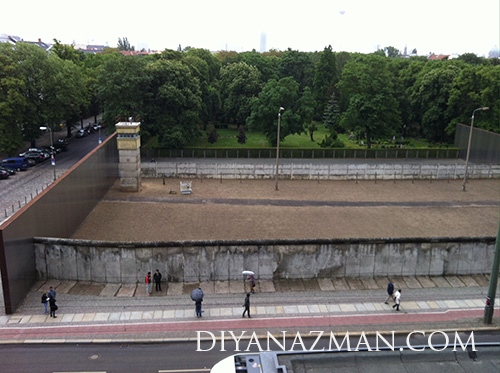 Someday when the kids are older, I will tell them this history so that they can learn from it and learn to appreciate the lives we are living in, in compared to those during the war. The Germans are so advanced now but remember they have gone through hardship before, so we all in Malaysia, living in 2014 must make full use of all the facilities and modernization already made available in front of us to make our lives and ourselves better. 🙂
Then we went to Hard Rock Cafe, Berlin. Some of our friends also "kirim" souvenirs from this place. Actually I don't know what is so special about Hard Rock Cafes… But since we already have a collection of HRC merchandise from a few countries around the world, might as well continue collecting from the countries that we go to… Sama lah macam those people yang kumpul Starbucks Tumbler tu kan?? hehe… Sama overrated la tuu.. hehe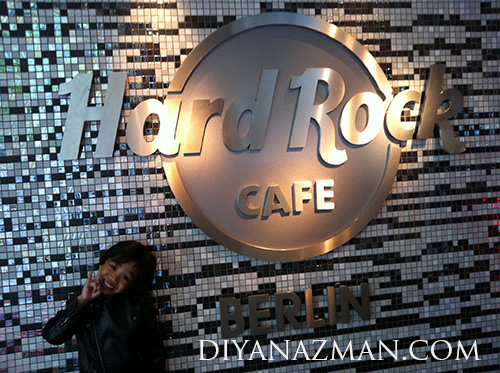 Miki wuz ere!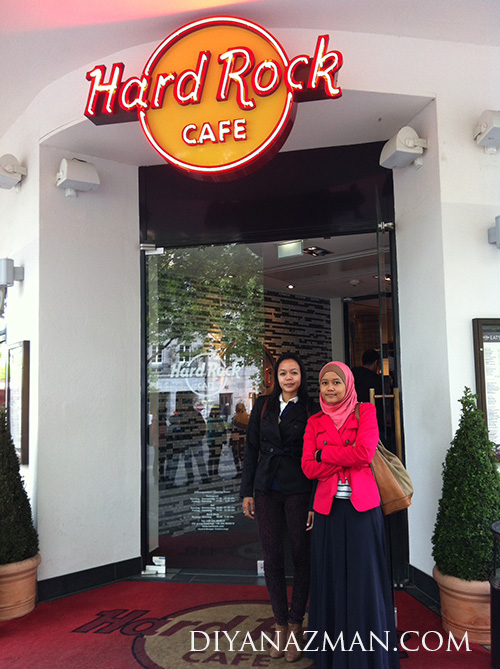 Me and my sister, Shanananana… Masa ni dia mabuk-mabuk haha! Sekarang dia dah beranak dah… Haha..
In the HRC store we were shopping and choosing stuff for ourselves and our friends, speaking in English and Melayu Penang when suddenly this guy below, the cashier, said hey!
Sekali dia orang Penang baq anggg…. Orang kampung akuuuu… Hahahahah! Dia memang tak balik Malaysia dah katanya… I wish you well, dik!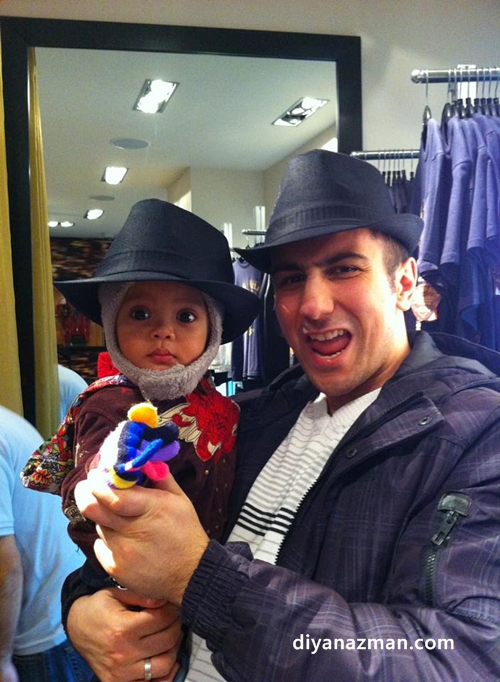 Abdullah and Rafa the Bruno Mars wannabe.. Haha! Trying out  hats at HRC store..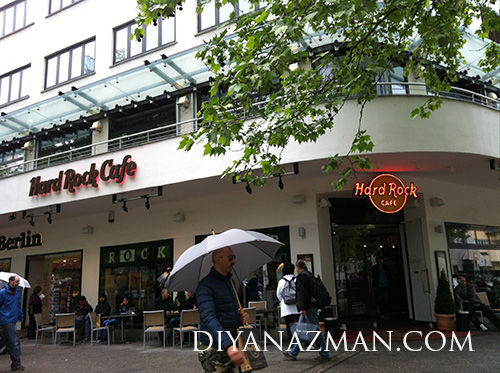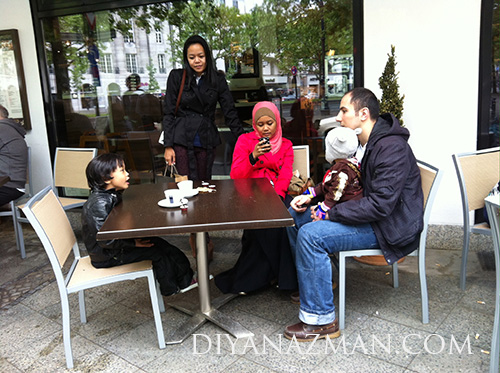 Lepak-lepak, minum-minum, Miki potpetpotpet….
Sejuk! 9 degrees, hujan dan angin kus kus pus pus…. Pukul 8 malam terang benderang… We went to dinner at the restaurant at the mosque and enjoyed our trip very much! In Berlin we also went to Madame Tussauds…. Miki enjoyed himself very much. I will write about that later..:)
Previous : Euro Vacation Day 4 – Beautiful tourist attractions in Berlin, Germany